Advisor Rajeev Rai Bhatnagar reviews progress on major projects of H&ME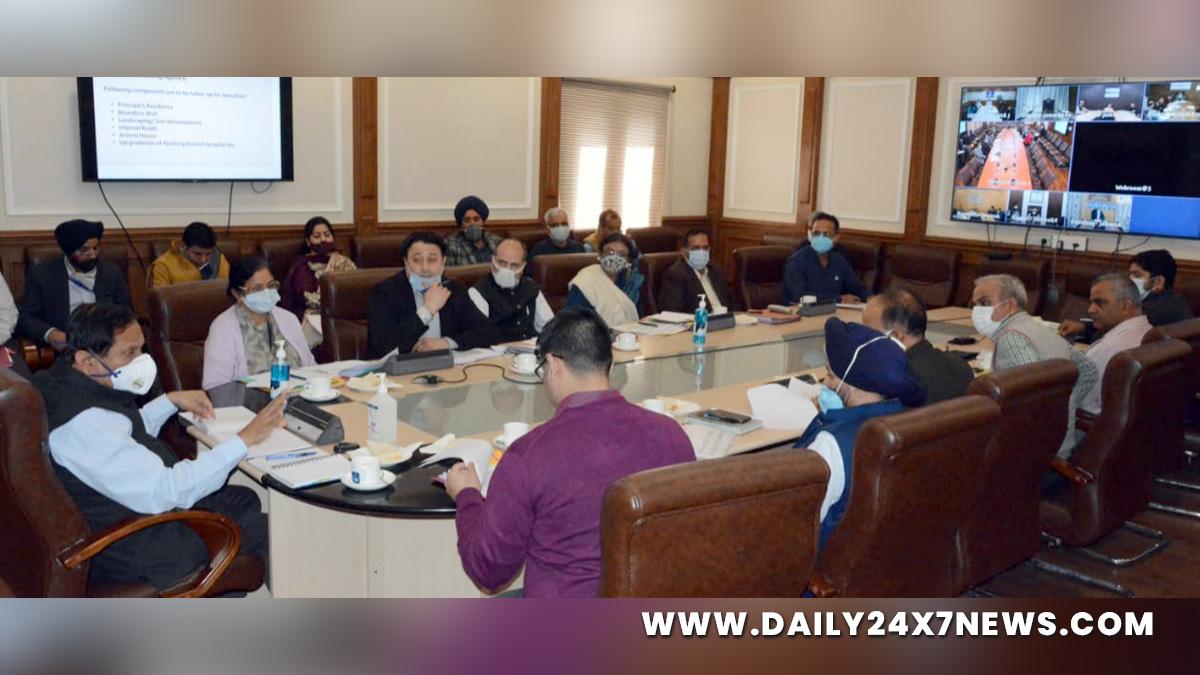 Jammu : Advisor to Lieutenant Governor, Rajeev Rai Bhatnagar, today chaired a high level meeting to review progress on major projects of Health and Medical Education (H&ME) being executed in Jammu and Kashmir.The meeting was attended by Additional Chief Secretary, H&ME, Vivek Bhardwaj; Managing Director, Jammu Kashmir Projects Construction Corporation (JKPCC), Vikas Kundal; Director Coordination New Medical Colleges, Chief Engineer R&B Jammu, Principals of GMCs Anantnag, Baramulla, Kathua, Doda and Rajouri, representatives of Jammu and Kashmir Housing Board (JKHB), Jammu and Kashmir Police Housing Corporation (JKPHC), CPWD and other concerned officials both in person and through video conferencing.During the meeting, detailed discussion was held on present status of ongoing works on all major projects like AIIMS Samba and AIIMS Awantipora being raised under Prime Ministers' Development Programme (PMDP), GMCs of Anantnag, Baramulla, Doda, Kathua and Rajouri, newly sanctioned GMCs at Handwara and Udhampur besides other ongoing PMDP projects being executed across Jammu and Kashmir.Regarding AIIMS, Samba, Advisor was informed that the work is going on in full pace with exterior works like boundary wall completed fully.
Similarly, Advisor was informed that the work on AIIMS Awantipora has been started as per the approved revised master plan. He was also apprised that an additional land of 34 acre has been made available by the district administration for the project and the process of acquisition of land will be completed by December end.Advisor directed the concerned executing agency to expedite the pace of work so that these prestigious projects can be completed within the fixed timelines and dedicated to the public at the earliest. "These prestigious projects will revolutionize the health sector in J&K and thus no lackadaisical approach should be entertained while executing works on such important projects", he maintained.Regarding projects executed by JKPCC like, GMC Anantnag and Baramulla, Rehmat Alam Hospital Anantnag, upgradation of District Hospitals of Anantnag and Baramulla, District Hospital Reasi, 100 bedded IPD block at Kot Bhalwal Jammu, 100 Bedded Additional Block at DH Kishtwar and few others, Advisor took detailed assessment of present status of these projects asking for expeditious completion.Advisor directed the MD JKPCC to accelerate the pace of progress on all works and remove bottlenecks, if any, ensuring timely completion of these allotted projects.
Similarly, Advisor Bhatnagar evaluated other health projects like State Cancer Institute at GMC Jammu/SKIMS Srinagar, construction of Bone and Joint Hospital, Bakshi Nagar Jammu, construction of 100 bedded new emergency block at GMC Jammu, Government Unani Medical College and Hospital, Ganderbal, Government Ayurvedic Medical College and Hospital, Jammu and others being executed by different agencies like Public Works Department (R&B), JKHB and JKPHC.Highlighting the importance of upgradation of health sector, Advisor directed the heal authorities to gear up their men and machinery so that desired work speed can be maintained for achieving the results on ground.Advisor was also informed that two new medical colleges for Handwara and Udhampur have been sanctioned under Phase III of Centrally Sponsored Scheme for which tenders have already been floated and works will be allotted within a short period of time. Besides, the department is also in process of starting 1st batch of MBBS classes in make shift arrangement during the academic session 2022-23.Advisor directed the officers to start work on these colleges at the earliest besides the process of creating posts as per MCI guidelines should also be initiated in advance.