Punjab Govt Stands By Its Industrial Sector In These Tough Covid Times : Sunder Sham Arora
Punjab First State In Country To Introduce Lockdown, Effectively Control Corona Spread
The Minister for Industries and Commerce, Government of Punjab, Sunder Sham Arora today said that the Punjab government stands by its industrial sector in these tough times of corona virus spread. 2.32 lacs industrial houses in the state are working by adhering to norms of social distancing and only those have not been allowed to resume their operation, which are located in various containment areas.The Minister said this while addressing people during foundation stone laying ceremony for upgradation of the existing focal point area in the Moga city to the tune of Rs 10 cr. He said that lending a helping hand to the industrial houses the Punjab government has sought waiver of upto 6 months on existing bank loans of all the industries from center government so that the industry is able to recover from losses incurred due to economic slowdown as a result of corona infection spread.He said that Punjab was the first state in country to impose lockdown, which has curtailed number of corona cases to a larger extent. He added that 90000 youth have returned from foreign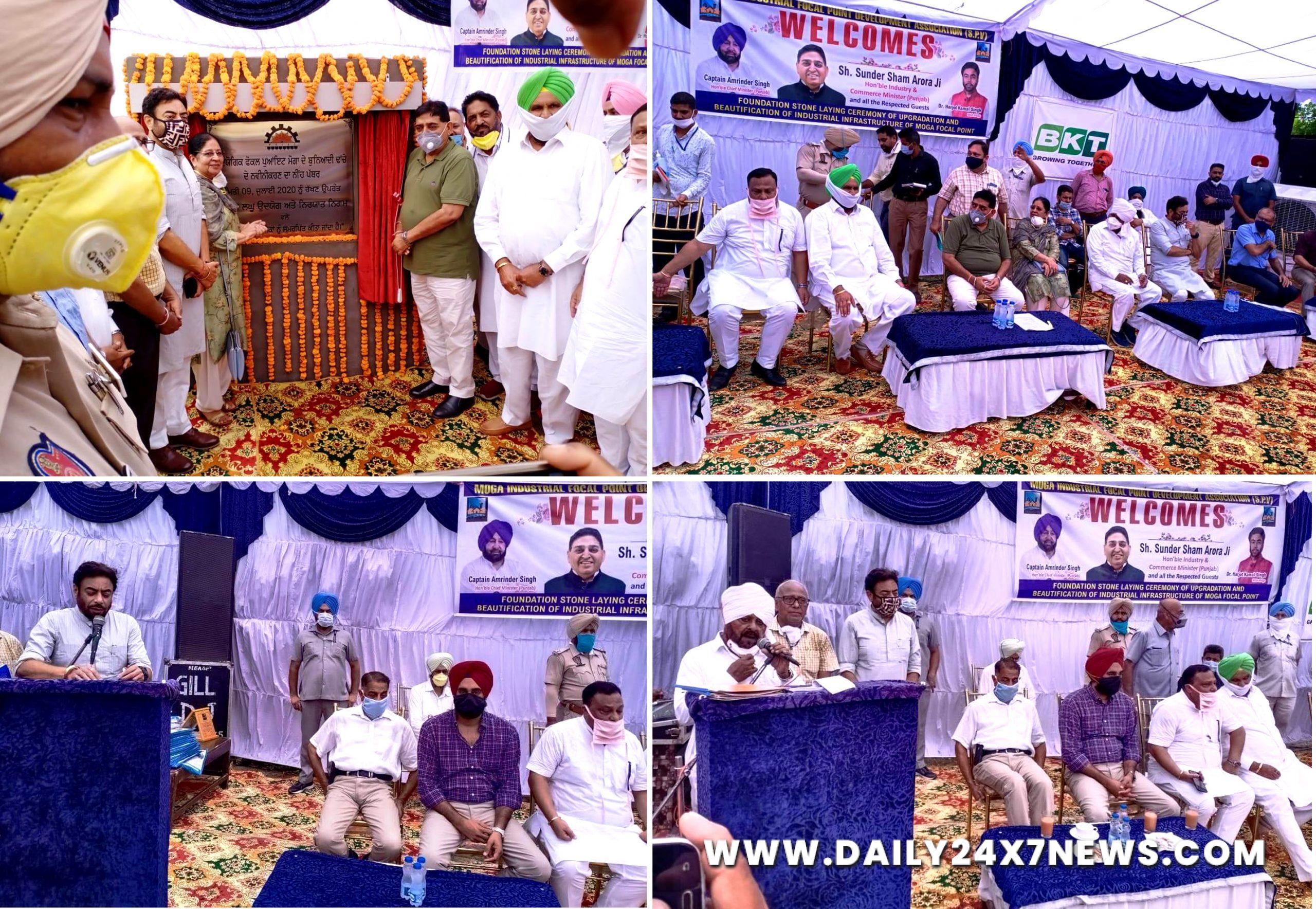 Moga : The Minister for Industries and Commerce, Government of Punjab, Sunder Sham Arora today said that the Punjab government stands by its industrial sector in these tough times of corona virus spread. 2.32 lacs industrial houses in the state are working by adhering to norms of social distancing and only those have not been allowed to resume their operation, which are located in various containment areas.The Minister said this while addressing people during foundation stone laying ceremony for upgradation of the existing focal point area in the Moga city to the tune of Rs 10 cr. He said that lending a helping hand to the industrial houses the Punjab government has sought waiver of upto 6 months on existing bank loans of all the industries from center government so that the industry is able to recover from losses incurred due to economic slowdown as a result of corona infection spread.He said that Punjab was the first state in country to impose lockdown, which has curtailed number of corona cases to a larger extent. He added that 90000 youth have returned from foreign shores to the state and now the government was gearing up to provide job and entrepreneurship opportunities to these youngsters. Already decks have been cleared and 135 acres of land taken over for the Pharmaceutical Park, which is coming up in Wazirabad area of district Fatehgarh Sahib. Here Punjab expects to attract the pharmaceutical sector that is waiting for an exodus from Baddi in Himachal. Also the government was working on setting up industrial parks of 1157 acres at Rajpura, of 1100 acres at Mattewala Road in Ludhiana and of 1000 acres in Bathinda.
Infusing new life into the existing focal points in the state, the Punjab government has allocated Rs 200 crores for upgradation of 17 focal points in Punjab, while another Rs 200 crores have been allocated for setting up cycle valley at Ludhiana. Briefing media persons about the upgradation of Moga focal point he said that Rs 52.03 lacs will be spent on land leveling including boundary wall, Rs 731.89 lacs on laying roads, Rs 10.65 lacs on water supply, Rs 146.99 lacs on power substation and Rs 10.69 lacs on laying drainage. The work is estimated to be completed within an year.
Calling upon the industrial houses to strictly abide by the norm of social distancing to prevent spread of covid, he said that the industrialists should maintain decorum in their industries. He added that whenever a labor or any other industrial worker is found ill, he or she should be immediately taken to health center for proper check up. The coming four weeks are crucial for spread of corona virus. In order to contain the spread everyone will have to lead a disciplined and hygienic life style.
At the event, MP Faridkot Mr Mohd Sadiq said that under stewardship of Chief Minister Captain Amarinder Singh Punjab was giving tough fight to corona and very soon it will emerge winner. MLA Moga Dr Harjot Kamal thanked the Minister Mr Sunder Sham Arora for allocating funds to upgrade the existing focal point that has been in shambles for the past many years. He also introduced innovative industrialists of Moga.The BKT Company donated 100 pieces of PPE kits to the civil hospital Moga, while the office bearers of Industrial Focal Point Association Moga honored the Minister Mr Sunder Sham Arora.MLA Baghapurana Mr Darshan Singh Brar, Deputy Commissioner Mr Sandeep Hans, SSP Mr Harmanbir Singh Gill, former MLA Dr (Mrs) Malti Thapar, chairman Improvement Trust Vinod Bansal, SDM Moga Mr Satwant Singh, GM District Industries Department Mr Mahesh Khanna and other officials were present.