Dr. Tarlochan Singh Kler & Arpana Caur honoured with Honoris Causa degrees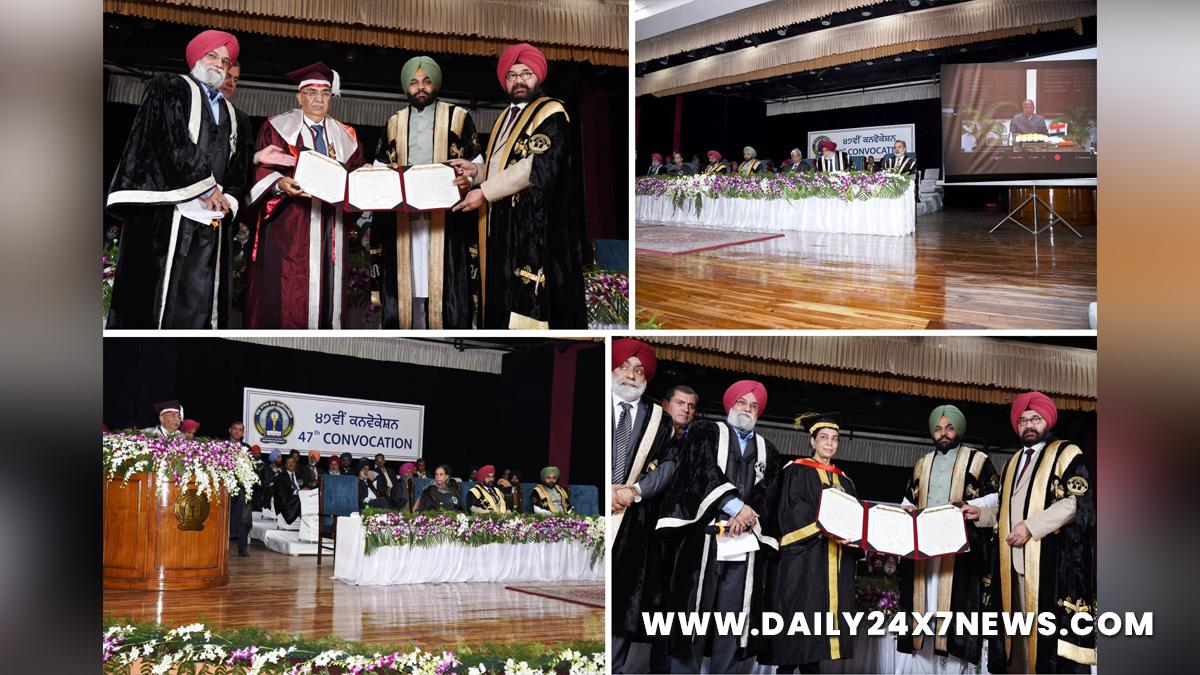 Amritsar : Hon'ble Governor of Punjab and Chancellor of the Guru Nanak Dev University, Banwarilal Purohit said what India needs today is incorruptible young men and women who will dedicate themselves to the service of the larger society through individual pursuits. It is possible to rise above corrupt temptations when one develops frugal needs and sets self within the framework of dharma, which means way of good, cultured, sensible life in which respect for others and elders, and also for the country's history and tradition are primary attributes. The young minds will ponder over this and mould their personalities in accordance with what Guru Nanak Dev Ji preached. He was delivering Convocation address online at the occasion of 47th Annual Convocation of the Guru Nanak Dev University.On this occasion, S. Gurjit Singh Aujla, Member Parliament graced the occasion and honored two eminent personalities, an Indian interventional cardiologist, medical administrator, writer, Dr. Tarlochan Singh Kler, Chairman Pushpawati Singhania Hospital & Research Institute and Former Director of Cardiac Sciences at Fortis Escorts Heart Institute and an Indian contemporary painter & graphic artist Ms. Arpana Caur were honoured with honoris causa degree of Doctor of Science- In the Faculty of Medical Sciences and Doctor of Philosophy – In the Faculty of Visual Arts & Performing Arts respectively. These two personalities were honored in recognition of their contribution in their respective fields. On this occasion 225 Ph.D, 7 M.Phil, 99 Post-Graduate and 64 Under-Graduate degrees were awarded to students from various faculties.
Vice-Chancellor, Professor Jaspal Singh Sandhu welcomed the chief guest and other dignitaries. Prof. Karanjit Singh Kahlon, Registrar of the University coordinated the convocation. Vice-Chancellor also honored chief guest and other guests with a memento on behalf of the University. Prof. Hardeep Singh, Dean, Academic Affairs presented the vote of thanks. A large number of eminent personalities, members of Senate and Syndicate of the University, Deans of the Faculties, Faculty Members, graduating students were present. Prof. Anish Dua, Dean Student's Welfare was also present.Congratulating the graduates, researchers and award & medal winners for their academic achievements, Governor of Punjab online said that I stand before you to reiterate some fundamental philosophies or the findings of experts in various fields connected with education. The path to progress is illuminated by the lamp of education. Prosperity knocks at your door when people in the society acquire the asset of education. Shri Ramakrishna Paramahamsa used to say, "As long as I live, so long do I learn".'He said that universities, as the storehouses of knowledge and incubation centres for the envoys of wisdom and philanthropy, play a noticeable role in streamlining different systems and schools of thought, whether it is in philosophy or sociology, ethics or economics. In addition, the universities also kindle and inculcate in their learners tolerance and persistence, conviction and self-reliance. The students learn to have faith in themselves and in others, and confidence in their essential capabilities to shoulder the responsibilities of life and challenges of living. I am sure that in this esteemed institution you have learnt that the concern of every individual is not only to acquire the means for a decent living but also something higher and nobler than mere individual material advancement.He said that it is expected that an alliance of elementary education and higher along with technical education would help in attaining the aims of expansion, progression, advancement and distinction in education. It will not only improve the literacy ratio but will also become a means to add values of compliance, invention and modernisation in the society. Higher education, in fact, has the premier potential to produce resourceful people capable of standing up by themselves. The most important yield of higher education is the creation of graduates, post-graduates and doctorates who would contribute towards the growth of society.
The Governor said that it is a matter of pride that Guru Nanak Dev University, in the last 50 years, has become an institution of iconic prodigy in higher education. The university is making its mark at the national and international levels in a number of fields. He said that a university can grow successfully only when research and teaching merge together seamlessly. Therefore, GNDU has ensured the development and progression of a collaborative environment conducive to learning, exposure to the best international practices and promotion of innovation and creativity. The university has emerged as a significant hub to impart education, training and entrepreneurial development skills to the youth, women and marginalized sections of society.He said that it is indeed commendable that due to the efforts of the Vice-Chancellor and the whole fraternity today this institution has become an organisation leading towards grander zeniths in academics as well as in sports. For its persistent efforts it has been conferred with the status of "University with Potential for Excellence" by UGC and accredited with "A++" grade by NAAC. It has also been granted "Category One" status, and GNDU is the only university to earn this elite status in the regions of Punjab and Chandigarh.He said that when we talk about education, we are reminded of Swami Vivekananda who had repeatedly stressed that mere accumulation of information is not education but the transformation of character through enlightened wisdom engendered through education. The National Education Policy 2020 has taken special care to incorporate the vision of Swami Vivekananda, places great emphasis on technical and vocational education, professional and skill oriented education, in order to educate youth to become self-reliant with dignity, he added.He said that National Education Policy 2020 has also taken a huge step by liberating education from the shackles of compartmentalisation into science versus arts/humanities, making learning flexible, humanistic and oriented towards making educated youth noble citizens, good human beings.
Our ancient spiritual texts explain the relationship between the teacher and student and as to how both have to grow together in the process of learning.Envisaging his vision for the future of Indian, Sh. Banwarilal Purohit said that Swami Vivekananda once said, 'What I want is muscles of iron and nerves of steel, inside which dwells a mind of the same material as that of which the thunderbolt is made.' I think this is fair enough a hint regarding what the great patriot saint of India expected of us.With the motto that education should be used for the benefit of the entire humanity, he said that the Guru Nanak Dev University has been empowering the students with excellent technical knowledge, skill, ability and is inculcating in them the right attitude and holistic values. Needless to say, this is a moment of immense happiness and contentment in your life as this day scripts the accomplishment of one stage in your life and another is about to begin.He said that I am sure that the technical knowledge and expertise; the theoretical and practical skills and the values that your prestigious institution has imbibed in you will enable you to face the world with confidence and address the challenges. I wish that all of you follow the footprints of your renowned prototypes and achieve the high standards expected of you. Whiel appreciating the achievements of the Guru Nanak Dev University, he said that this University is one of the top-ranking universities of North India. He wished students for a bright and prosperous future. I am sure, stalwarts in several walks of life, intellectuals of knowledge and experience; administrators of exceptional capabilities, being a part of your guiding force, must have left a special and indelible mark in your life, he added.While congratulating the students S. Gurjit Singh Aujla said that we all needed to encourage the culture of good health and better education for growth of Punjab while remembering the teachings and path shown by Sri Guru Nanak Dev ji. He pleaded the students to make their best contribution for the overall growth of our society. On this occasion, Dr. Tarlochan Singh Kler & Ms. Arpana Caur also shared their experiences of life with the students. They inspired the students to resect their parents and teachers and contribute for development of the nation while keeping in mind the teachings of Sri Guru Nanak Dev University.Prof. Sandhu appraised chief guest and others about the activities and achievement of the University in the field of academics, research, culture and sports. Prof. Jaspal Singh Sandhu also honored Dr. Tarlochan Singh Kler & Ms. Arpana Caur with Coffee Table Book on the behalf of the University.