Rs. 99.33 Cr earmarked for flood protection works in state, work to be completed by June 30: Meet Hayer
Water Resources Minister makes surprise visit to Ropar Head Works and inspects the irrigation projects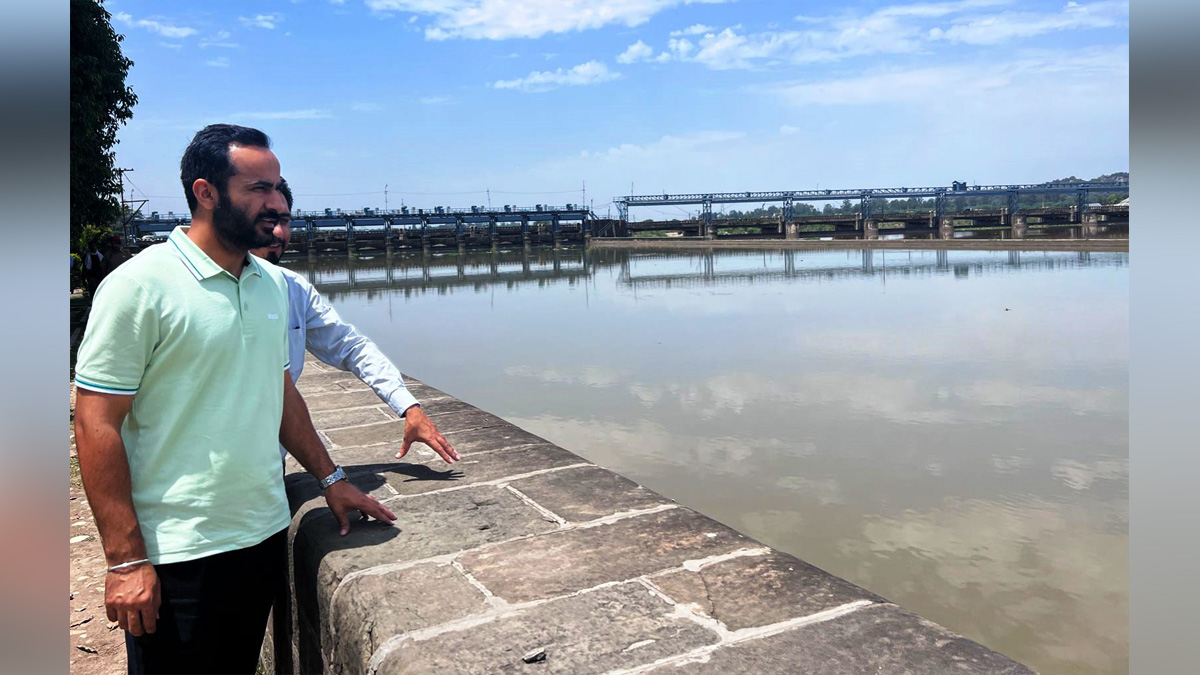 Rupnagar : The Punjab Government has earmarked Rs. 99.33 Crore for flood protection works in the state and these works will be completed by June 30. It was stated by Water Resources Minister Gurmeet Singh Meet Hayer today during a surprise visit to inspect irrigation projects at Ropar Head Works.
Meet Hayer said that while the State Government led by Chief Minister Bhagwant Mann is strengthening the canal network for irrigation, it has also taken steps to deal with the potential flood situation during the coming rainy season. He said that During the current financial year, while Rs. 99.33 Cr. have been earmarked for flood protection works in the state, out of these funds, Rs. 79.33 Cr. will be spent on works and an additional amount of Rs. 20 Cr. have been earmarked separately to deal with any untoward situation during the flood season.
Similarly, the International Border Protection Department is working for the protection of BOPs along the river Sutlej, Beas and Ravi with state funds. He directed the officials to ensure proper utilisation of the funds at the ground level in a transparent manner and those who are negligent in this matter, Strict action will be taken against them.
Meet Hayer further said that the water resources department is strengthening the infrastructure with modern tools. For water control at Ropar Head Works, motorisation of gates of Sirhind canal flowing from Sutlej river has been done at a cost of Rs.7.94 Cr. which will reduce the manual work done by the departmental staff.
This is the first time that a canal or river gate has been automated and in addition Scada system has been installed on the bridge. With this, the exact amount of water released in the canal will be measured that how much water is being released from different gates installed on the bridge of the canal, the purpose of which is to protect the water of the canals as much as possible and deliver it to the right places for irrigation as per requirement.
A Study was constructed on Sutlej river near Chak Dhera village at a cost of Rs. 15.41 lakh, which will not erode the banks and protect surrounding residential areas and agricultural land from floods. In an informal interaction with media persons at Ropar Head Works, Meet Hayer said that flood protection works will be done in Ropar district at a cost of Rs. 2.29 crore.
Flood protection works are being carried out in the areas adjacent to Ropar IIT so that there are no problems in case of recurrence of floods. Similarly, flood prevention works are being carried out in villages Palsari, Jindwali and village Asrapur of the district.
From Nangal to Ropar, various Drains and chow are being cleaned. Similarly, it is proposed to restore the capacity of Charan Ganga Choe, which has religious and historical importance, and to construct a footpath for the movement of religious pilgrims. It has been completely unusable since last year due to dirt and littering in the choe.
Meet Hayer further said that due to the visionary thinking of Chief Minister Bhagwant Mann, canal water has reached many areas of the state after 40 years. Efforts are being made by the state government to save ground water on a large scale. Underground pipes are being installed for irrigation in the state.
The Water Resources Minister further said that the state government will install automatic gates at various places on the canals in the near future, where the water will be stopped so that water can be supplied to the respective areas in the shortest possible time to irrigate the fields. He said that with this technology, if a canal and distributor is damaged in an area, then the damage to crops can be reduced to a large extent.
There is full hope that the underground water will increase due to the opening of canals. Wherever rivers and canals pass through, the water level is much higher than normal in other areas. MLA Dinesh Chadha was also present on this occasion.