Delhi CM Arvind Kejriwal and Punjab CM Bhagwant Mann address a mega rally in Madhya Pradesh
Both leaders urge the public to vote for change in legislative assembly elections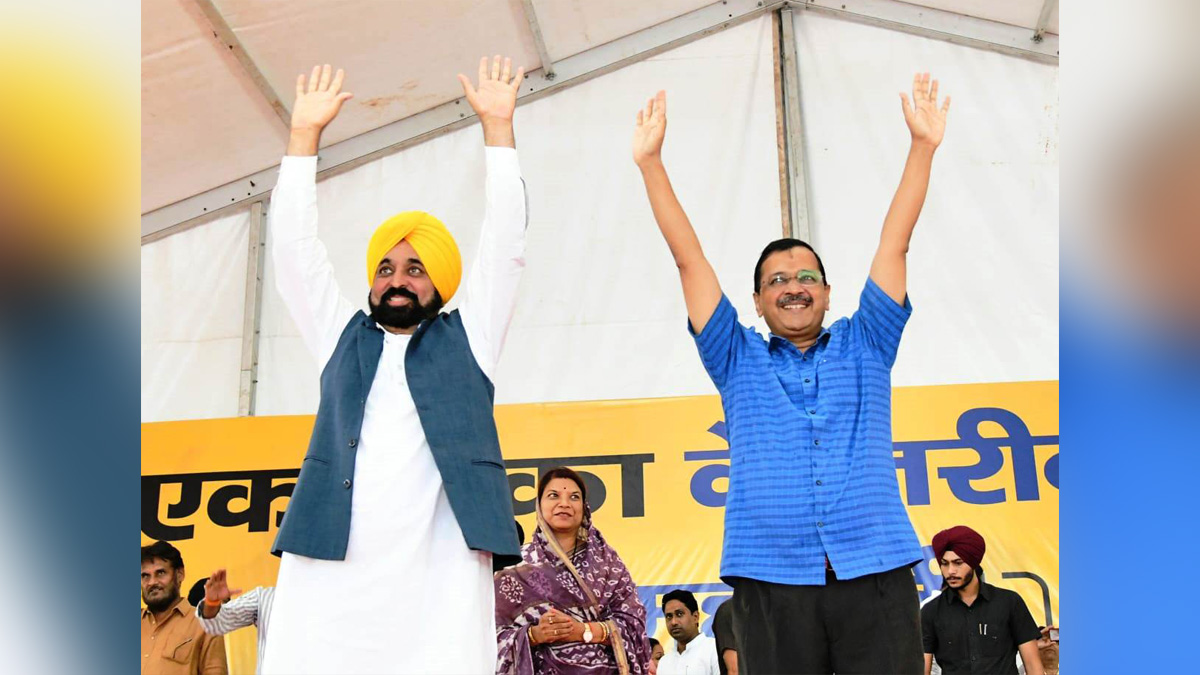 Madhya Pradesh : The Aam Aadmi Party (AAP) national convenor and Delhi Chief Minister Arvind Kejriwal and Punjab Chief Minister Bhagwant Mann, on Monday, reached Madhya Pradesh to address an election rally in Rewa where AAP national convenor unveiled ten guarantees of the party to the people of Madhya Pradesh.
Addressing people here Punjab CM Bhagwant Mann said that this huge gathering is the sign of change. He said that people are done with the system and government of BJP and today they took a step towards a revolution to be part of this historic rally which will initiate the change of government in MP after 18 years.
Mann said that the Shivraj Chouhan government of 18 years did nothing for the people of MP. The AAP government of Punjab has done more for its state and people in just 18 months.
Mann said that in 18 months in Punjab our government gave 36,000 government jobs, regularised 28,000 temporary employees, 90% of households in Punjab are getting zero electricity bills, significantly improved education and health system of the state. But the BJP government only looted the childhood, youth and the elders of the state and what belonged to them.
Mann added that the BJP people tell 'jumle', they will tell more in upcoming elections but we give and fulfill them and we've done all these works in Punjab and Delhi. Modi follows the rule 'na khud padha hun, na kisi ko padhne doonga' but we build schools and give employment to the youth.
Mann said that we are a party which is formed from an anti-corruption movement. We use 'jharoo' to clean our houses and shops but under the leadership of Arvind Kejriwal with this 'jharoo' we'll clean our country too.
Addressing the people AAP national convenor Arvind Kejriwal said that we are common people who talk about your issues. We talk about your houses and your children, their education and future.
We talk about hospitals and employment. He said that AAP governments in Punjab and Delhi have done exceptional works. You give a chance to AAP too and you'll forget about other political parties.
Arvind Kejriwal also gave 'Kejriwal Ki Guarantee' to the people of MP and said that other parties issue election manifesto or sankalp patra but do nothing once their government is formed. But I'll give you 10 guarantees today and after the formation of our government in the state we'll fulfill all our guarantees and do much more for the common people.
10 guarantees included, guarantee of free and 24 hours electricity, education guarantee: where they will build government schools better than private schools and free education, health guarantee: free treatment for all and better government hospitals with all latest resources, corruption free MP, door-step services, employment generation and unemployment allowance, free pilgrimage, regularisation of temporary employees, for Schedule Tribe implementation of PESA and for farmers he promised better crop loss compensation and crop value.