IPL 2023 : Coach Sanjay Bangar advises new RCB players to take up next step in their careers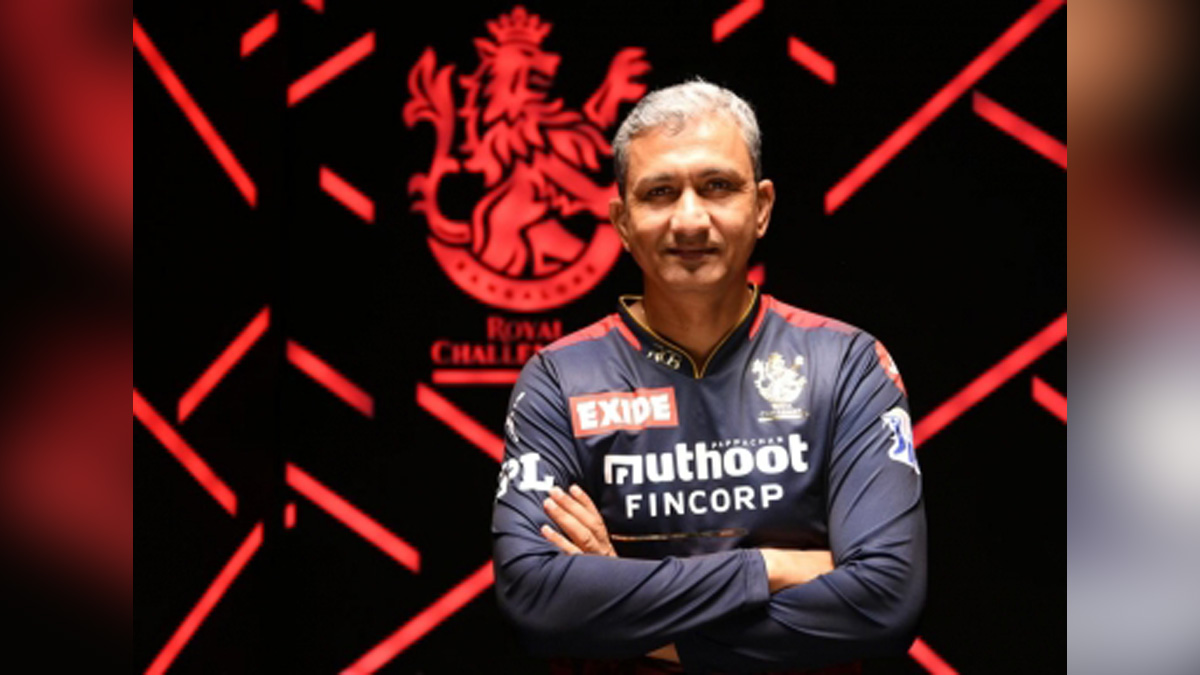 Bengaluru : Ahead of the 2023 season of the Indian Premier League (IPL), Sanjay Bangar, the head coach of Royal Challengers Bangalore (RCB), has advised the newbies in the side to take up the next step in their careers, from the domestic competitions to the high-profile T20 tournament.
RCB had qualified for the playoffs of the IPL 2022 after finishing fourth in the league stage. In the tournament, they lost to eventual runners-up Rajasthan Royals in the second qualifier at Ahmedabad.
Amongst their new Indian players in IPL 2023 are bowlers Himanshu Sharma, Rajan Kumar, Avinash Singh Manhas along with R Sonu Yadav and Manoj Bhadange.
"I could have sensed what you have been growing through. Avinash, Himanshu, Rajan, guys take that step up from domestic cricket, for you to take that step up from hinterland, domestic tournaments right into the IPL."
"Dream big, put in the best efforts, and let things unfold in front of you. It will be gradually growing into the first session but we will get the workload going from hereon so that we are best prepared when the game comes on the 2nd (April)," said Bangar in a video shared by the franchise on their social media accounts.
Bangar, the former India batting coach, also told the players to take inspiration from someone like Dinesh Karthik, whose scintillating finishing exploits for the franchise last year paved his way to being in India's squad for Men's T20 World Cup last year in Australia.
"We've been following your progress throughout the year and it is very heartening to see that the guys have smashed hundreds in the various leagues or somebody's picked up a 10-wicket haul or somebody scored a double-hundred, maybe 400 runs, somebody has fulfilled your long-cherished dream of playing for the country in the World Cup event, someone like DK (Dinesh Karthik)," the RCB coach said.
"Dinesh wanted to somehow make it to the team. Harshal (Patel) was a part of the World Cup squad. So all in all, what I feel is that the kind of energy we bring in here and especially on the first day of our new beginning, for some of you, the experience of stepping onto that team bus would have been fantastic for the first time," he added.
Asked about the impact player rule, which will be there from this season onwards, Bangar felt it will be tough on the all-rounders. "I believe it is 12 playing 12. Most teams want a specialist to occupy their batting slot or their bowling slot.
It's gonna be slightly tougher for players who want to contribute in both departments or players who are capable of playing in both departments. Especially lower down the order at number seven.
They may not be utilized that much as teams may go to specialist batters or a specialist bowler," he said. "It would have been more interesting had the toss thing not been introduced.
Because it sort of takes away all the fun of how teams are going to use impact substitutes. But for me now, it looks straightforward now. After the toss, if you can pick your team then it becomes slightly easier," he added.