Sadhu Singh Dharamsot Launches Slew Of Projects On 71st Van Mahotsav
State Plans To Enhance Forest Cover From 6.83 To 7.5 Percent
Sadhu Singh Dharamsot, Congress, Punjab Congress, Government of Punjab, Punjab Government, Punjab, 71st Van Mahotsav, 71st State level Van Mahotsav, Jagmohan Singh Kang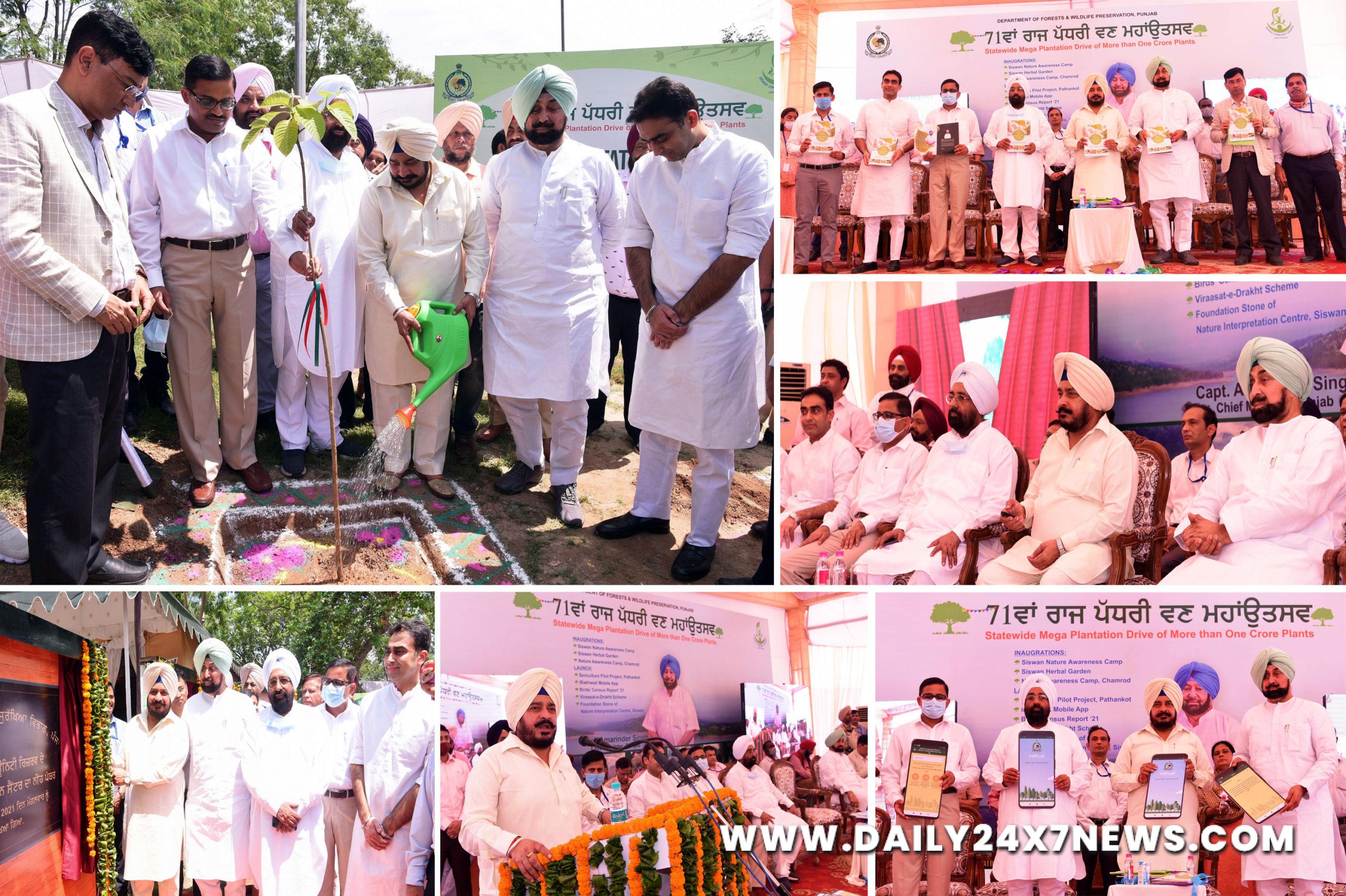 Siswan/S.A.S.Nagar : Punjab Forest Minister Sadhu Singh Dharamsot on Tuesday here launched a slew of projects dedicated to the people on 71st State level Van Mahotsav emphasizing vital link between forests and environment with a view to maintain ecological balance on earth.Expressing concern that reducing forest cover and increase in agriculture has resulted in depleting ground water in the State and development activities are causing air and water pollution besides climate change, Mr. Dharamsot said that forest is the only eco-system to reverse climate change by absorbing Carbon dioxide from atmosphere.Noting that the first Van Mahotsav was celebrated in 1950 with Punjab still being a forest deficient state, the Mr. Dharamsot said that the state plans to enhance forest and tree cover from 6.83% to 7.5% of the geographical area by 2030. As per 2019 satellite report, the forest cover in the state has increased by 11.63 sq-km, said the Cabinet Minister.On the occasion, the Forest Minister launched a state wide mega plantation drive of more than one crore plants by involving various Government agencies such as DCs,/ DFOs/ Para Military forces/ Schools and other Stakeholders such as NGOs apart from 'i-Rakhwali Mobile App' to empower people of the state to participate in protection of trees and forests by lodging complaints regarding forest offences directly to concerned officials. The other projects kickstarted comprised 'Virasat-e-Darakhat' scheme to protect the oldest trees in the State which will be given the status of Heritage Trees. This will enhance awareness of the citizens about protection of trees and forests.
A Sericulture pilot project was also set in motion wherein beneficiaries of six villages have been involved in a pilot project in Pathankot for rearing of silk worms by creating 46 rearing houses and planting 37500 plants of Mulberry. This will benefit 116 beneficiaries.Likewise, Mr. Dharamsot also inaugurated Siswan Nature Awareness Camp wherein tented accommodation facility (3 tents) has been created to provide nature awareness to the people of the State having provision of boating, eco trails, bird watching, nature interpretation, through trekking and cycling. The Phase-II of Nature awareness camp at Village Chamrod, Dhar Block, Pathankot was also inaugurated with construction of four more tents, creation of a zip line facility and commencing of boating whereas in phase-I four tented accommodation was created.The foundation stone of Nature interpretation centre was also laid which will have interactive facilities to educate the tourists about Flora and Fauna of the Shiwalik area.In line with its plantation efforts during the last 4 years, the state has covered 21410 hectare area under plantation by planting 2,14,00000 plants. Apart from this, under 'Ghar Ghar Hariyali' scheme 1,23,00000 plants of indigenous variety have been supplied to the public. As many as 76 lakh plants were planted in 12986 village in the state during the 550th Prakash Purb celebrations of Sri Guru Nanak Dev Ji . This year on the occasion of 400th Birth Anniversary of Sri Guru Teg Bahadur Ji, 60 lakh plants are being planted in the state.
Contributing in enhancing tree cover in the state, the farmers have adopted agroforestry in a big way as during the last 4 years, 13039 farmers have planted 1 crore 49 lakh plants in the State.As part of the concerted efforts to improve the status of Wildlife in the state, Gharial has been reintroduced in Beas Conservation reserve with great success. Many decades ago, Gharial was naturally found in the Beas river system, but it got extinct due to various reasons.Further, Indus Dolphin, a rare and endangered species found in Beas river, has been declared as State Wild Animal to give higher protection to this species while Asia's biggest walk in aviary has been established in Chhatbir Zoo and this year a dinosaur park has also been started.Talking about the efforts to remove illegal encroachment of forest land, Mr. Dharamsot said that with the concerted efforts we have been able to retrieve thousands of acre land. Emphasising upon the importance of forest cover, the Cabinet Minister said that people have acknowledged the values of trees in the testing times of COVID, when patients were direly needed the oxygen support. Prominent amongst those present on the occasion included Mr. DK Tiwari, Financial Commissioner, Forests, Mr. Sadhu Singh Sandhu, Chairman Forest Cooperation, Mr. Jagmohan Singh Kang, Ex Cabinet Minister Punjab, Mr. Vidya Bhushan Kumar, PCCF, Punjab, Mr. RK Misra, Chief Wildlife warden, Mr. Parveen Kumar, Additional PCCF (FCA) & CEO (CAMPA), and Mr. Saurabh Gupta, Additional PCCF (Development).