On Occasion Of World Olympic Day, Deputy Commissioner Urges Youth To Get Connected With Sports
On Invitation By Jarkhar Hockey Academy, Varinder Sharma Visits Jarkhar Stadium Today
Mata Sahib Kaur Hockey Academy Jarkhar, as per the directions of Hockey India, celebrated Olympic Day today. On this occasion, the sportspersons not only shared their views about importance of Olympic Day, but Deputy Commissioner Mr Varinder Sharma also specially visited the Jarkhar Stadium today. The Deputy Commissioner appreciated that keeping in mind COVID 19 pandemic, only a brief function was organised on the occasion. The sportspersons of Jarkhar Hockey Academy have "hockey salute" to Mr Varinder Sharma.While speaking on the occasion, Mr Sharma urged the youth to get connected with sports and contribute in developing a healthy society. He also spoke about the importance of Olympic Day. He said that Jarkhar Sports Stadium is contributing to a large extent towards promotion of hockey and Punjab government and District Administration would provide all possible support to them and hoped that Olympic level players would be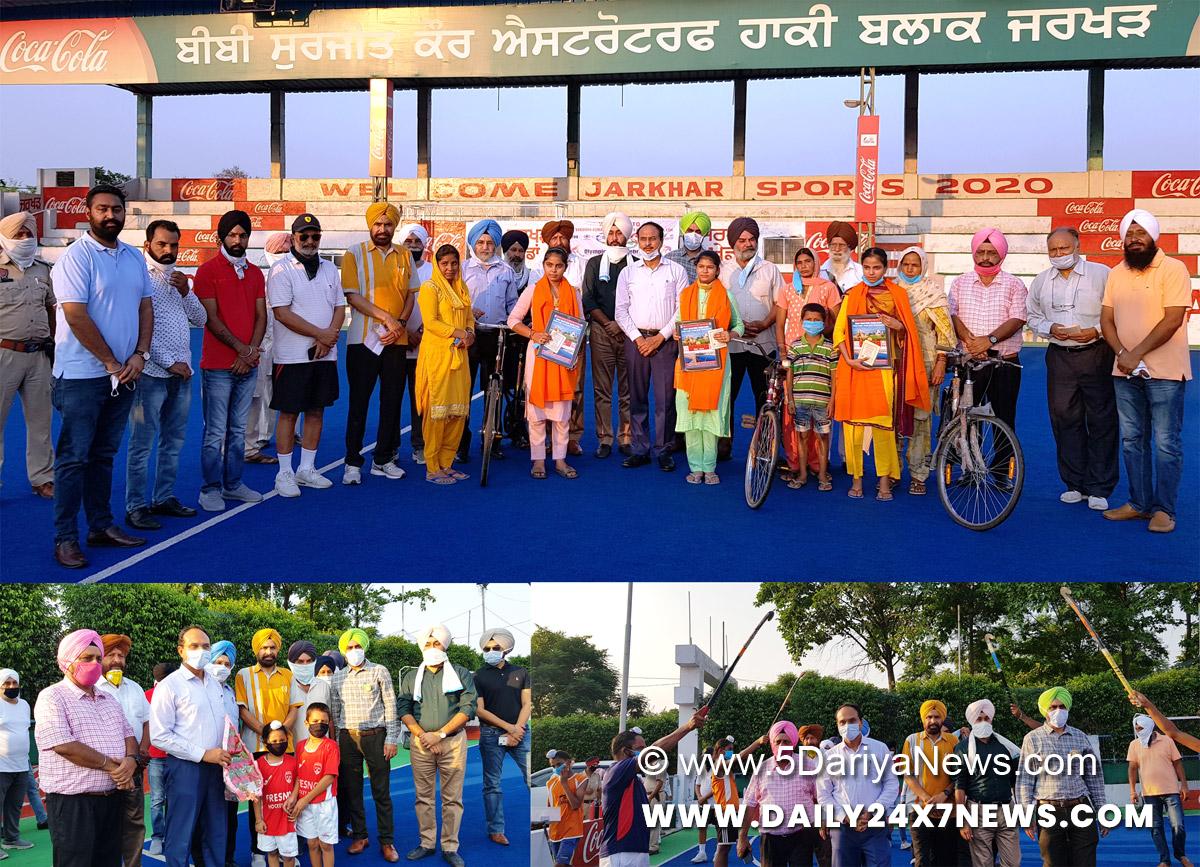 Ludhiana : Mata Sahib Kaur Hockey Academy Jarkhar, as per the directions of Hockey India, celebrated Olympic Day today. On this occasion, the sportspersons not only shared their views about importance of Olympic Day, but Deputy Commissioner Mr Varinder Sharma also specially visited the Jarkhar Stadium today. The Deputy Commissioner appreciated that keeping in mind COVID 19 pandemic, only a brief function was organised on the occasion. The sportspersons of Jarkhar Hockey Academy have "hockey salute" to Mr Varinder Sharma.While speaking on the occasion, Mr Sharma urged the youth to get connected with sports and contribute in developing a healthy society. He also spoke about the importance of Olympic Day. He said that Jarkhar Sports Stadium is contributing to a large extent towards promotion of hockey and Punjab government and District Administration would provide all possible support to them and hoped that Olympic level players would be produced by this academy.On this occasion, sports lover and Punjab Basketball Association General Secretary Mr Teja Singh Dhaliwal and Prof Rajinder Singh also urged the youth to get connected with sports.
During this function, students excelling in class tenth Sukhpreet Kaur Jarkhar, Pawandeep Kaur Jarkhar, Arshdeep Kaur Jarkhar, Parizad Kaur Kauldhar, person who created model of Jarkhar Astroturf Block Gurwinder Singh Ghawaddi, sportsman Iqbal Singh, Jagjit Singh Sarinh, besides other children were honoured with trophies and bicycles.
The organisers specially honoured Deputy Commissioner Mr Varinder Sharma and District Public Relations Officer Mr Prabhdeep Singh Nathowal. Main organiser of Jarkhar Sports Mr Jagroop Singh Jarkhar, General Secretary Mr Jagdeep Singh Kahlon welcomed everyone present in the function. A show match of hockey was also organised on the occasion and children also did yoga. Members of Study Circle also distributed "Jaago Nashe Tyaago" pamphlets to the children.Prominent among those present on the occasion included Chairman Narinderpal Singh Sidhu, President Advocate Harkamal Singh, Baldev Singh Dronacharya Awardee coach, Surinder Singh Bhapa, Secretary, Surjit Hockey Society, Olympian Hardeep Singh Grewal, sports writer Brij Goyal, Yadwinder Singh Toor, Ranjit Singh Ladian, Sukhminder Singh Bhangoo, Tejinder Singh Jarkhar, Prof Rajinder Singh, Gursatinder Singh Pargat, Harbans Singh Gill, Simarjit Singh Dhillon, Rajinder Singh Ghawaddi, Rajinder Singh Jarkhar, Vicky Jarkhar, besides several others.