Bharat Bhushan Ashu kick-starts sewage and anaerobic baffled reactor project worth rs 3.26 crore in dhandra
These projects would usher new era of infrastructure development in rural areas- bharat bhushan ashu
Bharat Bhushan Ashu, Congress, Punjab Congress, Government of Punjab, Punjab Government, Punjab, Ludhiana, Punjab Pradesh Congress Committee, Kuldeep Singh Vaid, Varinder Kumar Sharma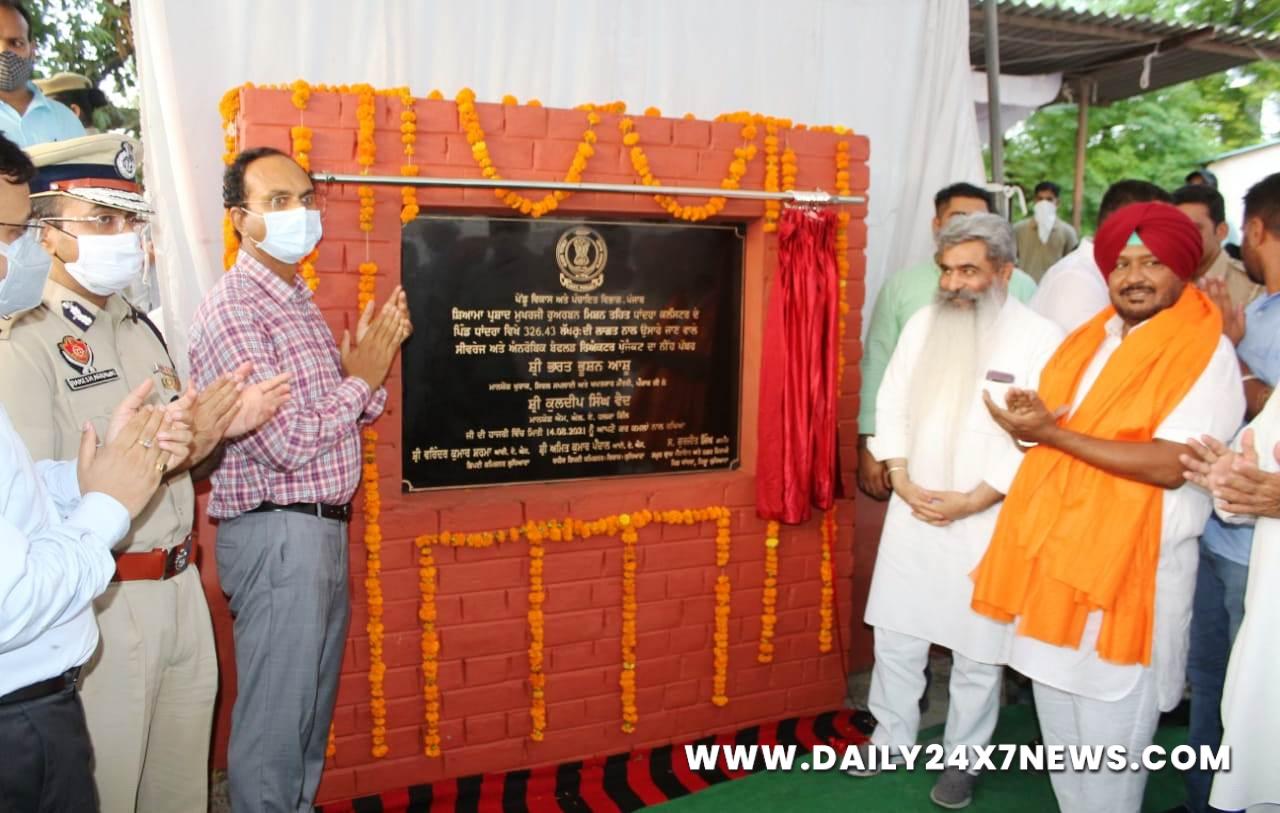 Ludhiana : Food, Civil Supplies and Consumer Affairs Minister Bharat Bhushan Ashu on Saturday inaugurated sewage and anaerobic baffled reactor project worth Rs 3.26 crore in Dhandra village for boosting infrastructure development especially in the rural hinterland of the district.The project is part of Dhandra cluster which is being developed with a cost of around Rs 100 crore under the Shyama Prasad Mukherji Urban Mission in which 21 panchayats, villages and colonies have been included and these areas will get city-like facilities.Accompanied by MLA Kuldeep Singh Vaid, Deputy Commissioner Varinder Kumar Sharma, Commissioner of Police Rakesh Agrawal, Additional Deputy Commissioner (D) Amit Kumar Panchal, Ashu kick-started the work of sewage and anaerobic baffled reactor project which would be completed in next 15-months. He said that the sewage system would cost Rs 2.31 crore and treatment plant would be set up at Rs 95 lakh.He said the project would give much needed impetus to development of the rural areas of the Ludhiana.
He said already under Dhandra cluster, construction work on Skill centre (Rs 2 crore), lake (Rs 3.12 crore), Multipurpose business centre (Rs 5 crore), Commercial Space Centre (Rs 2.45 crore), Multiple Stadium (Rs 99 lakh), Agro Industries (Rs 1.20 crore), Solid Waste ( Rs 32 lakh), Rural huts (Rs 20 lakh), Civil Dispensary ( Rs 20 lakh), Vet Dispensary ( Rs 9 lakh), Government Primary Smart School ( Rs 45 lakh), Solar Lights (Rs 45 lakh), streets (Rs 2.45 crore), Library (Rs 3 lakh) and others are underway.The cabinet minister said the despite the battle against the Covid-19 pandemic, the state government led by Chief Minister Captain Amarinder has fulfilled majority of its promises to ensure comprehensive growth of the state and prosperity of its people.He said that no stone would be left unturned to usher in an era of unprecedented growth and development in every nook and corner of the state, especially the rural areas. He said that the Captain government was fully committed to fulfilling every promise made to people of Punjab.
The Minister further said no doubt Covid-19 had hit the government badly but there will be no dearth of funds for development in the state adding that the state government has already done adequate planning for the holistic development of the urban and rural areas of the state. He said that the development in the state would get a major push in the coming months.