AAP will win in Gujarat with a thumping majority : Bhagwant Mann
AAP will eliminate unemployment, corruption and poverty from Gujarat after forming the government: CM Mann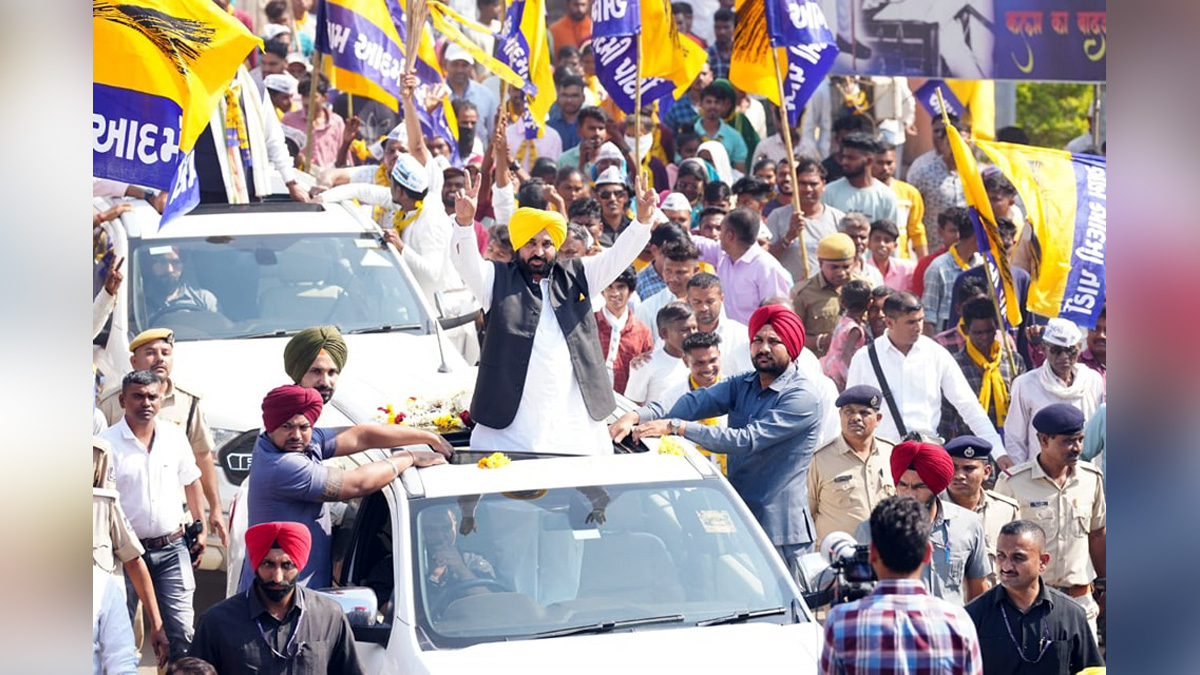 Nizar (Gujarat) : Chief Minister Bhagwant Mann on Wednesday said that the Aam Aadmi Party will win this assembly elections with a thumping majority in the Gujarat and they will eliminate unemployment, corruption and poverty after forming the government in the state.
Addressing a massive gathering of people in his road shows here in Nazar, the Chief Minister said that there is a wave of change as people of Gujarat are so fed-up of the failed BJP government that they are themselves saying that they want to give a chance to AAP for the next 5 years to bring a revolution in Gujarat like the AAP did in Delhi and Punjab. He further said that the this time people will oust venal and tyrant BJP leaders from the Gujarat, which have pushed the state's economy by decades due to its ill advised policies.
He said that Congress and BJP leaders have looted the money of the country far more mercilessly than even what the Britishers had done and said, "Pehle lade they goron se, ab ladenge choron se (First, we fought the British, now we will fight the thieves)," while urging people to end the inimical 27-year-old regime of BJP by giving a chance to honest AAP party under the leadership of supremo Arvind Kejriwal for a better future.
Hitting out at BJP, Mann said that AAP doesn't make bogus claims and whatever AAP promises, we deliver to people unlike BJP which fooled people with 15 lakh jhumla and other bogus poll promises. He said that AAP fulfilled all its elections promises in Punjab within 7 months after coming to power, which previous government had failed to do in 70 years.
He said that AAP is a party of the common people. Only the sons and daughters from humble backgrounds will go to the assembly and the Lok Sabha from AAP. The party will give chance to common people in Gujarat and he is confident that AAP will repeat the history of Punjab in this assembly election.