President Droupadi Murmu visits Mata Amritanandamayi Devi
President Murmu attended an informal meeting with six members of Mexico's Parliament who were visiting Amma as part of the Civil 20 (C20) and Group of 20 (G20) initiatives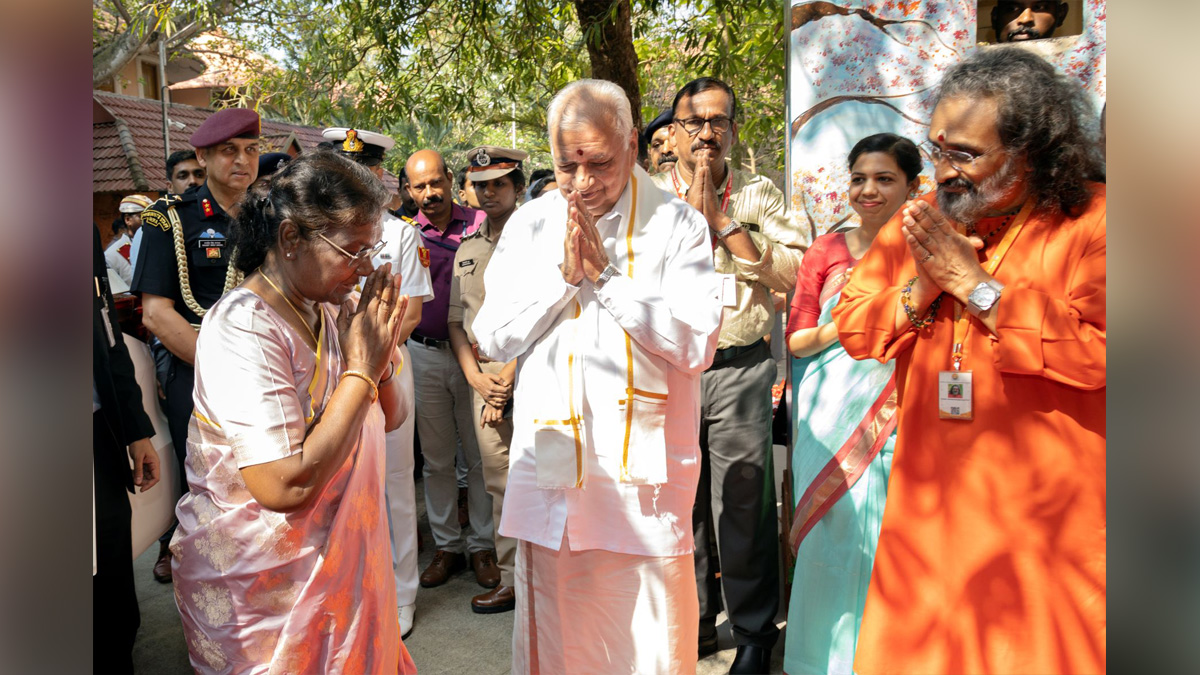 Kollam(Kerala) : President Droupadi Murmu paid a visit to Mata Amritanandanmayi Devi at Mata Amritanandanmayi Math in Amritapuri during her six-day visit to Kerala, Tamil Nadu, and Lakshadweep. The President was welcomed by Swamiji Amritaswarupananda Puri, the Vice-Chairman of the Mata Amritanandamayi Math at the ashram gate. The Sannyasinis of the Ashram extended customary Indian Hospitality by adorning the Honourable President with a Tilak, garlanding her, and presenting her with a shawl.
During her visit, President Murmu had a half-hour meeting with Mata Amritanandamayi Devi, also known as Amma. Arif Mohammad Khan, The Governor of the State; Afsana Parween, Kollam District Collector; R. Nishanthini, Thiruvananthapuram Range DIG and Merin Joseph, Kollam City Police Commissioner accompanied the President for the visit. Dr. Maneesha V Ramesh, Provost of Amrita Vishwa Vidyapeetham, gave a brief walkthrough to the guests on the humanitarian initiatives of the Ashram, highlighting its impact across the world.
Later, the President visited the Bhavatarini Temple of the Ashram and held an informal meeting with six members of Mexico's Parliament who were visiting Amma as part of the Civil 20 (C20) and Group of 20 (G20) initiatives. Amma is Chair of C20, an official engagement group of India's G20 Presidency that represents civil society and non-governmental organisations.
About Mata Amritanandamayi Math
Mata Amritanandamayi Math, (MAM) is a World renowned Spiritual, Educational, and Charitable organization established by most revered Satguru Her Holiness Mata Amritanandamayi Devi, affectionately called by millions of people across the globe as "Amma".
Having inspired by Amma's message of compassion and love, thousands around the world have dedicated their lives for selfless service. For past four decades, MAM has an extensive and proven track record in fields such as medical care, disaster relief, education, homes for the homeless, orphanages, care homes for the elderly, pensions for poor students and destitute widows, the schools for handicapped and mentally impaired, as well as environmental preservation and protection.
MAM has established the largest network of charitable activities globally.  The Math has also set up centres of spiritual excellence for promotion of Yoga, meditation, culture, spiritual values and self-enquiry in many of its branch centres across the globe which have since become vibrant centres of worship, service and spiritual guidance.