Over 2 lakh houses to be built over the next few years
7 models of housing development in J&K
The Administrative Council (AC), which met here under the chairmanship of Lieutenant Governor, G C Murmu, accorded sanction to the proposal of Housing & Urban Development Department for adoption and notification of J&K Housing, Affordable Housing, Slum Redevelopment and Rehabilitation and Township Policy, 2020.The policy envisages seven models of housing, ranging from in-situ slum redevelopment to integrated township, to cater to the need of every section of society.The new policy aims at promoting public-private-partnerships for affordable housing and slum rehabilitation projects and provides platform for operation and maintenance of integrated/ special townships in a cooperative manner. It further proposes minimum relocation of existing slum dwellers so as to maintain sanctity of existing economic and social linkages developed over a period of time in these informal settlements.Additionally, the policy also includes provisions for fast track approvals of housing in Economically Weaker Section (EWS) and Low Income Group (LIG) categories. Besides, it provides for their incentivization in the form of exemptions from building permit fee, land use conversion and external development charges.The policy also aims to provide Rental Housing in which EWS families will be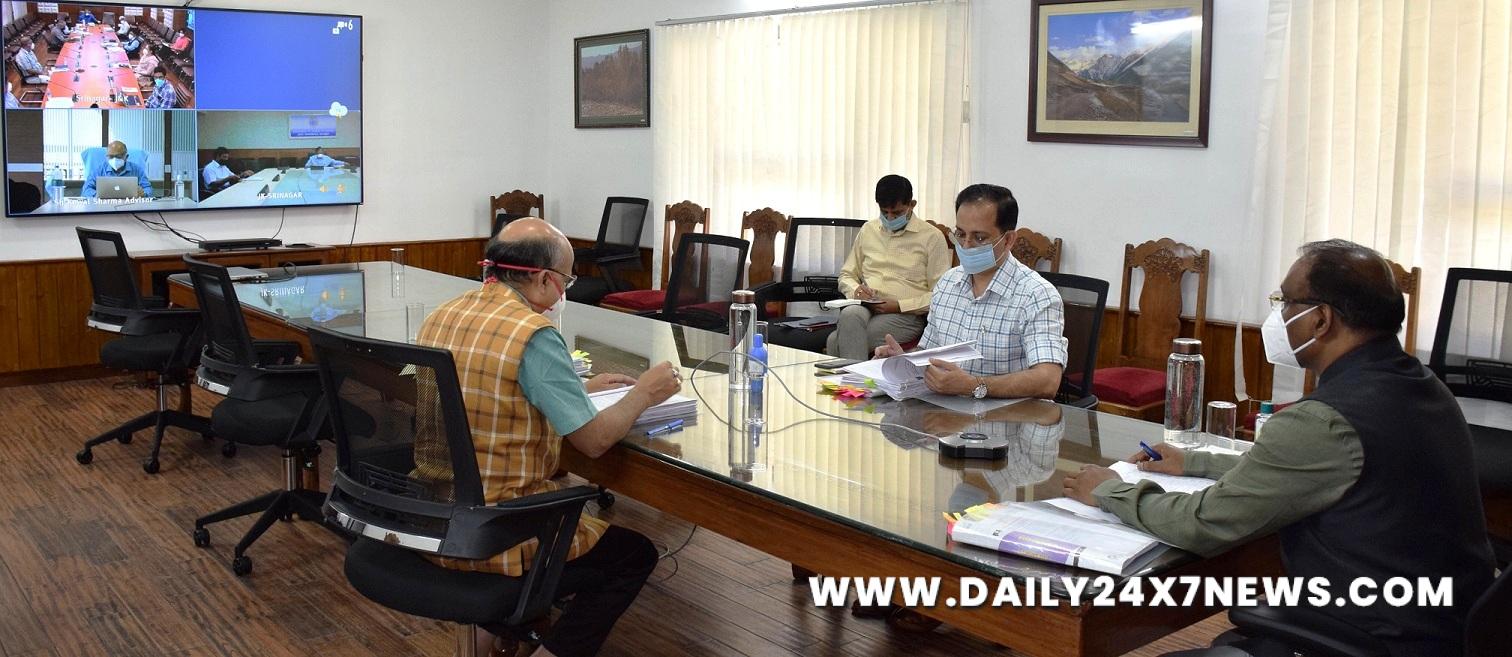 Srinagar:The Administrative Council (AC), which met here under the chairmanship of Lieutenant Governor, G C Murmu, accorded sanction to the proposal of Housing & Urban Development Department for adoption and notification of J&K Housing, Affordable Housing, Slum Redevelopment and Rehabilitation and Township Policy, 2020.The policy envisages seven models of housing, ranging from in-situ slum redevelopment to integrated township, to cater to the need of every section of society.The new policy aims at promoting public-private-partnerships for affordable housing and slum rehabilitation projects and provides platform for operation and maintenance of integrated/ special townships in a cooperative manner. It further proposes minimum relocation of existing slum dwellers so as to maintain sanctity of existing economic and social linkages developed over a period of time in these informal settlements.Additionally, the policy also includes provisions for fast track approvals of housing in Economically Weaker Section (EWS) and Low Income Group (LIG) categories. Besides, it provides for their incentivization in the form of exemptions from building permit fee, land use conversion and external development charges.The policy also aims to provide Rental Housing in which EWS families will be given dwelling unit on license basis for occupation and use for a particular period on making initial deposit and monthly charges.The policy has been approved under the broader vision of meeting the growing requirement for affordable housing, slum redevelopment and rehabilitation and rental housing, for which an initial target has been set for construction of 1 Lac dwelling units over the next 5 years.
Roll out of Excise Policy 2020-21 approved, Annual License Fee, Additional License Fee introduced to optimize revenue
The Administrative Council (AC), which met here under the chairmanship of Lieutenant Governor, G C Murmu, approved the roll out of Excise Policy for the year 2020-21 and implementation of policy measures to improve transparency and objectivity related to renewal, cancellation, transfer of licenses and penalties.The new policy aims to rationalize the number of taxes, duties and other levies to optimize revenues for common good, and bring about greater social consciousness about the harmful effects of consumption of liquor and alcoholic beverages.The policy envisages checking bootlegging of Bottled in Origin (BiO) brands from neighbouring states, besides providing choice of brands and a level playing field to those in the business.Under this year's policy, the Department has specified fixed number of licenses/ licensed zones for Ex-servicemen, specially-abled persons, SC/ST/OBC and people belonging to economically weaker sections as per the criteria to be notified separately.Further, the License Fee structure has also been revisited in the Draft Policy. A fixed component of 'Annual License Fee' has also been introduced, whereas, the existing per bottle license fee has been revised on higher side as 'Additional License Fee'.The Excise Policy for the year 2019-20 was extended till June, 2020 in the wake of COVID-19 pandemic and now stands expired.
Special dispensation approved for regulating construction in 'Strategic Areas'
The Administrative Council (AC) which met here under the chairmanship of Lieutenant Governor, G C Murmu, gave its nod to the proposal of amending the Control of Building Operations Act, 1988 and the J&K Development Act, 1970 to provide for special dispensation for carrying out construction activities in Strategic Areas.The amendments proposed by Housing & Urban Development Department will pave way for notifying certain areas as "strategic areas" in terms of the requirement of armed forces and in such areas, the regulation of construction activity shall be through a special dispensation. The move is aimed at simplifying the procedures and shall facilitate time bound development of infrastructure of strategic importance.The approval has been granted keeping in view the strategic importance of certain locations and reconciling their security needs with developmental aspirations.
2nd relief package approved to revive J&K's economy
To tackle the slowdown of economy due to COVID-19 pandemic, the Administrative Council (AC) which met here under the chairmanship of Lieutenant Governor, G C Murmu, in a focused policy intervention aimed to address concerns amongst various stake holders, approved a relief package to revive the economy.Earlier, the Union Government rolled out a 20 lakh crore package under the umbrella of 'Atmanirbhar Bharat Abhiyan', sharply focusing MSMEs, priority sectors and vulnerable segments. However, the Jammu and Kashmir Government felt a need to consider similar hand holding measures for sectors/borrowers not covered under the Central Government package.In order to clear the backlog of sales tax/VAT arrears under the relief package, the Amnesty scheme has been extended upto 31st, October, 2020. Whereas, the date of filing of re-imbursement claims (GST returns/claims) for the period from January to March, 2020 has been extended to 15th October, 2020 and for the period April to June, 2020 to 15th November, 2020.In a normal course, the Industrial units claiming GST re-imbursement on supply of goods during inter-state movement were required to get the relevant electronic way bills stamped and verified by the consignee. However, considering the issues due to COVID-19 pandemic, self attestation of claimants has been enabled and scanned copies of such documents verified by the consignee and attested by the claimants with a post dated cheque shall be accepted for re-imbursement for a  period of 6 months.To enable smooth transition out of the pandemic driven economic shock, under the relief package, the surcharge leviable on the fixed charges of all the industrial/commercial establishments in J&K for the period 31st March, 2020 to 31st October, 2020 shall be borne by the government.Stamp duty on fresh lending under the GoI's/ J&K Government's package shall also be waived off under the relief package so that the cost of lending is reduced.Moreover, the Administrative Council directed Finance Department to come up with a proposal for interest subvention for currently operating establishments, in consultation with Industries & Commerce Department. Industries Department was also directed to implement the policy of preference for local manufacturers in procurement through an appropriate mechanism.