5-Day Capacity Building Workshop for frontline workers of ICDS POSHAN takes off at Banihal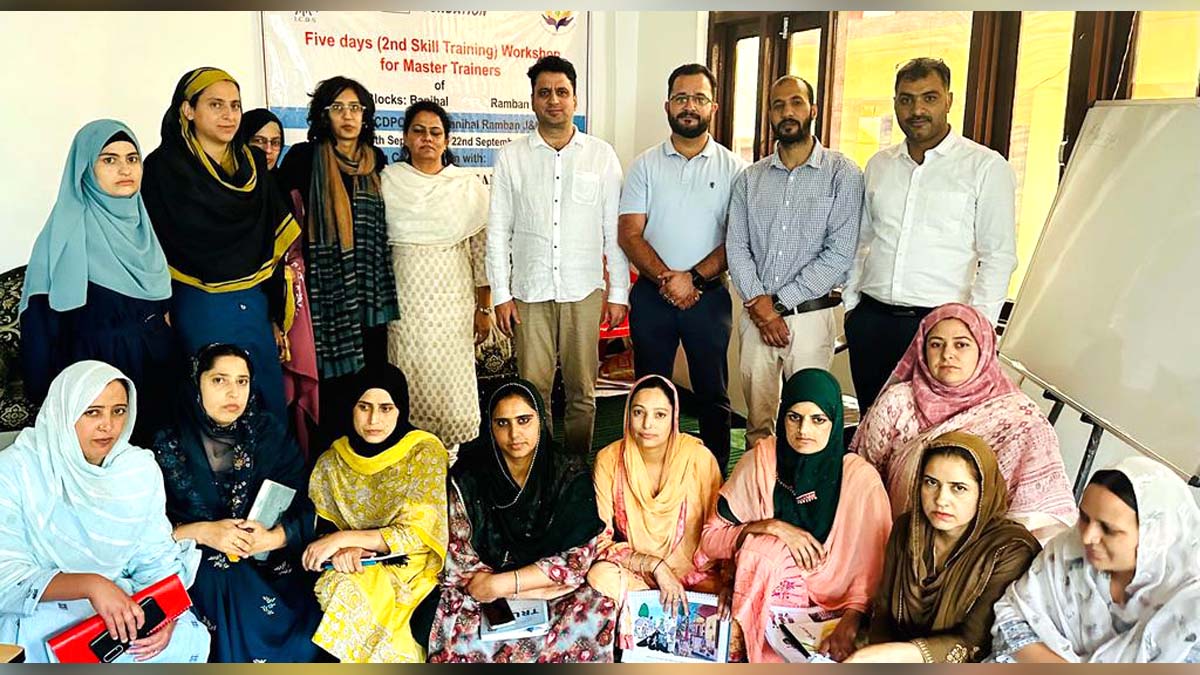 Ramban : Poshan (ICDS) Ramban in conjunction with the Confederation of Indian Industry (CII) Foundation and supported by the J&K Association of Social Workers organised a 5-day transformative capacity-building workshop for the frontline workers of ICDS Project Banihal. The workshop kicked off today in Banihal CDPO Office.
Ten nominated Master Trainers from the Banihal Poshan ICDS project are participating in the workshop. The workshop's primary objectives include acquainting Trainers with the concept and significance of creating optimal learning environments and designing Anganwadi Centers (AWCs).
Additionally, it aims to foster a comprehensive understanding of Free Play and the Four Corners approach, with the ultimate goal of equipping frontline workers to prepare beneficiary children for school, thus enriching the local community.
The workshop is being attended by Dr. Rashim Pal, serving as a Resource Person and ECCE Specialist, Upti, Project Manager from CII Foundation, Tariq Ahmed, Project Coordinator from CII Foundation, J&K Chapter, and Sajjad A Mandloo, Project Manager from J&K Association of Social Workers, along with other dedicated team members.
The inauguration of workshop was led by Project Officer ICDS Ramban Jhangir Hashmi. He conveyed heartfelt appreciation to the CII Foundation for its dedication and support. "This workshop marks a significant milestone in the continuous development of our frontline workers," Hashmi emphasized.
Hashmi expressed unwavering confidence in the department's ability to build the capacity of these Trainers. They, in turn, will be well-prepared to disseminate invaluable knowledge and practical expertise to their fellow Poshan (ICDS) field functionaries in Ramban District, contributing to the betterment of our local communities.
Later during a sensitisation session, PO Poshan (ICDS) Ramban, Jahangir Hashmi, sensitized CII Foundation experts, including Dr. Rashim Pal, Upti, Khursheed and Sajad to the essential training needs of ICDS frontline workers in Ramban, underscoring the collective commitment to empowerment.
This transformative initiative builds upon a Memorandum of Understanding (MoU) signed with ICDS J&K in October 2022, marking the commencement of capacity-building efforts for Anganwadi frontline workers across three districts. Notably, out of the four projects adopted by CII Foundation in Jammu & Kashmir, two are rooted in Ramban District, with one each in Anantnag and Baramulla.