Kathua Jail inmates making face masks for frontline warriors
'PARWAH' initiative launched to create education & skill development opportunities for prisoners
At this time when the world is hit by pandemic causing widespread crisis, the Kathua District Jail authorities with an earnest resolve to help district administration, have supplied over 7000 face masks made by the jail inmates to meet the demand of protective gear for frontline Covid warriors.Jail Superintendent, Mushtaq Ahmed Malla, said the Kathua District Jail administration under its 'PARWAH' (Prison Activities for Reformation Welfare and Health) initiative has undertaken several welfare measures to imbibe the spirit of care and belonging among the inmates as well as staff of the jail.While throwing light on the mask making initiative, the Jail Superintendent informed that lack of resources, like insufficient number of sewing machines and most importantly the absence of raw material for making masks, did not stop the staff and inmates from their resolve to contribute their bit in this time of crisis. "The jail staff arranged sewing machines from their homes which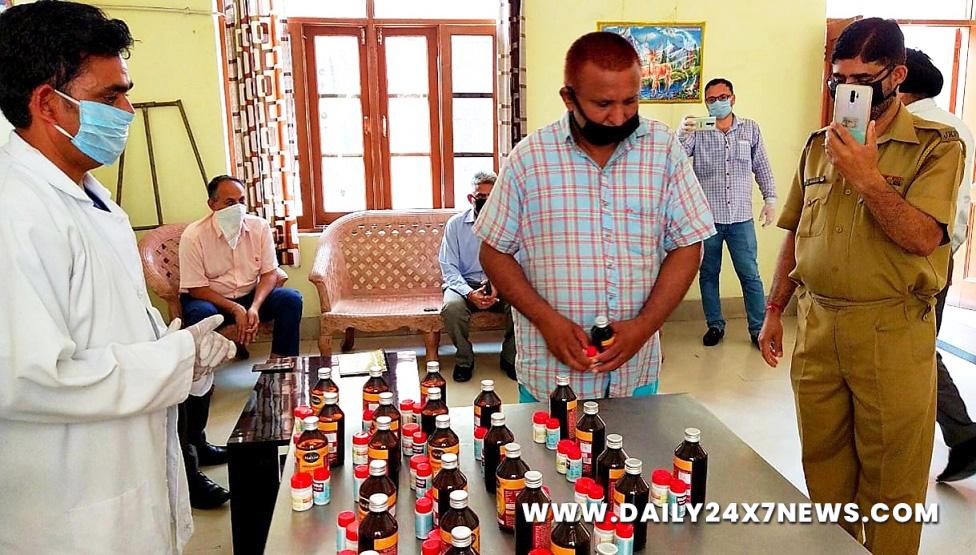 Kathua:At this time when the world is hit by pandemic causing widespread crisis, the Kathua District Jail authorities with an earnest resolve to help district administration, have supplied over 7000 face masks made by the jail inmates to meet the demand of protective gear for frontline Covid warriors.Jail Superintendent, Mushtaq Ahmed Malla, said the Kathua District Jail administration under its 'PARWAH' (Prison Activities for Reformation Welfare and Health) initiative has undertaken several welfare measures to imbibe the spirit of care and belonging among the inmates as well as staff of the jail.While throwing light on the mask making initiative, the Jail Superintendent informed that lack of resources, like insufficient number of sewing machines and most importantly the absence of raw material for making masks, did not stop the staff and inmates from their resolve to contribute their bit in this time of crisis. "The jail staff arranged sewing machines from their homes which show their spirit and enthusiasm for the cause," Malla added."We wanted to make good quality masks which can be used multiple times and after consulting experts it was decided to make double layered masks made of polypropylene cloth. The polypropylene cloth was not readily available in Kathua and a special team was dispatched with special permission to get the cloth from Ludhiana, Punjab on an urgent basis" he added.He said the masks are properly sanitized before packing and all the work right from cutting, sewing to packing is being done with proper precautions like wearing masks and gloves under the supervision of a team comprising inmates and jail staff.Starting with the speed of making 30-40 masks per day the team is now touching whopping 400 masks per day. The cost of each reusable mask is Rs 15 which is quite less than the available variants in the market, informed superintendent."We have so far supplied 7000 masks to the District administration and are planning to put up a sale point outside District Jail to upscale the sale. The move will not only encourage inmates but also provide more wage earning opportunities to them" he added.
Listing other provisions envisaged under PARWAH programme, he said the education as well as vocational training is being imparted to inmates within jail premises through IGNOU centre where 1 inmate successfully passed MA tourism, 34 passed BBP, 1 passed certificate course whereas 13 inmates are currently pursuing BA, 2 PG Diploma and 4 certificate course.The jail centre is also providing the Adult education (basic) through advance audio video platform with the help of Tata Consultancy, under which out of 27 inmates passed the 6 months course and 17 other inmates have enrolled for the same.He added that as many as 29 inmates have so far passed the courses in computer basics, CBFL Urdu and CBFL Hindi whereas 55 inmates are enrolled to get computer education.Vocational training in art & craft, tailoring, electrical, barber, carpenter, painting/wall painting, embroidery, candle making are also being given to the inmates, he informed.The artifacts made by jail inmates are also sent to Sudhar Bikri Kendra at district Jail Jammu and wages for their work are credited into their bank accounts.Giving details of covid protection measures, he said the quarantine & isolation barracks/blocks have been earmarked for new inmates, who are quarantined for a minimum of 15 days which was later spanned till the reports come negative.Quarantine arrangements have also been made for staff (both CRPF & Jail) and to meet staff strength a three tier quarantine system has been put in place for staff returning from leave/shift and transfer to minimize the chances of covid-19 spread.
Screening through thermal scanners and sanitary tunnels has is available to keep a check on inmates as well as staff and other visitors.In the second week of March 2020, the interview /mulakaat of inmates were stopped in compliance to the guidelines, SOPs issued by the government of India, UT of J&K and DG Prisons to prevent the spread of pandemic in prisons. The weekly telephone call facility for 10 minutes was replaced with personal interview/ mulakaat so that inmates can interact with their parents, spouse and children.A special Task Force was constituted to implement advisories, SOPs and stop movement of staff except for procuring necessities to run the affairs of jail.Necessary items like soaps, sanitizers, masks were arranged and provided to inmates and staff. Different washing and sanitation points were also earmarked to avoid congestion.Inmates and staff working in administration/sentries, inmates working in kitchens and other sensitive duties were also provided with gloves, PPE kits, face shield, face masks, sanitizers etc. Sanitization of surfaces/areas with sodium hydrochloride solution, sanitizations of vegetables, ration and other items through washing, sunlight exposure for proper time was being followed as protocol.Through the department of AYUSH, immunity booster medicines were also provided to staff and inmates besides citrus food being given on a regular basis.Measures like installation of Arogya Setu app, awareness through posters and audio video methods, yoga class, morning exercises are also being adopted to educate the staff and inmates about safety measures to get rid from CoronaVirus, he added.
Coronavirus