DDC Chairperson Kathua reviews progress of District Development Plan works under Capex Budget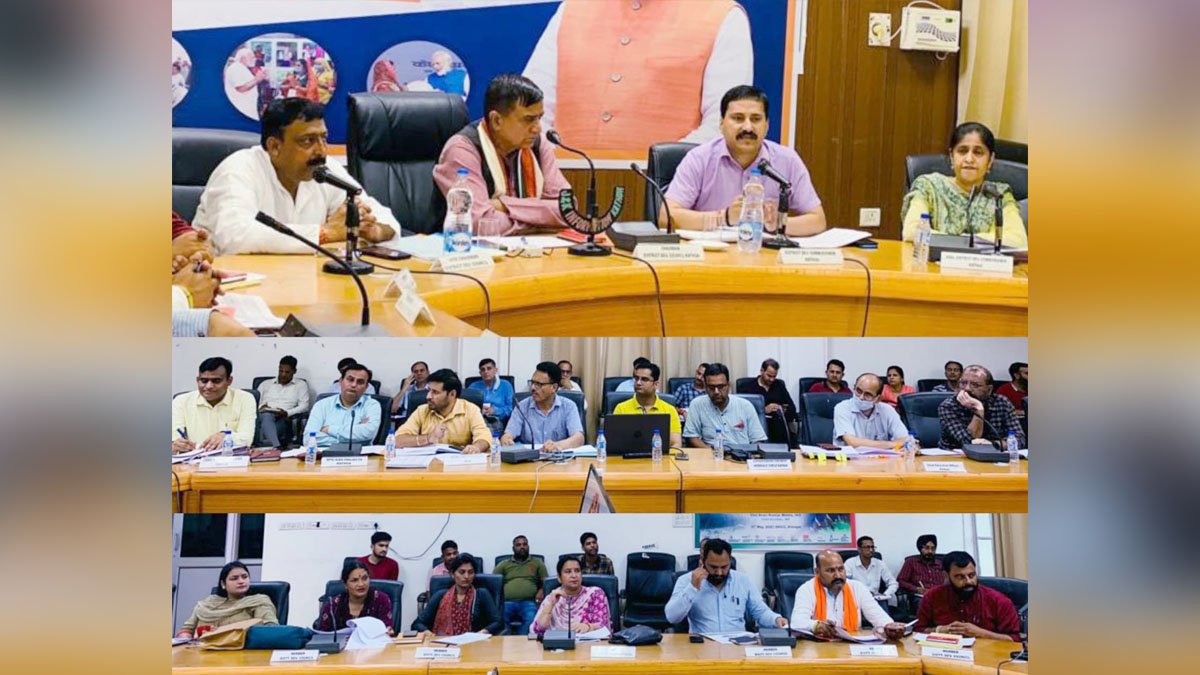 Kathua : District Development Council Chairperson Kathua Mahan Singh today reviewed the status of the works approved under District Capex Budget 2022-23 here at a meeting held in the DC office complex.Deputy Commissioner, Kathua Rahul Pandey; DDC Vice Chairperson, Raghunandan Singh; ADDC Ankur Mahajan; CPO Uttam Singh; DDC members and concerned Officers were also present.
The DDC Chairperson took sector wise review of each work vis a vis status of the ongoing work, accord of technical sanction, administrative approval, status of tender, allotment of work etc.The Chairperson called upon the DDC council members to personally oversee the progress of the works going on in their respective jurisdictions.
He also called for timely execution of works so that development projects shall be completed without compromising on the quality of the work.He urged all the DDC members and District officers to work as a team and coordinate with each other for successful execution of the District Development Plan under the Capex Budget 2022-23 on rational basis maintaining the sanctity of the 3-tier system of Panchayati Raj.
The Deputy Commissioner Rahul Pandey apprised the meeting that the progress of works was being closely monitored by him by taking weekly reviews and the officers has been asked to pace up the progress of the work so that maximum targets can be achieved in a given time frame.
The DDC Chairperson also asked for sharing of a list of all tendered works and a copy of the district plan. He also called for prioritizing the work pending from last year.During the meeting, many other issues were discussed at length viz. Payments related to digging for hand pumps, defunct hand pumps, quality of works, clean drinking water supply, release of 2nd installment under PMAY, fixing responsibility of contractors for delaying the works, Shortage of Staff in Schools, status of KVs proposed for Ramkote & Bani etc. The meeting decided to ensure early resolution of these based on priorities.
Meanwhile, the DDC members unanimously approved 05 resolutions viz. Improvement and widening of Mahanpur-Basohli road, Opening up of new branches of J&K Bank in Kathua, clearing of outstanding MGNREGA liabilities accrued during 2015-16 to 2019-20, Naming of roads, institutions after name of Martyrs, Freedom fighters & renowned personalities, Naming of Sports Stadium Kathua after renowned socialist and legendary leader Thakur Baldev Singh Jasrotia.