Meet Shariya Manzoor : The Boxer Girl from Pulwama despite hindrances earns name also in Martial Arts.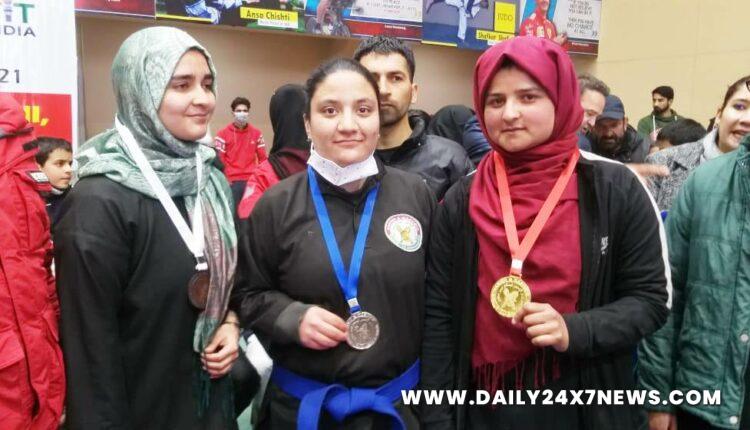 Pulwama /(Mudasir Maqbool) : A 19 Year old girl Shariya Manzoor is becoming first emerging boxer girl from South Kashmiri's Pulwama district.Challenging all odds she had chosen sports field at a Young age and has won many gold medals in boxing.She has won two 2 silver medals in UT boxing championships as well national gold medalist in thang soo doo and also participate in belt wrestling.She has also won Silver medal at state takewondo championships and participate in belt wrestling championship.Shariya Manzoor D/O Manzoor Ahmad Wani Hails from Nehama small village of South Kashmir's Pulwama district is a young Martial arts player from Kashmir has represented UT of Jammu and Kashmir on national level many times.Talking to Correspondent Shariya said, no one supports her in achieving dreams even J&K sports Council ignores her but still I am hopeful to achieve my success in boxing.
She added, My interest was to play boxing & bring carrier but faced no support this game here then i merge to martial arts where I shine always gold medals.Now after three year's I again start my carrier in boxing which is my natural game but want support from Sports Council & where I can prove my abilities.Shariya Manzoor is studying in Government Degree College Pulwama braving the odds She has earned name in the field of sports through her brilliant achievement's so far she had two gold and one silver in Thang – Ta.No professional coach for boxing is available as i am learning at Lion's Den which is Private Academy in Pulwama, She addedShariya added, If a Coach will be available there are other girls which will earn name in boxing not only in Pulwama but whole South Kashmir."No one knows where I go when I do my practices in beginning but today people talk in my Village called me boxing girl not shariya"Presently she is practicing hard to enhance her boxing skills with an aim to Represent India at Olympics.