NDRF conducts mock drill on emergency & rescue operation at Ramban
DC bats for permanent NDRF component in the district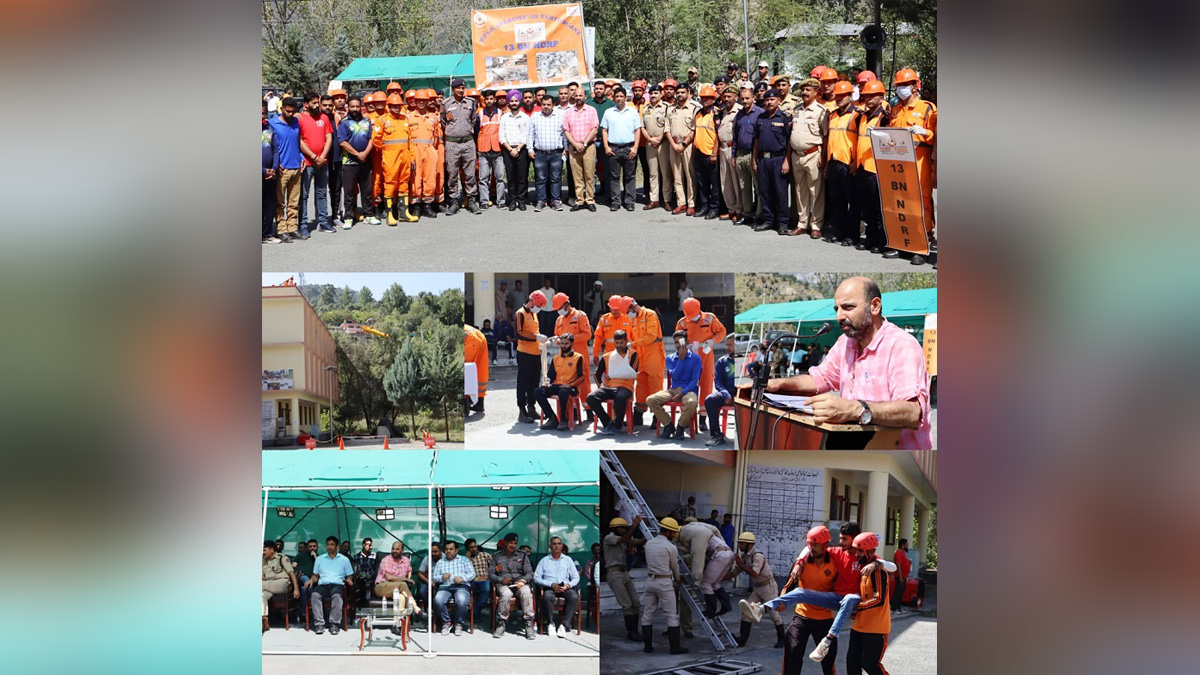 Ramban : Deputy Commissioner, Ramban, Mussarat Islam today presided over the valedictory function of the 10-day awareness cum demonstration programme on preparedness for rescue operations during natural calamities and man made disasters.
The programme was organized by the National Disaster Response Force (NDRF) in collaboration with the District Administration Ramban as a part of ten days awareness cum demonstrations programme held in different tehsils of the district.
The programme was attended by ADC, Harbans Sharma, ACR, Giasul-Haq, Dy. DEO Lal Chand, SDM Ramsoo, Ghanshya Basotra, Dy. SP Hqtr, Om Prakash, Assistant Director, Fire and Emergency Services, Sahil Bandral, Assistant Commandant NDRF, Javed Iqbal, Tehsildar, Rafiq Ahmed, officers of Civil Administration, NDRF, Police, SDRF, civil QRT, and members of different NGOs.
Appreciating the 13th Bn NDRF team for organizing an informative event, the Deputy Commissioner said that the mock drill held at the District Administrative Complex, Ramban was aimed to assess preparedness besides sensitizing stakeholders about rescue and emergency operations to tackle earthquake, fire incidents and other disaster like situations.
Keeping in view the topography of district Ramban, the Deputy Commissioner said that District Administration has submitted a proposal to NDRF to setup a permanent NDRF component in Ramban to deal with challenges of natural calamities, landslides, fire and lightning incidents besides saving people drown in river Chenab 24×7.
The DC also said that the District Administration is focusing on setting up a Local Voluntary Force by strengthening the SDRF and local Civil QRT teams in Ramban. He also thanked the Disaster Management Relief, Reconstruction and Rehabilitation (DMRR) for framing the Apda Mitra scheme through which 100 youth of Ramban were trained in advance rescue training in Jammu.
With good convergence of Apda Mitras in Ramban they could be strong pillars of NDRF, he added.He asked Assistant Commissioner, Relief for the advance training convergence of Apda Mitras under DMRR even if they are sent outside. He informed that two online Applications have been made in Ramban for the real time information about landslides on NH44.
The DC also asked the SDRF to come up with a proposal to equip SDRF and QRT with innovative modern equipment, tools and techniques to save precious lives during emergency operations.Earlier, the 13th Battalion of the National Disaster Response Force (NDRF) conducted a mock drill on fire incidents and earthquake preparedness in the District Administrative Complex, Ramban. They also displayed scene assessment, security and cutting-off building utilities.