International Yoga Day celebrated across Jammu districts
nternational Yoga Day was celebrated across Jammu districts as district administrations, educational institutions and other government organizations hosted yoga sessions on the theme "Yoga at Home, Yoga with Family".RAJOURI: The district administration Rajouri under the overall supervision of the Deputy Commissioner, Mohammad Nazir Sheikh on Sunday celebrated the Day by organizing a programme here at Dak Bungalow. Government officials, members from civil society, women, youth and locals participated and performed various Yoga exercises by observing social distancing norms.Additional Deputy Commissioner, Sher Singh, was the chief guest on the occasion. One-Stop Centre for women Rajouri celebrated the Day here at Ward No.06 Nowshera town with the theme, "Yoga at Home, Yoga with Family".Scores of women participated in the programme and performed various yoga exercises. Social distancing norms were properly followed during the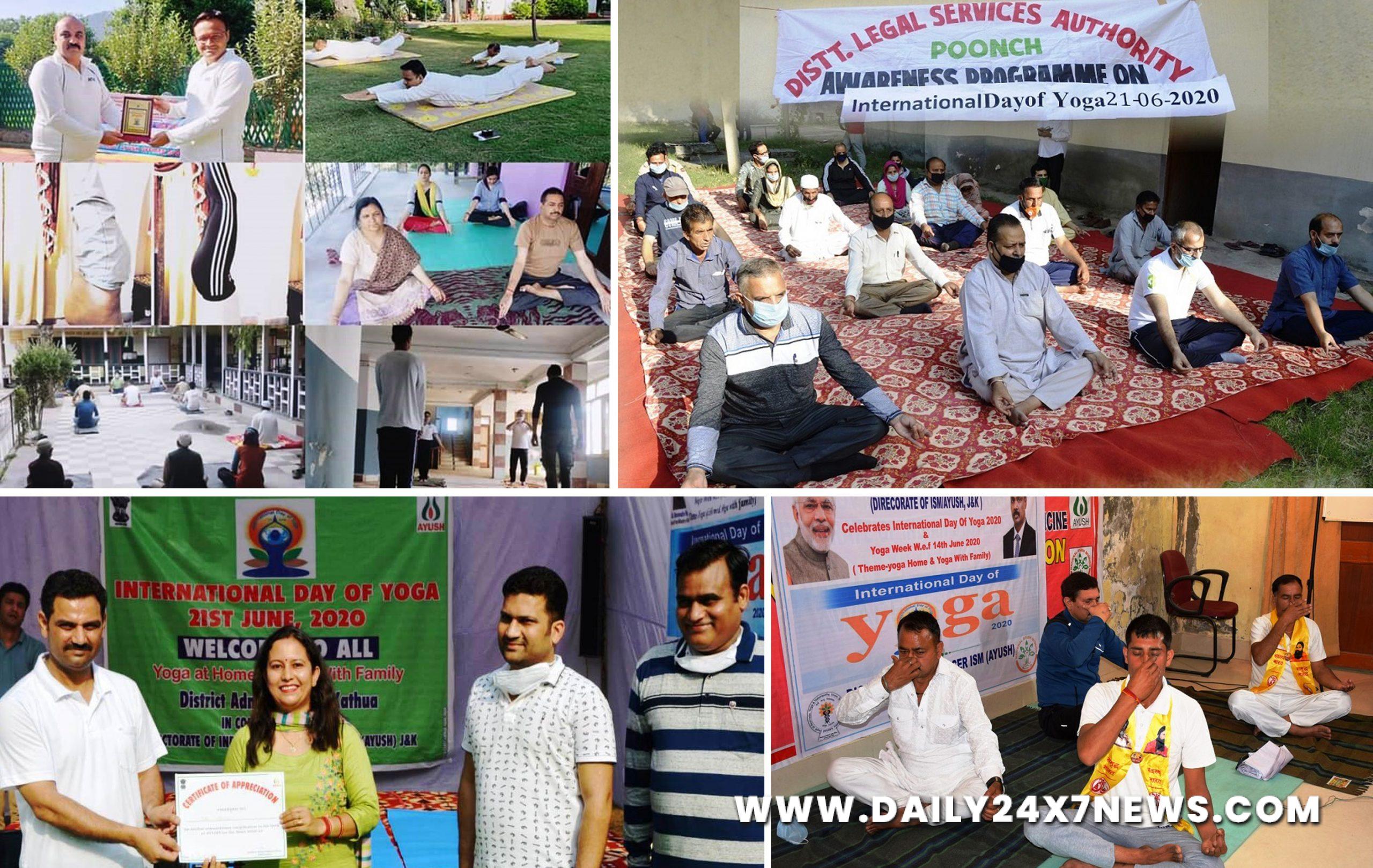 Jammu : International Yoga Day was celebrated across Jammu districts as district administrations, educational institutions and other government organizations hosted yoga sessions on the theme "Yoga at Home, Yoga with Family".RAJOURI: The district administration Rajouri under the overall supervision of the Deputy Commissioner, Mohammad Nazir Sheikh on Sunday celebrated the Day by organizing a programme here at Dak Bungalow. Government officials, members from civil society, women, youth and locals participated and performed various Yoga exercises by observing social distancing norms.Additional Deputy Commissioner, Sher Singh, was the chief guest on the occasion. One-Stop Centre for women Rajouri celebrated the Day here at Ward No.06 Nowshera town with the theme, "Yoga at Home, Yoga with Family".Scores of women participated in the programme and performed various yoga exercises. Social distancing norms were properly followed during the programme.Government Degree College Nowshera, under the aegis of Higher Education Department organized series of activities to celebrate "International Day of Yoga-2020" in past one week. POONCH DLSA: District Legal Services Authority(DLSA) Poonch organised a yoga camp to mark the International Yoga Day here at the District Court Poonch.Chairman District Legal Services Authority, Madan Lal, Secretary District Legal Services Authority Poonch Javed Rana Hakla, advocate Bhanu Pratap, advocate Gulshan Kumar, advocate Iftekhar Ahmed Bazmi, other members of the Bar Association Poonch, staff members of the District courts and Para Legal Volunteers participated in the camp.Advocate Bhanu Pratap highlighted the importance of yoga particularly for managing anxiety, depression and stress.
DODA: The 6th International Yoga Day was celebrated at Doda under the theme "Yoga at Home, Yoga with family" in which District Development Commissioner, Dr Sagar D Doifode attended the yoga session at his residence, while officers, officials and people from different sections of society took part through online mode.Besides yoga sessions were also organised for the inmates of various quarantine centre's on the directions of DDC Doda with social distancing.
Govt Polytechnic Jammu: Government Polytechnic Bikram Chowk, Jammu celebrated 6th International Yoga Day by holding Online Yoga practice sessions for the staff and students during the past week. The final yoga session was attended by Director Skill Development Department J&K, Sajad Hussain Ganai, who stressed on the need and relevance of yoga for staying fit in the present day sedentary lifestyle.
Principal of College, Er. Arun Bangotra welcomed all the participants for the Online Yoga Sessions and highlighted the significance of Yoga for inner peace, transforming body and mind. The proceedings of all the Yoga sessions were carried out by Vinay Kumar, Instructor of the college. Similarly, Shri Ranbir Multilateral Higher Secondary School, Parade, Jammu organised online yoga session and the staff and students participated with their families and friends at home. Directorate of School Education Jammu, had arranged trained yoga instructors through Bhartiya Yog Sansthan for the conduct of the session in a professional manner.
KATHUA: The district administration Kathua organised a function to celebrate 6th International Yoga Day in the premises of official residence of Deputy Commissioner O.P Bhagat , here in the morning hours of Sunday.During the two hours long Yoga session, Yoga exercises, were demonstrated by Dr Bodhpaul of AYUSH ISM. Over 1000 people joined the session through social media for which arrangements were made in advance.
RAMBAN: Virtual yoga sessions were organized in Ramban to mark the International Yoga Day.On the directions of Deputy Commissioner, Nazim Zai Khan, the social media platforms was used to live stream the session of yoga. Yoga sessions were also held at different quarantine centers.
REASI: As per the directions of AYUSH ministry, 6th international Yoga day was marked in Reasi by holding online yoga session from 7 am onwards by department of ISM. Dr Gouri Karlopia with the help of Yoga consultants Dr Sonal Bhol and Dr Dillawar conducted the session.Over 45 participants attended the Yoga session and participants included from personnel of 6 BN CRPF, 126 BN CRPF, 1st BN IRP, general public and staff of ISM.
KISHTWAR: International yoga Day was celebrated in Kishtwar as per this year's theme "Yoga at home" and "Yoga with Family",District Development Commissioner, Rajinder Singh Tara along with the officers of district, students, teachers, staff of ISM Department, other health and security Frontline workers participated in the live session of international yoga Day programme hosted by ISM Kishtwar.