Canning-Processing of Fruits: Horticulture Deptt Jammu organises one day Farmers' Awareness cum Training Program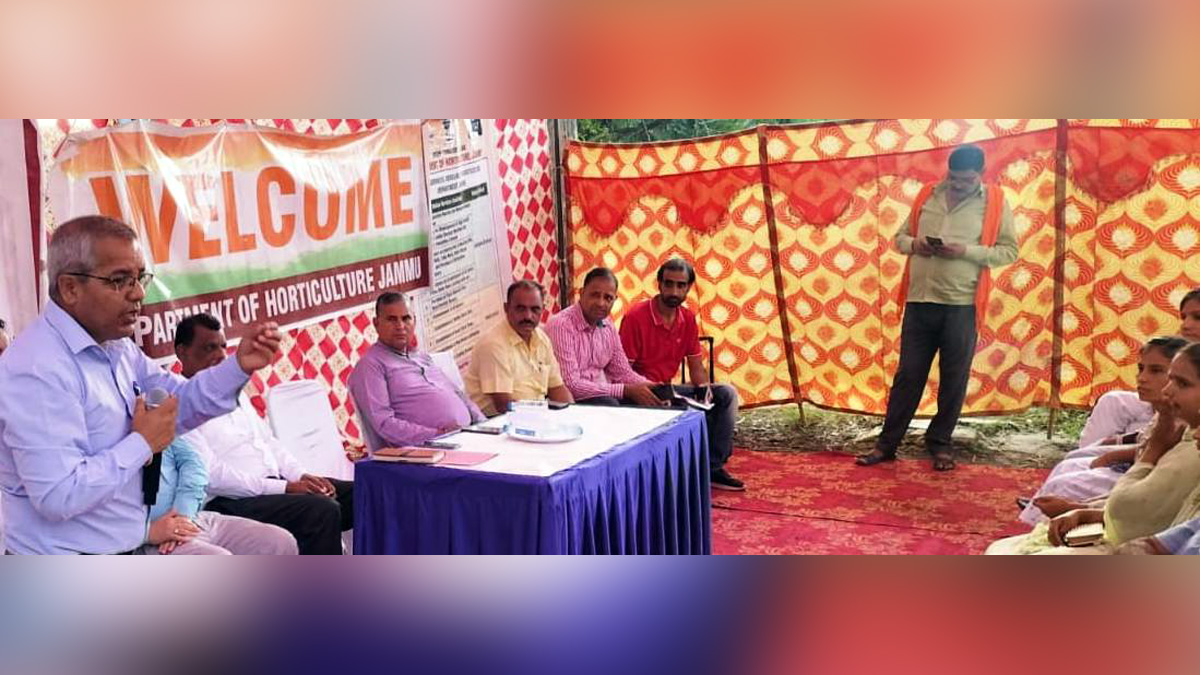 Jammu : The Department of Horticulture Jammu today conducted one day Farmers' Awareness cum Training Programme on Canning and Processing of Fruits at Panchayat Bhagwana Chack of block Khour under the chairmanship of Director Horticulture Jammu, Ram Savak.
Chief Horticulture officer Jammu,. Ashwani Sharma, Tehsildar Khour, Monica Sharma, MCC Jammu, Uttam Chand, DL Subject Matter Specialist, Sandeep Gupta, HDO, Amit Saraf besides PRI members, women entrepreneurs and farmers participated in the programme.
While addressing the gathering of more than 100 farmers of the area, Ram Savak briefed the farmers about different central and UT sponsored schemes of the department in detail and urged them to come forward and avail incentives under different schemes of the department.He also impressed upon the trainees to associate with the Horticulture department and form Self Help Groups (SHG's) for setting up of small fruit and vegetables processing units.
He assured that the department will help them in setting up of Micro Food Processing units under the PMFME scheme, a landmark initiative of Atma Nirbhar Bharat Abhiyan for the value addition of fruit products which will not only provide employment opportunities to the beneficiaries, but will also make them self reliant and henceforth can play an important role in enhancing the family income.
Meanwhile, the Department organised a Training Programme on Layering, Budding and Grafting of fruit plants at Government Fruit Plant Nursery Garhi-Bishnah of block Khour for the unemployed youth including female trainees.The programme was also attended by Vice Chairman DDC, Suraj Singh, DDC member Bushan Bral, Chairman Municipal Committee Jourian and other PRI members of the area.
The program, focused on nurturing the skills of unemployed trainees in hybrid fruit plant propagation, included the generous distribution of free tool kits, facilitating their journey towards establishing private nurseries with the support of the horticulture department.
Speaking on the occasion, Director Horticulture highlighted the commitment of the department to empower individuals, particularly those facing unemployment, with practical skills that can lead to self-reliance and economic growth within the horticulture sector. He further added that such innovative training programs not only benefit the unemployed trainees but also contribute to the advancement of horticultural practices and local horticultural industries.
By encouraging entrepreneurship in hybrid fruit plant propagation and private nursery setup, it opens doors to employment opportunities and strengthens the horticultural community. Vice chairman DDC and DDC member appreciated such fruitful efforts of the horticulture department that can help the unemployed youth of the area in becoming self reliant.