DC Budgam reviews implementation of 10-point campaign on Good Governance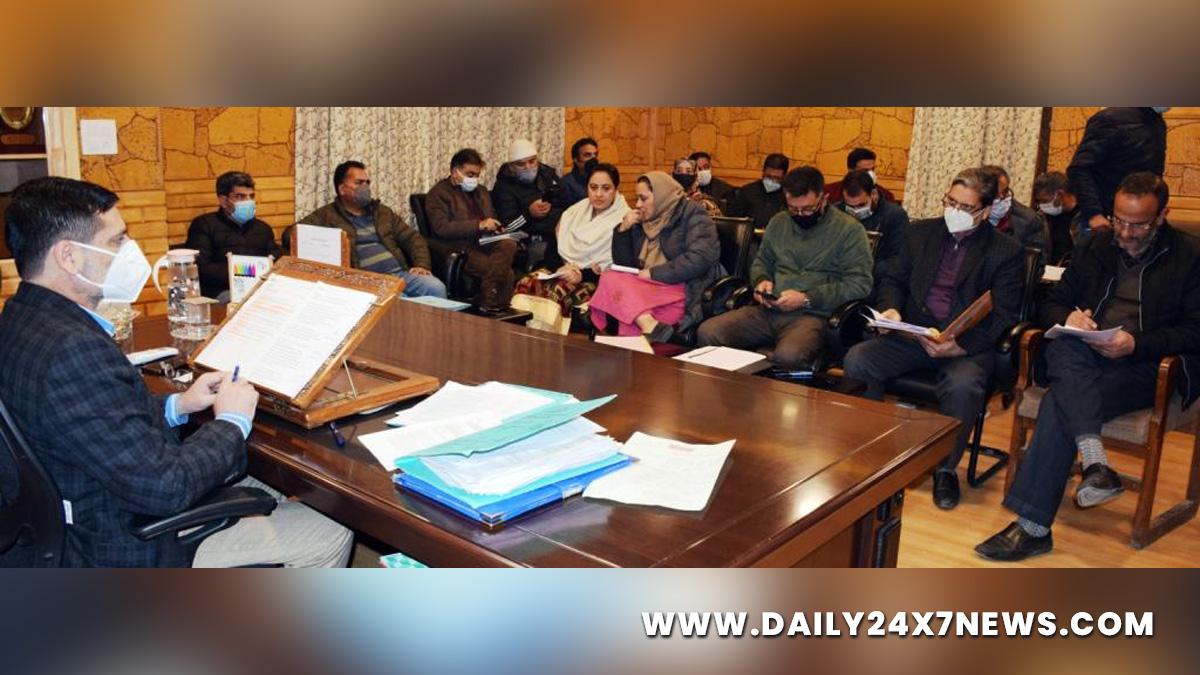 Budgam : The District Development Commissioner (DDC) Budgam, Shahbaz Ahmed Mirza today said that there shall be a renewed push to the implementation of employment and other beneficiary oriented schemes through effective implementation of 10 Point Campaign launched by U.T administration.Speaking during the meeting convened here, the DDC exhorted all concerned line departments to ensure effective implementation of flagship and other government schemes at the grassroots level.The district administration will launch a public outreach campaign to raise awareness and highlight the schemes being implemented to empower the common man.The DDC said that objective of today's meeting is to ensure that through 10 point campaign, there is targeted delivery of health insurance among the rural population, quantifiable panchayat-wise self employment, installation of functional household tap water connection, besides making government processes more transparent, easily accessible, to encourage people's participation in development process and corruption-free, clean governance.He instructed all stakeholders to implement a 10 point campaign on mission mode, including making Swachhta a mass movement in the villages as well as municipal limits and target plantation activities in all panchayats.
The DDC emphasized upon 10 focal points around which the campaign runs and includes, 'Aapki Zameen Aapki Nigrani' under which targeted campaigns will run in villages to ensure all landholders are able to access their land records. Other focal points of the campaign include, Yogyata Se Rojgar Mahotsav which focuses on celebrating merit by felicitating newly appointed Class-IV persons at Panchayat level and under this initiative, newly recruited Class-IV employees shall be felicitated at various panchayats across the district.The DDC urged that through the Janta Ki Scheme-Janta ki Bhagidari public shall have access to BEAMS-Empowerment, a simple process of seeing online details of all ongoing works in an area/village.The DDC also instructed CMO Budgam and District Manager Common Services Centre to ensure issuance of Golden Cards for left out population at an earliest across District. The meeting was informed by Ex. Engineer PHE Budgam that around 10000 new Water connections shall be provided per month under Har Ghar Nal Se Jal.He also stressed upon the Berojgar Se Swa-Rojgar initiative through which self employment to at least 5 persons in every Panchayat shall be provided. In this regard, the District level committee comprising of GM DIC, ACD, A.D employment & Lead District Manager Budgam shall do the needful.The DDC instructed for 100 percent tender allotment under Har Kam Ki Shuruat. Besides this, there shall be renewed Swachhata Campaign in all villages by enhancing implementation of Village Action Plan.The Social forestry Division in District alongwith Rural Development Department shall ensure plantation of at least 2000 plants per village as part of Har Gaon Hariyali, Green drive, the DDC added.The meeting was attended by ADDC, ADC, P.O ICDS, GM DIC, CPO, ACD, CMO, ACR, ACP, EXEN PHE, I &FC and other concerned officers and officials.