68th Cooperative Week celebrated at Ganderbal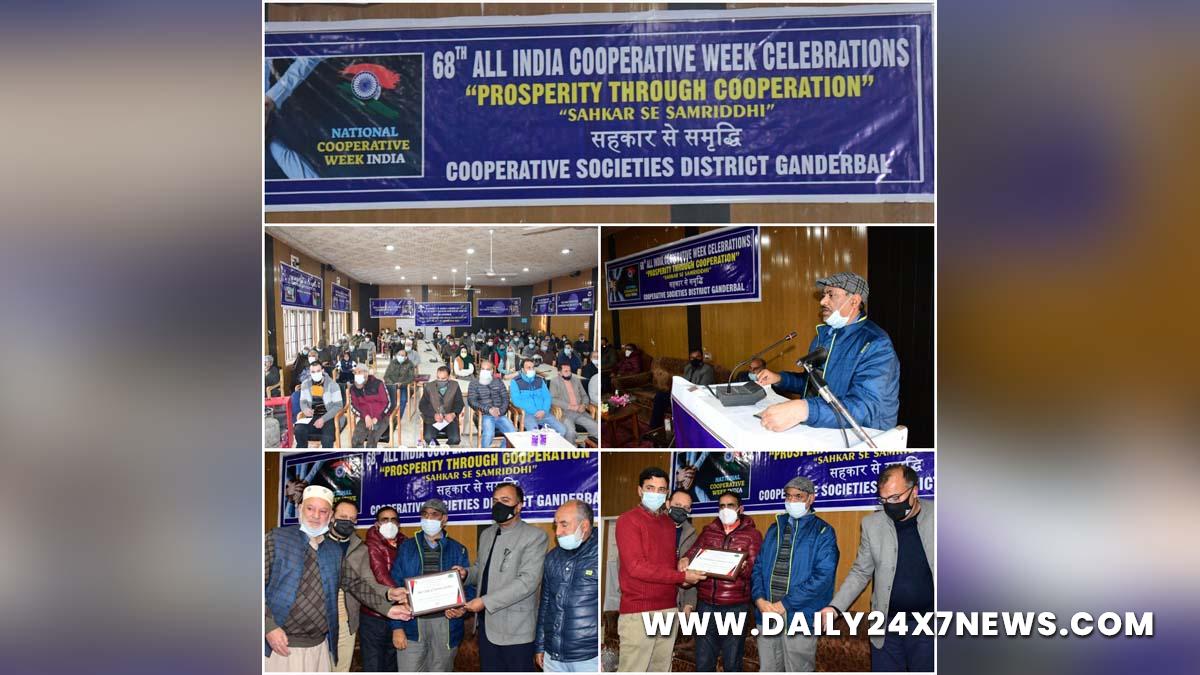 Ganderbal : To mark the celebrations of 68th All India Cooperative week, an impressive function was today organized by the Department of Cooperatives District Ganderbal at the Town Hall, here.The function was presided over by the Additional District Development Commissioner (ADDC) Ganderbal, Peer Muzaffar Ahmad and Additional Registrar Cooperative Societies Kashmir, M.A Dobhi.Deputy Registrar SCARD Bank, Chief Agriculture Officer, Chief Animal Husbandry Officer, District officers, representatives from J&K State Cooperative Bank, SCARD Bank, members and stakeholders of Cooperative Societies of the district also participated in the said programme. In his address, the ADDC praised the role played by the cooperative societies in serving the general masses. He asked all the stakeholders affiliated with the cooperative sector to work tirelessly to realize the Prime Minister's vision of "Sahkar se Samriddhi " prosperity through cooperation, so that the economic condition of people improves and prosperity is witnessed at grass roots level.He stressed the need to organize awareness camps at various levels, so that the essence of doing business on a cooperative based economic model is disseminated far and wide. He also complimented Cooperative Department Ganderbal for organizing an impressive and fruitful programme.
Speaking on the occasion, the Deputy Registrar highlighted the pioneering role played by the cooperative institutions in strengthening the national economy by bridging the rural-urban divide and creating opportunities for income generations.He stressed upon the need to prepare a workforce that will assume new responsibilities and adopt the latest technologies. He laid stress for enrolment of maximum number of educated unemployed youth, women and weaker sections of the society to bring them in the fold of cooperatives, so that they earn for themselves and become the source of earning for others. He asked for creation of maximum employment avenues by registering a maximum number of FPOs, Cooperative Societies, and Cooperatives in diversified fields, establishing mini food processing units in the district.On the occasion, highlighting their success stories, the speakers representing Tulmulla Milk Society, Beehama Sale & Services Society, Cooperative Marketing Society Kangan, Sale & Service Society Lar and Cooperative Public School Chuntwaliwar elaborated their contribution in serving the community through the cooperative sector. Chief Agriculture Officer, Ganderbal apprised the gathering of various schemes and programmes extended by his department and also stressed upon the need for diversification of business activities through a vast chain of cooperative institutions.At the end of the programme, in recognition of their outstanding contribution in their respective fields, 05 Cooperative Societies were awarded Certificate of Appreciation / Excellence, which were presented by the Additional District Development Commissioner Ganderbal and Additional Registrar Cooperative Societies Kashmir.