68th All India Cooperative Week celebrated at Kupwara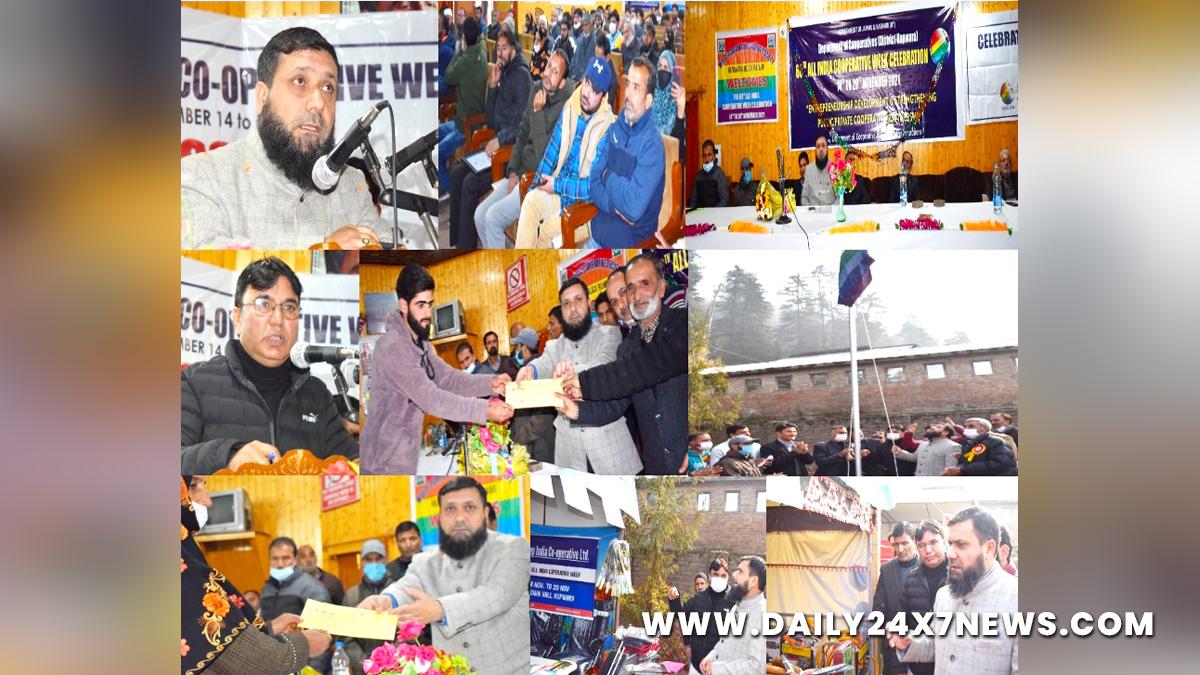 Kupwara : The Department of Cooperatives, District Kupwara today celebrated 68th All India Cooperative Week at Town Hall, here.Deputy Commissioner (DC) Kupwara, Imam Din was the Chief Guest on the occasion.At arrival, the DC hoisted the multi-colored flag in presence of the officers to mark the celebration of the event. He also inspected different stalls installed by various Cooperative societies of the district.While addressing the function, the DC impressed upon the concerned officers to provide mass awareness to the people about the schemes of the Cooperative department so that they could get benefitted. He directed them for proper coverage of success stories of the department so that unemployed youth in particular will be encouraged to earn their livelihood through different avenues provided by the department.He also provided awareness to the participants about the Land Records Information System, "Aap Ki Zameen, Aap Ki Nigrani" and asked them to take advantage of the digital platform.
Speaking on the occasion, the Deputy Registrar Cooperative Societies highlighted the achievements of Cooperative Societies in the District. He said that there are 44-functional Cooperative Institutions of various types in the district having 27,000 members.During the year 2020-21 the Cooperative Sector in the District carried out the business activities to the tune of Rs.7.34 Crore, and during the current financial year the business volume upto 31 October, 2021 is Rs.4.32 Crore, he added.On the occasion, 2 Cooperative Societies were awarded the Certificate for Excellence and mementos for their outstanding contribution in their respective fields which were presented by the Deputy Commissioner.Meanwhile, various speakers including resource persons highlighted the role of Cooperative Societies in the Socio-economic upliftment of the members of the Societies and emphasized the need for formation of new Cooperatives in different fields by involving more and more unemployed educated youth.Assistant Commissioner Revenue, Jowhar Ali, Deputy Registrar Cooperative department, Ghulam Mohiddin Kohli, besides, officers and delegates of Cooperative Societies participated in the event.