Marking Breastfeeding week- CCPCR inaugurated Child Friendly Corner in GMCH-32, Chandigarh
Chandigarh Commission for Protection of Child rights, CCPCR , Harjinder Kaur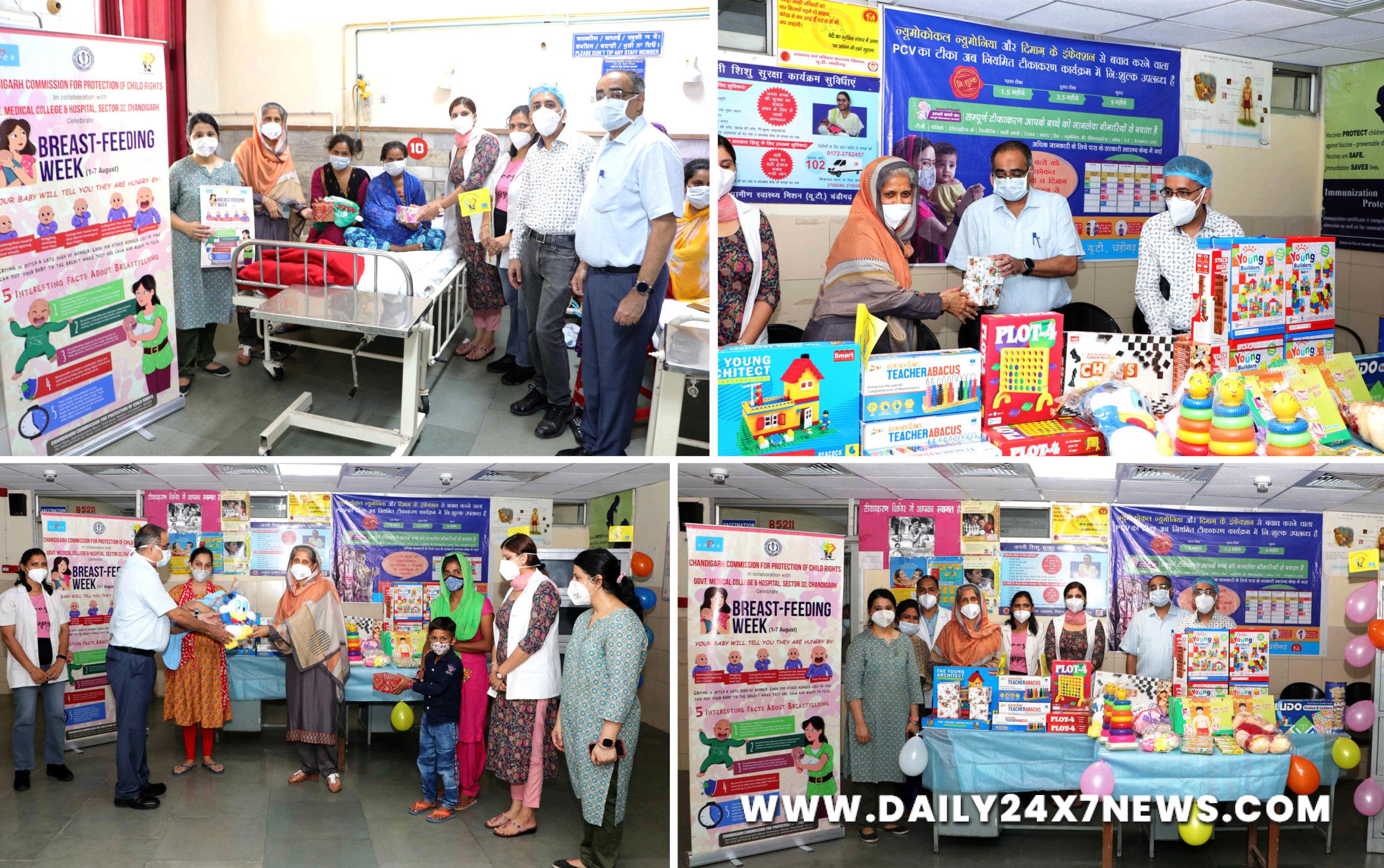 Chandigarh : Chandigarh Commission for Protection of Child Rights (CCPCR) inaugurated the Child Friendly Corner with the toys bank in the pediatric ward of Government Medical College & Hospital Sector 32, Chandigarh while celebrating Breastfeeding week.Every year the world breast feeding week is observed from 1st to 7th August to create awareness about the breast feeding for both the mother and babies. Keeping in view the COVID scenario, the commission organized an awareness programme to sensitized about the importance of breast feeding for the benefit of early childhood care and development. On the occasion, Dr. Deepak Chawla undertook the awareness program on "Importance and Ways to Breastfeed" in the neonatal ward. As part of the awareness programme, Mrs. Harjinder Kaur, Chairperson CCPCR, along with Dr. Vishal Guglani, Ms Niti Mohan Empanelled consultant CCPCR launched the poster on "importance of breast feeding".
While speaking on the occasion, Dr. Vishal Guglani professor and head department of pediatrics GMCH 32 said that," The benefit of breast milk contains anti bodies that help you fight of viruses or bacteria". Also lowers risk of having asthma or allergy in babies. Dr. Deepak Chawla professor department of neonatology said that "breast feeding could have after giving birth a women produces colostrums which is extremely important for babies heath as it contain immunoglobulin and vitamin A, E, D and K. the milk produce later known as transient milk known as is vital for the babies because they are rich in protein, minerals, fats, sugar and water.Speaking on the occasion, Mrs. Harjinder Kaur, Chairperson CCPCR shared that according to WHO, breastfed children perform better on intelligence tests, are less likely to be overweight or obese and less prone to diabetes later in life. Women who breastfeed also have a reduced risk of breast and ovarian cancers and allergies. So we must pledge to at least feed the babies upto 2 years of age for their best growth.The awareness material has also been distributed to the Anganwaris for the survey all over to judge the best assessment card in 450 Anganwaris.
Highlights
• During the pandemic situation Commission focuses on 0-6 years of childhood through Early Child Care
• Breastfeeding is the best diet for the Child
• Promoting the Breastfeeding till 2 years of age for the safe and best growth of child awareness campaign is being run by the CCPCR
• Awareness through Anganwari centres with the best assessment award for each Anganwari is being done through 450 centres all over Chandigarh
• Awareness material released at GMCH- Sector 32, Chandigarh
• Child Friendly Corner established with Toy Bank during the awareness campaign.