Kashmir craft has worldwide reach and the Government is committed to promote it : Baseer Ahmad Khan
"Education scheme for children of Artisans and Weavers, Trade Subsidy for exports"
Baseer Ahmad Khan, Advisor, Advisor to Lieutenant Governor, Jammu, Srinagar, Kashmir, Jammu And Kashmir, Jammu & Kashmir, Deputy Commissioner Ganderbal, Krittika Jyotsna, Ganderbal, Kashmir, Jammu And Kashmir, Jammu & Kashmir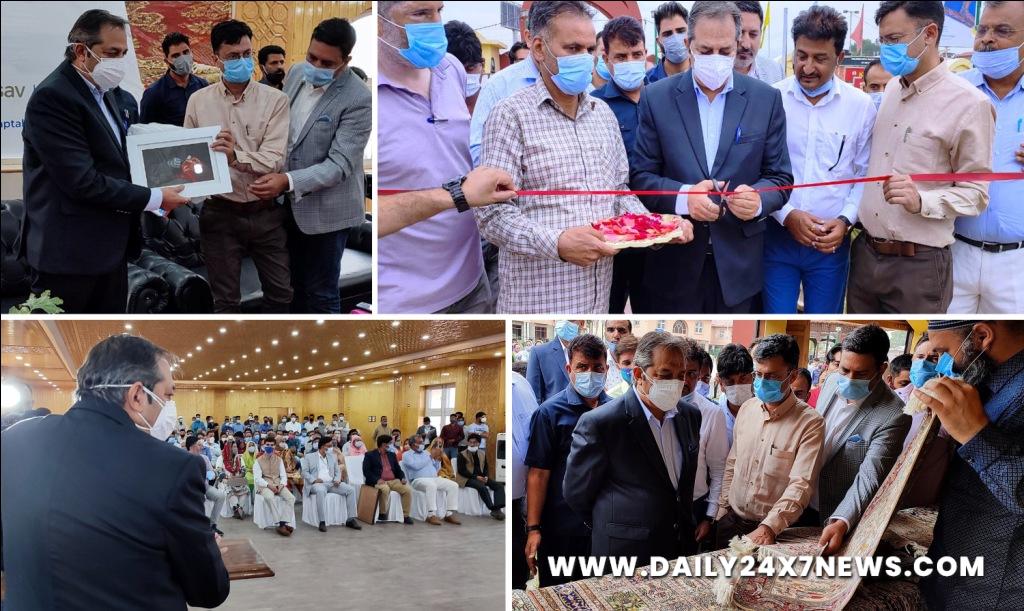 Srinagar : Advisor to Lieutenant Governor, Baseer Ahmad Khan said that the government is fully committed to promote all the crafts and handicrafts of Jammu and Kashmir and is taking several initiatives in this regard.He made these observations while inaugurating the Celebration of Vanijya Saptah at Kashmir Haat here, as part of the Azadi Ka Amrut Mahotsav, which marks the start of the 75th year of Indian Independence.Vanijya Saptah is a two day event being organised by Department of Handicrafts and Handloom in collaboration with Ministry of Commerce GoI, Carpet Export Promotion Council India, Directorate General of Foreign Trade, Department of Industries and Commerce Jammu and Kashmir. On this occasion around 65 stalls have been installed at Kashmir Haat providing a platform to artisans and weavers who are displaying and marketing their goods.On the occasion, Advisor Baseer Khan said that Lieutenant Governor Manoj Sinha is committed to give a boost and expand the handicrafts of Jammu and Kashmir across the globe and several initiatives in this regard are being taken.Advisor said that the whole idea of showcasing these stalls is to generate awareness among the people in order to promote art and craft to the next level. He said the endeavors of this nature provide a platform for the marketing of products in addition to the support that is provided at the micro level by the government to the artisans and weavers.He said that government has taken slew of measures to uplift the economic conditions of the artisans and weavers. In this regard, he said, Education scheme is being introduced for the children of artisans and weavers so that they will be able to provide best education to their children. He said that the export of crafts had seen a decline in the past due to absence of 'GI' certification but now the matter stands resolved. He said that the introduction of GI tagging and certification has given a boost to the confidence of customers and bogus and fake products have been eliminated.
Due to government's intervention on all aspects of the handicrafts and the artisans, local craft is again resurrecting and has started to provide gainful employment opportunities to the artisans.Emphasizing on the need for holding more exhibitions in the UT and outside, Advisor directed the Department of Handicrafts to hold more such exhibitions in the UT and outside on reciprocal basis. He said that this would ensure the publicity of the Kashmir craft, which is renowned worldwide for its intricate designs and elaborate craftsmanship at national and international levels.Responding to the demands of a facilitation centre here, the Advisor assured artists of strong hand holding and marketing support through Exhibitions within and outside the Union Territory. He said that the government is committed to provide every kind of help to the artisan community to make them self-sufficient. Advisor also said that e-commerce is another platform where the artisans get an additional channel to display their goods.He also said that the government will dovetail handicrafts related activities with Self Help Groups of NRLM in order give a fillip to the economic activities of women who are engaged in handicraft related activities. This will increase economic activity and generate employment for women and achieve the goal of women empowerment.Advisor further asked the officers to identify the areas where convergence with other departments or programs for providing an immediate platform to artisans could be done.He also visited different stalls and enquired from artisans and weavers about the issues being faced by them.Director Handicrafts and Handloom, Mehmood Ahmad Shah said that this pan India program is aimed at highlighting the export potential of the UT and to enhance our export capability, besides giving impetus to One District One Product Program.