Juhi kick starts work on Thalora to Pingla Mata road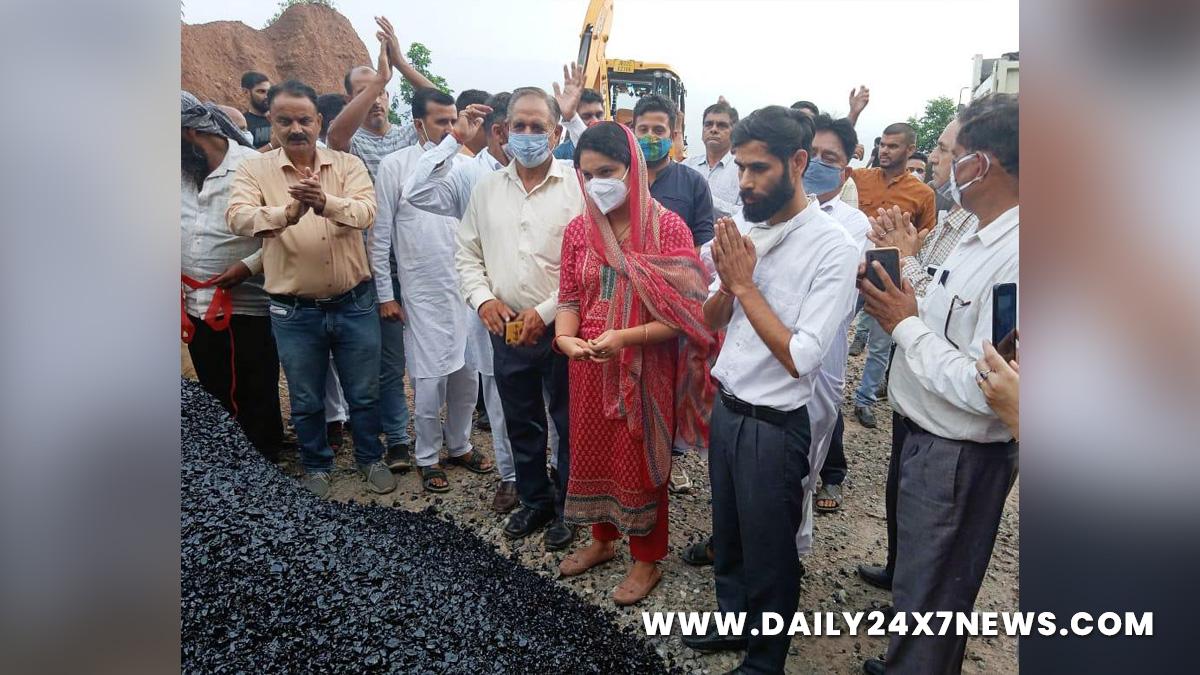 Udhampur : Juhi Manhas Pathania, Vice Chairperson, DDC Udhampur today kickstarted work on Thalora Pinger road amid thundering applause and appreciation of the local public. This road had been languishing for a long time and was included under languishing projects in the year 2017-18.Juhi further said that the missing patch from the last kilometer of the road upto the holy Darbar of Sri Pingla Mata shall also be provided road connectivity which would provide a sigh of relief to the people of the area. She further congratulated the people of the area for wildlife clearance and forest clearance of two important roads which were hanging since the past more than a decade – Larey to Sumwal and Sumwal to Choha roads u/PMGSY. Both the projects once completed shall provide shortcut road connectivity between Mansar, Surinsar and Manwal.This way the travelling distance of Mansar-Manwal-Surinsar from Jammu will be shortened. She sought indulgence of Lt Governor in Manwal-Tajoor, Tajoor-Peuni and Tajoor-Kogharmarh roads. Juhi was accompanied by BDC Chairperson Majalta, Dina Nath, DDC Majalta Amit Sharma, Karnail Singh Sarpanch and other respectable people of the area.
On the occasion, Amit Sharma also lauded the efforts of the Modi Government for picking up this decades old project. Dina Nath also dwelled in detail about the various developmental needs and requirements of the area.Juhi further reiterated that our target is to provide Har Ghar Bijli, Har Ghar Pani, Har Makan Pakka and providing mettaled road to every unconnected habitation. She further called for speeding up of work on Baryalta to Sarteri water supply scheme that had been framed almost decade back. However it was revised and re-appropriated and re-sanctioned in the year 2016-17. Although work on it is going on but speed is very low. She called for immediate completion of the water supply scheme so that people of Manwal, Thalora, Sarteri and other adjoining areas can get a sigh of relief. She also asked for providing pipe connectivity to tube wells dug in the area.Others who spoke on the occasion included Durga Dass Retd Head Master, Dr. B.D Gupta, Hem Raj Gupta, Shiv Ram, Makhan Lal, R.K Verma, Kali, Gurdev, Naresh Kumar, Suresh Kumar and other respectable people of the area.