Dr. Jitendra Singh launches Booklet and its e-version on one year achievements of Ministry of DoNER under Modi Government 2.0 N-E Region has emerged as a role model of development & Corona Management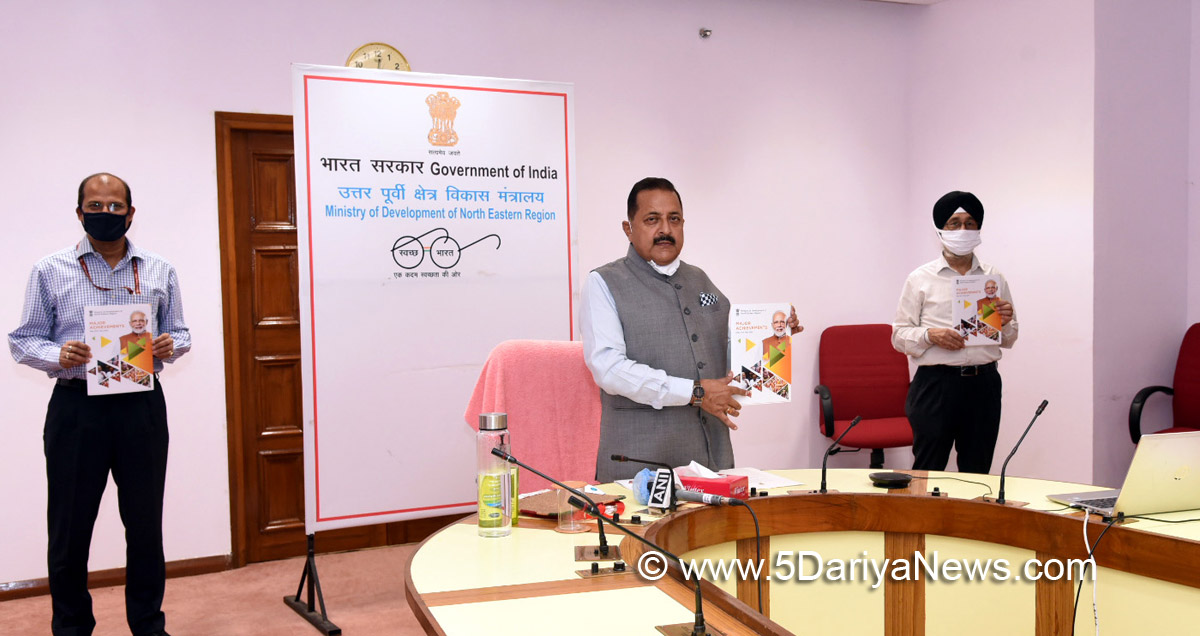 New Delhi : Union Minister of State (Independent Charge) Development of North Eastern Region (DoNER), MoS PMO, Personnel, Public Grievances & Pensions, Atomic Energy and Space, DrJitendra Singh today launched a Booklet and its e-version on one year achievements of the Ministry of Department of Development of North Eastern Region, MDoNER here. Secretary Ministry of DoNER and other senior officers of the Department were present on the occasion. Secretary NEC and other senior officers attended the launch through a Video Conference from Shillong.In his address Dr. Jitendra Singh said that North Eastern Region has emerged as a role model in more than one way. After emerging as a successful model for development in the last six years, the region has also become a role model in Corona management and again by reverting back to normal working conditions, it has presented a model for the entire country to emulate the same. Dr Singh said that this has become possible due to priority and patronage, the North Eastern Region received by Prime Minister Narendra Modi Government in the last six years. Dr. Jitendra Singh congratulated the team MDoNER for achieving 100% expenditure during 2019-20 andsaid that there has been a significant development in terms of Road, Rail and Air connectivity, helping facilitate the movement of goods and persons not only across the region but also across the country. So far, the region has received more than 400 tonnes of Air Cargo supply, apart from parcel facilities. He said that Bamboo will get a special impetus in post COVID era and the region will witness young entrepreneurs making a mark in different fields. The Minister stated that last one year has seen significant development in Infrastructure, Energy and other Sectors in the North Eastern Region.Under Govt. Policy of earmarking at least 10% of GBS for development of NER, Rs. 53,374 Cr were provided to NE States at RE stage by 55 non-exempt departments. Railways allocated of Rs.4745 Cr in addition to GBS. The allocation under 10% GBS has been rising sharply reflecting the focus of Hon'ble PM on North East.
Some of the major projects which have been approved, started or completed in the last one year in the NER and significant achievements of the Ministry of DoNER are mentioned below:Approved at a cost of Rs. 9265 Cr. Indradhanush Gas Grid Project would be a 1656 km long North East Gas Pipeline Grid covering all eight States. This would provide clean energy to NER and boost industrial growth without pollution. This would greatly help in preserving NE environment in its pristine form.The work on Greenfield Hollongi Airport for capital connectivity to Arunachal Pradesh,has started. The project with an estimated cost of Rs.955.67 Cr.is likely to be completed by December, 2022.Railways has completed Belonia-Sabroom (39.12 Km) Railway-line for providing easy access to Southern Tripura and Chattogram Port in Bangladesh.Doubling of Hawaipur-Lumding,25.05 Km long Section of New Jalpaiguri-Lumding Project has also been completed.Sanction of major new works include (i)Doubling of New Bongaigaon to Aghri section via Rangia (142 km) at a cost of Rs.2042.51 Cr.; (ii) Bridges on Brahmaputra at Saraighatand TezpurSilghat at estimated cost of Rs.888 Cr & Rs.3512 Cr respectively; (iii) electrification of entire 2352 km long BG railway network of NER at an estimated cost of Rs.2293 Cr.In the roads sector,35 National HighwaysProjects having a lenth of 536 Km, with an estimated cost of Rs.7707.17 Cr have been awarded. 3 projects (66 km length) have been completed in Arunachal Pradesh.Bulk cargo and container movement from Kolkata and Haldia Ports to Guwahati Terminal via Indo-Bangladesh Protocol (IBP) Route and NW2 (Brahmaputra) has started. Operationalisation of this waterway would lead to and great savings in logistics cost. IBP route is being further developed in Bangladesh portion at estimated cost of Rs.305.84 Cr.KrishiUdaan Scheme launched in Union Budget 2020-21 has been operationalised and Transport of agricultural produce such as pineapple, ginger, kiwi, organic produce has commenced from Bagdogra, Guwahati and Agartala Airports.All impediments (legal, political and environmental) to Subansiri Hydro Power project in Arunachal Pradesh have been removed and the work on 2000 MW project(stalled since 2011) has started and is expected to be completed by 2023.
Hon'ble Minister stated that the expenditure of Ministry during the last one year at Rs 2803 Cr has been highest over any one-year period. The expenditure of the Ministry in FY 2019-20 has been Rs 2670 Cr, 100% of the RE allocation has also been the highest for any financial year. The other significant achievements are:215 Nos ongoing projects worth Rs.2800 Cr have been completed and 152 Nos of new projects worth Rs.2286 Cr have been sanctioned under various Schemes of MDoNER/NEC.Fighting COVID-19 Apart from release of Rs.7923.78 Cr by Ministry of Finance and Rs.235.59 Cr by Ministry of Health and Family Welfare, Rs. 25 croresof untied funds have been provided by MDoNER/NEC. MDoNER has also sanctioned projects worth Rs.152.18 Cr under NESIDSfor Strengthening Health Infrastructure in Mizoram, Meghalaya, Arunachal Pradesh and Manipur. Two quarantine facilities viz. CBTC Hostel Block, Burnihat, Guwahati, Assam and NEC House, New Delhi have been identified.NERLP and NERCORMP livelihood schemes of MDoNER, cover 6 States, 15 districts of NER has created livelihood for 4,12,644 households of the region. Under these schemes 36561 SHGs, 1506 SHG federations, 1599 Community Development Groups, 2899 Natural Resource Management Groups (NaRMG) and 286 NaMRG Associations have been created.For promotion of MSME & Micro Finance Sectors in the North Eastern Region, NEDFi has disbursed an amount of Rs.47.02 crore against a target of Rs 30 Cr as provided in MOU with Ministry during June 2019 to May 2020. It has also provided mentoring services through BFCs to total 539 entrepreneurs and facilitated credit link for 77 entrepreneurs.The major events conducted by the Ministry and its organisations like NEC, NEHHDC, CBTC etc included NEC Plenary in Guwahati chaired by Union Home Minister; Destination North- East at Varansi -to promote tourism andHnadlooms and Handicrafts of NER in UP and nearby areas of Bihar; North-East Handloom and Handicrafts exhibition at Aizwal; and Workshop cum Exhibition on Cane and Bamboo in J&K.Union Minister congratulated the team MDoNER for achieving 100% expenditure during 2019-20. He also appreciated the efforts of the Ministry for helping North Eastern States in developing Infrastructure for fighting COVID-19 and playing a coordinating role between NE States and various Central Ministries/Department, in various issues which required interventions by Central Ministries/Departments.He asked the Officers to maintain the tempo and keep up the good work.