DC Bandipora, Dr Owais Ahmad holds public interaction programme at Gurez, Tulail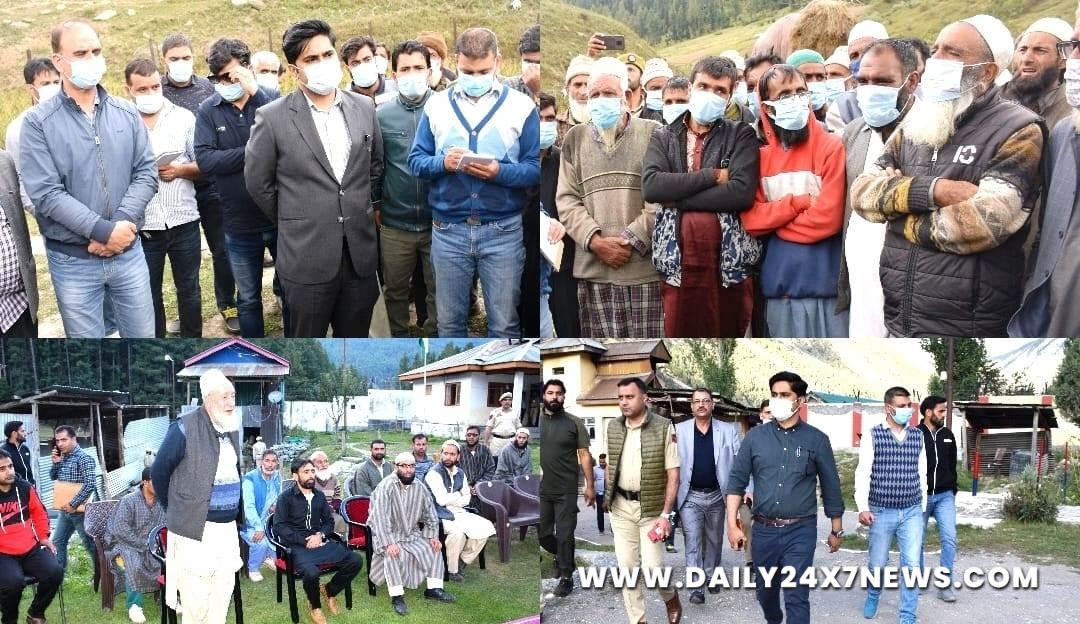 Bandipora : The Deputy Commissioner (DC) Bandipora, Dr Owais Ahmad visited several areas of Gurez valley to listen to public grievances and inspect the ongoing developmental projects. During the visit, the DC inspected the ongoing construction work at Mini Secretariat Gurez and interacted with the officers of the executing agency who apprised him about the current status of the physical and financial progress of the project. Later, Dr Owais visited Izmarg village, Barnai, Husan gaam, Baduaab and other adjoining areas and interacted with the public delegations.Locals informed the visiting officers about the problems being faced by them and sought intervention of the district admin to resolve the issues.They also raised the issues with regard to the pending funds in different schemes, implementation of schemes related to Animal and Sheep husbandry, availability of ration, staff strength in educational and health institutions, construction of PMGSY roads, macadamization, regular helicopter services to several locations of Gurez and Tulail valleys, establishment of Fire and Emergency Services station and other issues of public interest.
The DC gave a patient hearing to the public and passed on spot directions for redressal of their grievances. He urged officers to work in coordination with PRIs and appealed to the public to lend their support to the administration to ensure equitable development.He said administration is working for the welfare of the public and district administration is on forefront to meet the genuine demands of the public.He also urged the people to ensure Covid Appropriate Behaviour and get vaccinated as soon as possible.The DC was accompanied by Senior Superintendent of Police Mohammad Zahid, member of District Development Council Raja Aijaz, SDM, Tehsildar and other senior officers of the district.