Jai Ram Thakur inaugurates and lays foundation stone developmental projects worth Rs. 30.32 crore in Seraj AC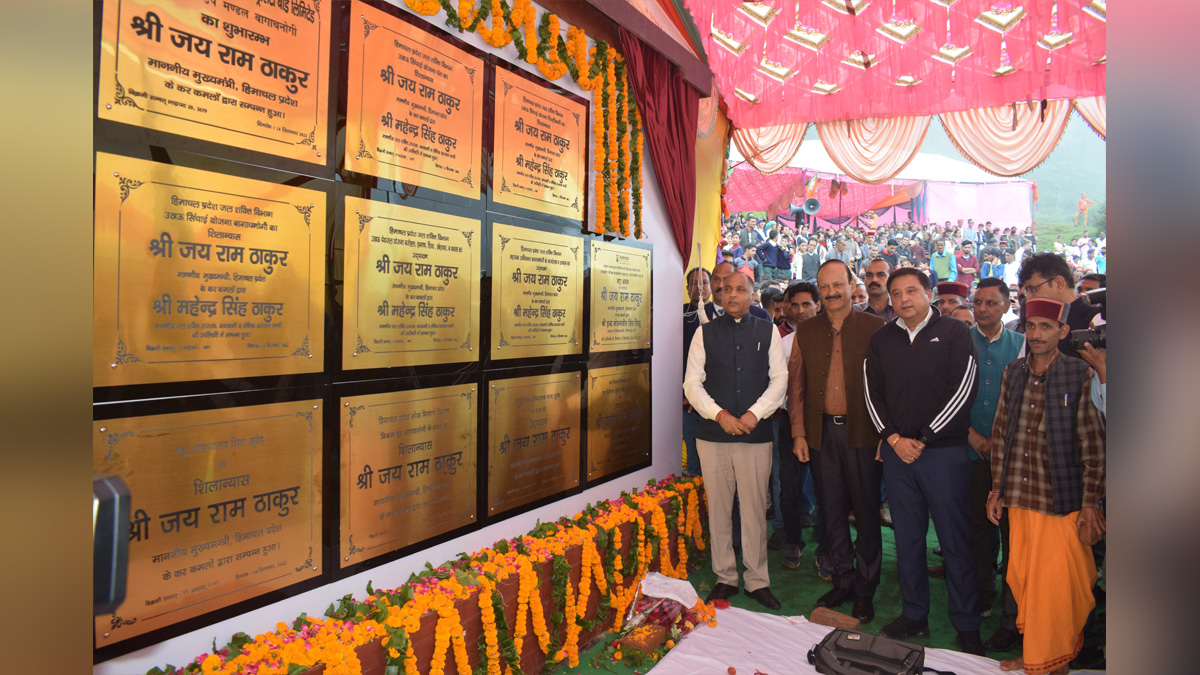 Bagachanogi (Mandi) : Chief Minister Jai Ram Thakur today inaugurated Government Senior Secondary School building constructed at a cost of Rs 4.50 crore at Kuthed in Bagachanogi of Seraj assembly constituency and an additional building of Government Senior Secondary School at Bagachanogi constructed at a cost of Rs. 37 lakh.
He inaugurated the Ayurvedic dispensary building Thana Kuthed costing Rs. 23 lakh, lift water supply scheme Bhatkidhar Bagachanogi worth Rs. 1.17 crore, the Assistant Engineer office and residence of Jal Shakti Department constructed at a cost of Rs. 84 lakh at Bagachanogi.
Chief Minister also inaugurated lift water supply scheme Bajehal, Jhamach, Shiva, Chohadhar and Dhawas worth Rs.86 lakh, inspection hut of Forest Department at Kadaun constructed at a cost of Rs.42 lakh and at Sapahanidhar worth Rs.40 lakh and Government High School Bhatkidhar building constructed at the cost of Rs. 84 lakh.
He also inaugurated Electricity Sub-division Bagachanogi, inspection hut of Jal Shakti Department on Lambathach Chiyuni road constructed at the cost of Rs. 1.65 crore and renovated Shilhibagi lift water supply scheme worth Rs. 50 lakh.Chief Minister laid the foundation stone of Veterinary Dispensary building at Shivakhad which would be constructed at a cost of Rs. 22 lakh, PWD Rest House at Bagachanogi to be constructed at a cost of Rs. 1.82 crore and Lift Irrigation Scheme Chet worth Rs 2.94 crore.
He laid the foundation stone of lift irrigation scheme Bagachanogi to be constructed at a cost of Rs 7.24 crore and Shilhibagi lift irrigation scheme worth Rs 1.98 crore.
Addressing a public meeting at Bagachanogi on this occasion, the Chief Minister said that a total budget of Rs. 386 crore had been sanctioned during last five years for the construction of 98 buildings of various departments in the Seraj constituency.
Of these, the construction work of 30 buildings had already been completed. He said that a large network of roads had been laid in Seraj to connect the far flung villages.
A total budget of Rs. 507 crore was sanctioned for the construction of various roads, bridges and culverts etc.Chief Minister said that the works of drinking water scheme worth Rs. 121 crore for Seraj and Balichowki section, Rs. 16 crore water scheme for Chhatri Baryogi, Rs. 18 crore water scheme for Bagdathach, Jhared and Gatu, Rs. 36 crore water scheme for Balichowki, Bahugram and the work of renewal of old schemes of Gram Panchayat Bahal and Thunag worth Rs. 8 crore was in progress.
Where as other schemes worth 37 crore were ready for inauguration, added CM.Chief Minister said that many important initiatives had been taken in the direction of making the state financially strong, creating employment for youth, socio-economic upliftment of women, prosperity of farmers and horticulturists, development of backward and weaker sections of the society, during last almost five years.
As a result, equitable and holistic development had been ensured in all the 68 assembly constituencies of the state, said Chief Minister.Expressing gratitude to the central government, Jai Ram Thakur said that Union Government had sanctioned developmental projects worth crores of rupees and financial assistance for the state.
On this occasion, the Chief Minister announced to develop Nature Park in Sapahani Dhar, opening of Ayurvedic dispensary in village Shilh, budget provision for health sub-centre building in village Dagdaihal and opening of Patwar circle in Gram Panchayat Nalwagi.
He announced up-gradation of primary school Karthach and Bhadechi and secondary school Bajehal, new primary school in Jainshala village and opening of agricultural sales center office in Bhatkidhar Panchayat.
Chief Minister also announced to start science classes in Government Senior Secondary School Bagachanogi and upgradation of Primary Health Center Bagachanogi.
He announced to provide Rs. 10 lakh under Mukhya Mantri Gram Path Yojna for Harnach Baghi road, budget provision for Kanda Matloda temple road. He directed the PWD officers to prepare an estimate for the construction of a retaining wall near Sarachi.
On this occasion, the Chief Minister was also honoured by various Gram Panchayats, representatives of various organizations and institutions.BJP Mandal General Secretary Tikkam Ram and Pradhan Gram Panchayat Bagachanogi Lahuli Devi welcomed the Chief Minister and gave detailed information about the various developmental works of the area.
Former MLA of Delhi Manoj Kumar, representatives of Panchayati Raj Institutions, Deputy Commissioner Arindam Chaudhary, Superintendent of Police Shalini Agnihotri, senior officers of various departments and other dignitaries were present on the occasion.