Jai Ram Thakur inaugurates and lays foundation stone of 21 developmental projects worth Rs. 202.14 crore for Manali AC
Jai Ram Thakur announces opening of Tehsil at Nagar, new Jal Shakti vibhag sub division at Nagar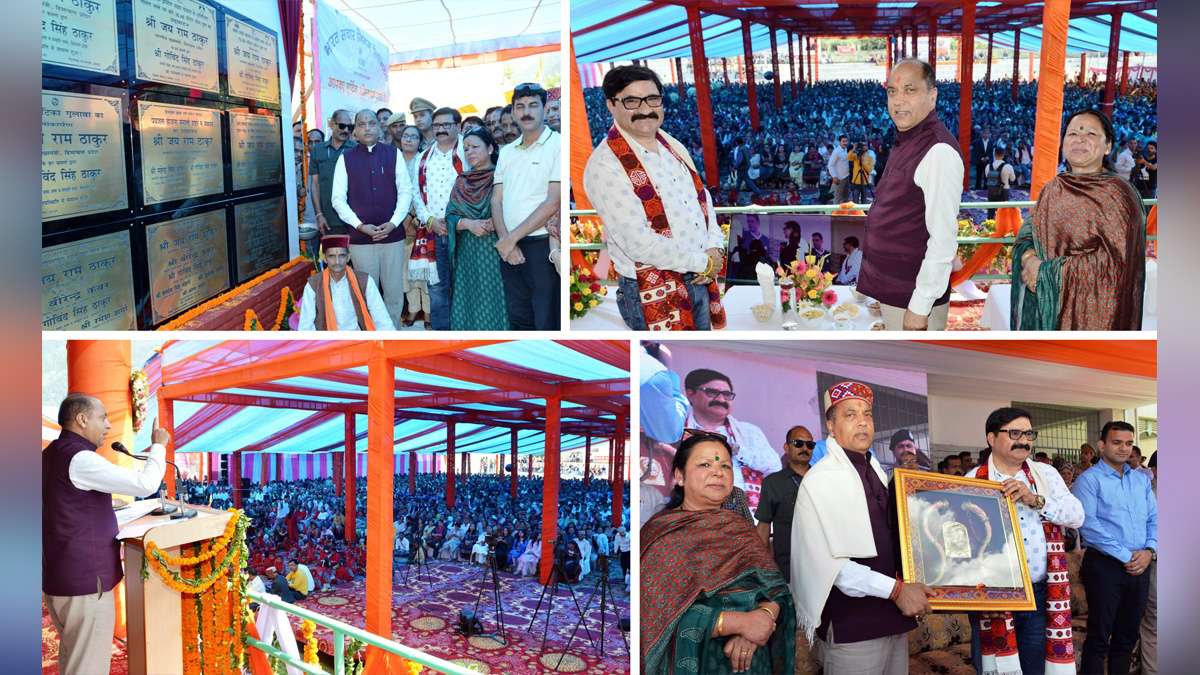 Shimla : Chief Minister Jai Ram Thakur inaugurated and laid foundation stones of 21 developmental projects worth Rs. 202.14 crore at Manali for Manali Vidhan Sabha area of Kullu district today.While addressing the function to commemorate the Pragatisheel Himachal: Sathapna Ke 75 Varsh at Haripur in Manali Vidhan Sabha area, the Chief Minister said that the role of every people of Himachal Pradesh has been immense as it was their hardwork, honesty and contribution in making Himachal Pradesh one of the most progressive States of the country.
He said that these 75 events being organized throughout the State were aimed at thanking every contributor of the State to make Himachal Pradesh a model State of the country. He said that every employee, labourer, farmer, technician, doctor, teacher, entrepreneur have contributed to the development of Himachal Pradesh.
He announced opening of Tehsil at Nagar, new Jal Shakti vibhag sub division at Nagar, construction of Auditorium at Degree College Haripur and new patwar circle at Kardsu. Jai Ram Thakur said that the whole world has to face a challenging task of facing and coming out from the covid-19 pandemic.
He said that the biggest credit of this goes to the able leadership of the Prime Minister Narendra Modi, who not only took a timely decision to face this pandemic, but also motivated the scientists to develop indigenous vaccine. He said that not only this, the biggest vaccination campaign of the world was launched by the Prime Minister and over 220 crore free vaccine doses have been administered till date.
Chief Minister said that Himachal Pradesh has made rapid strides in various sectors. He said that at the time of formation of the State, there were only four districts whereas today there were 12 districts. He said that in the year 1948, the literacy rate of the State was 4.8 per cent which has gone upto 83 percent.
He said that there were only 228 kms roads in the State in 1948, whereas today there were nearly 40,000 kms roads connecting every nook and corner of the State. He said that major credit of this goes to the former Prime Minister Atal Bihari Vajpayee, who started PMGSY with an amount Rs. 60000 crore, as about 20,000 kms roads in the State were constructed under the PMGSY.
Jai Ram Thakur said that Prime Minister Narendra Modi shares special bonding with the State and its people. He said that during the last about five years, the Prime Minister has visited the State about seven times, and was visiting the State again of 5th of this month.
He said that the whole nation was standing rock solid behind the BJP and people have completely lost faith in Congress. He said that several senior Congress leaders were leaving the party as they knew that the party was a sinking ship.He said that many Congress leaders of the State have also joined the BJP as they know that BJP would again form Government in the State.
Chief Minister said that 50 per cent concession has been provided in bus fare to women passengers and 125 units free power to domestic consumers. He said that the Congress leaders were now accusing the Government for providing freebees to the people.
He said that on the other hand the Congress leaders were now claiming that they would provide 300 units free power to the people of the State on coming to power. The Chief Minister inaugurated Rs. 1.58 crore 30.48 meter long bridge over Galang Nallah on Pachhalihar-Neri-Kathi Kukari road, Rs. 2.09 crore 33.50 meter long span bridge over Shanag Nallah from Manalsu bridge to Palchan road, Rs. 19.71 crore improvement and upgradation of Raison-Shirar-Shalihar road, Rs. 7.35 crore 30 bedded CHC at Patlikuhal, Rs. 4 crore additional residential building at Civil hospital Manali, Rs. 15.04 crore augmentation of water supply scheme to Manali town, Rs. 7.54 crore augmentation of water supply scheme to Pangan group of villages in Manali tehsil, Rs. 1.06 crore Nature Park Gluba, Rs. 3.98 crore Kisan Bhawan Manali, Rs. 1.08 crore Grading Packing House and Potato Grading Machine at Sub Market Yard, Chauribehal, Rs. 1.20 crore Concrete Interlocking Paver block at Sub Market Yard Chauribihal, Rs. 12.32 crore Block I and II of Sabzi Mandi Bandrol, Rs. 30 lakh Mukhiya Mantri Lok Bhawan at Patlikuhal and Rs. 57.65 crore 100 bedded Civil Hospital and Staff Quarters at Manali.
The Chief Minister also laid foundation stone of Rs. 8 crore 70 meter Span bridge over Beas river near Sabzi Mandi Bandrol, Rs. 4.20 crore 33KV Electric Sub Station of HPSEBL Mandi, Raison at Katrain, Rs. 17.85 crore 33 KV Sub Station of HPSEBL at Ibex Chowk Manali, Rs. 3.95 crore Convention Centre at Chiribehal Sub Vegetable Market, Rs. 9.25 crore Sub Vegetable Market at Patlikuhal, Rs. 19 crore Improvement and renovation of Bus Parking Yard Manali and Rs. 4.99 crore Home For Adult Mentally Retarded Females at Kalath.
Education Minister Govind Singh Thakur while welcoming the Chief Minister and other dignitaries thanked the Chief Minister for dedicating developmental works worth Rs. 202 crore. He said that Manali Vidhan Sabha area has witnessed unparalleled development during the last five years.
He said that Sanskrit College has been established at Jagatsukh, which would go a long way in facilitating the students interested in pursuing Sanskrit as a career. He said that all the areas of the State have witnessed unprecedented development during the tenure of the present State Government. He also accused the previous State Government of ignoring the developmental interests of Manali constituency.
He detailed a few developmental demands of the area.Chairman Nagar Parishad Manali Chaman Kapoor, State BJP Vice President Dhaneshwari Thakur, Mandal BJP President Durga Singh Thakur, Chairman APMC Amar Thakur, Advisor APMC Ramesh Sharma, Deputy Commissioner Kullu Ashutosh Garg, Superintendent of Police Gurdev Sharma were present on the occasion among others.