Guru Nanak Dev University 'C' Zone Youth Festival concludes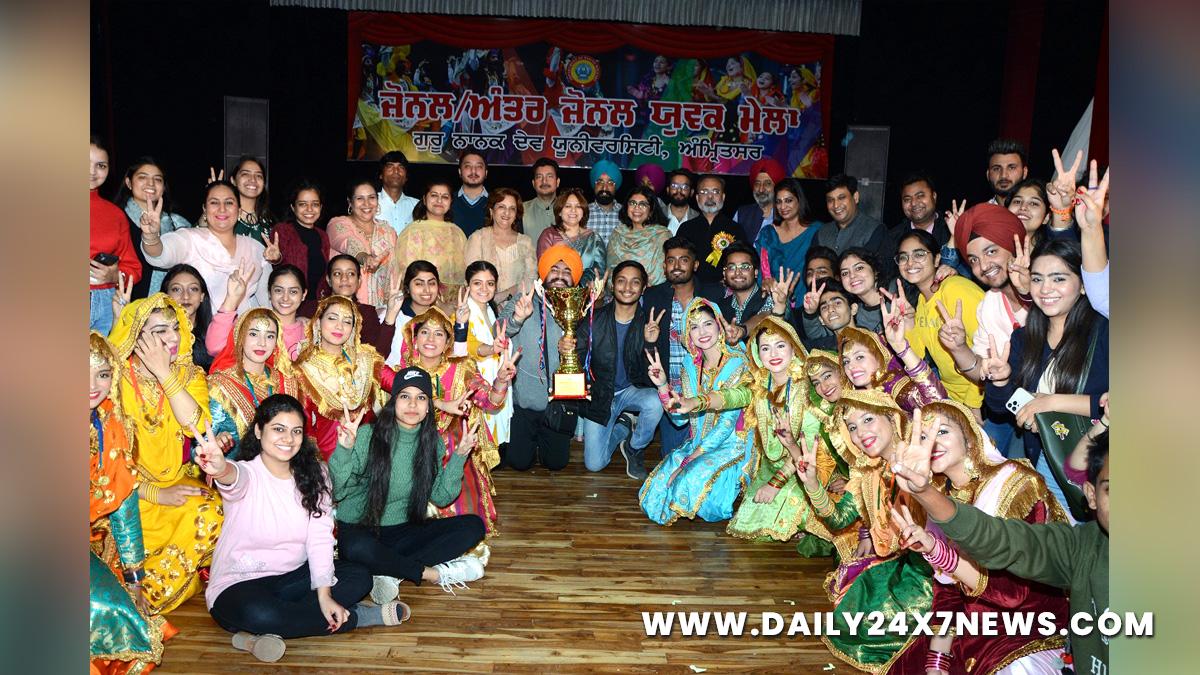 Amritsar : Apeejay College of Fine Arts, Jalandhar and PCM SD College for Women, Jalandhar won the 'A' & 'B' division overall trophies of 'C' zone Zonal Youth Festival of Guru Nanak Dev University, respectivally. In the 'A' division, Lyallpur Khalsa College, Jalandhar was declared runnersup and Kanya Maha Vid. Jalandhar & DAV College, Jalandhar got bracketed third position. In the 'B' Divison, Lyallpur Khalsa College for women, Jalandhar remained runnersup and St. Soldier Law College, Jalandhar got third position. Student-artists of C Zone of the University participated in 35 items of Music, Theatre, Dance, Literary & Fine Arts.Prof Shweta Shenoy, Head MYAS GNDU Department of Sports Sciences and Medicine presided over the prize distribution function. Prof. Shenoy, Prof. Anish Dua, Dean Student's Welfare and Dr. Baljit Singh Sekhon, Advisor of the Deparment distributed the trophies to the winners.
Prof. Anish Dua said that Youth Fesitval of Amritsar district colleges 'A' Zone will be held on November 26 to 29. The final Inter-Zonal Youth Festival of Guru Nanak Dev University will be organized on December 3 to 6 in which winner teams of all zones will participate.In these three days, the competitions of Bhangra, Group Shabad/Bhajan, Group Song (Indian), Folk Orchestra, Classical Instrumental (Percussion), Classical Instrumental (Non-Percussion), Classical Vocal, Painting on the Spot, Cartooning, Poster Making, Collage, Clay Modeling, On the Sopt Photography, Installation, Costume Parade, Mime, Mimicry, Skit, One Act Play, Vaar Singing, Kawishri, Geet/Gazal, Folk Song, Poetical Symposium, Elocution, Debate, Quiz Preliminary, General Group Dance, Gidha, Western Vocal Solo, Western Group Song & Western Instrumental, Rangoli, Phulkari and Mehndi were organized on the various venues.