Chitkara University launches an International Project on Education and Deep Learning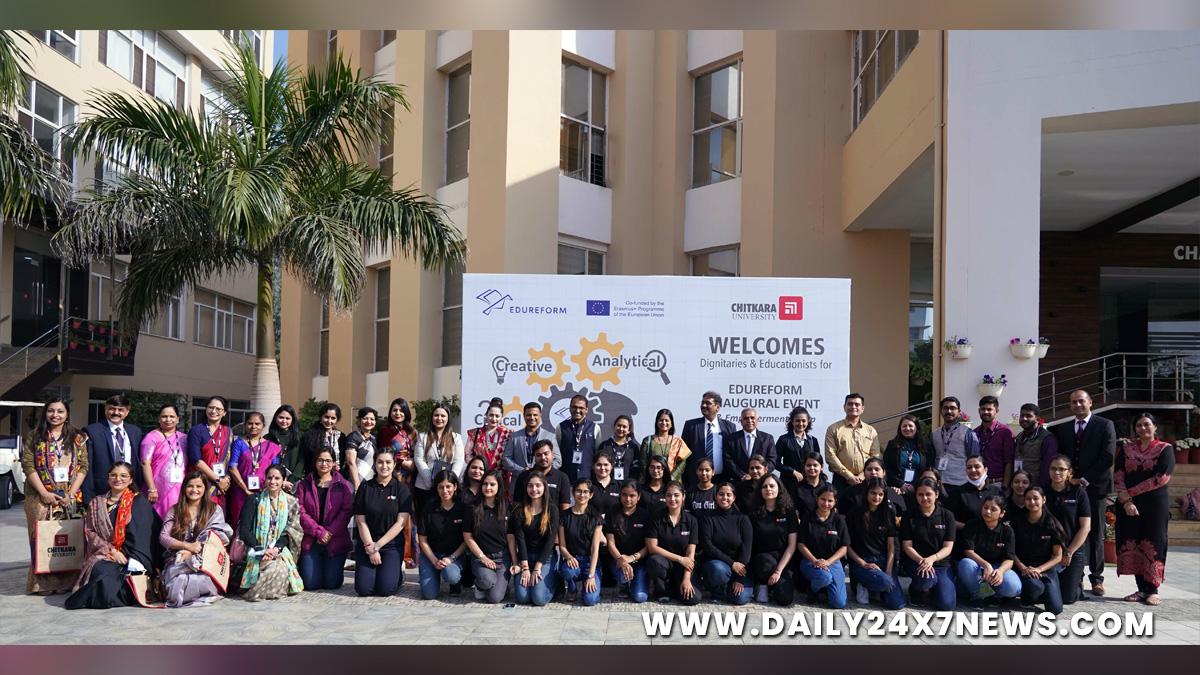 Chandigarh : Chitkara University is the coordinating institution of the International Project EDUREFORM. This project has been supported with a grant of ?9 crores in the framework of the prestigious Erasmus+ programme financed by the European Commission.The mission of the EDUREFORM project is to mitigate the impact of the Fourth Industrial Revolution on Indian Society by promoting pedagogical tools instrumental to encourage deep-learning among secondary school students. EDUREFORM will train future and in-service secondary school teachers to foster students' critical, analytical, and creative skills. With artificial intelligence taking over routine tasks, there will be immense opportunities for young people having skills resilient in the fast-changing labour market demand. Chitkara University is leading an alliance of 11 institutions having expertise in the field of education. This alliance will capitalize the synergies developed between four Indian universities – Chitkara University, The Maharaja Sayajirao University of Baroda, Savitribai Phule Pune University, Shivaji University – assisted by four European universities – University of Latvia, University of Hamburg, JAMK University of Applied Sciences, Italian University Line – and supported by Chitkara International School, the Italian High School Candiani-Bausch, and CXS Solutions Ltd. The Hon'ble Chancellor Dr Ashok K Chitkara asserted that Chitkara University is extremely pleased and honoured to be the leading university in this prestigious project.
To officially launch the project, Chitkara University, Punjab, organised the "EDUREFORM Inaugural Event and Empowerment Camp" on 26th and 27th November 2021. The event kick-started with the insightful talk by renowned personalities like Mr Syed Sultan Ahmed, Founder & Chief Learner-LXL Ideas, Festival Director-IKFF and Dr Niyati Chitkara, Director, Chitkara International School, Chandigarh and Panchkula. They both addressed the audience on the topics "Educator the Changemaker" and "Educational Roller Coaster Ride along for a Skill Enhancement Experience' respectively. Mr Ahmed touched on the intriguing and thought-provoking multifaceted roles played by the educators. He outlined the importance of including novel tools and practices in the teaching-learning process and he highlighted the benefit of incorporating films and cinema as a new way of teaching. Dr Chitkara, on her side, emphasised on investing in the future of children through programmes that instil future skills and tools for employability and a sustainable future. She shared her profound standpoint on the reversed yet remarkable "PhD to Playway" learning model of Chitkara International School that has carved a niche for providing quality education to the Generation-Alpha and Generation-Z children. The experiences and vast knowledge shared by these experts in the field of education were immensely awe-inspiring for the EDUREFORM partners. The intellectual guidance and motivation given by both experts encourages the EDUREFORM alliance to continue working hard to improve and make education ready for our dynamic and constantly changing societies.Hon'ble Pro-Chancellor, Chitkara University , Dr Madhu Chitkara, in her address stated that , "Empowering students to succeed amid fourth industrial revolution demands superlative skill-based and hands-on learning of young children through pioneering methods and techniques and Edureform is doing a commendable job by deeming it necessary to frame relevant and constructive curriculum for the future and in-service secondary school teachers, one which focuses on building and refining their soft or professional skills."
ABOUT EDUREFORM PROJECT
The comprehensive project, EDUREFORM, consists of academic and professional courses aiming to empower future and in-service secondary school teachers. As labour market demand is shifting from problem solving to problem analysis competencies, these soft skills are considered a crucial asset to perform tasks not achievable by artificial intelligence. In line with the New Education Policy, EDUREFORM Curricula objective is to create a national best practice to support Indian national authorities in successfully coping with societal challenges directly related to Fourth Industrial Revolution. With the organisation of vocational training, the same teaching techniques will be disseminated among in-service teachers.
IMPACT OF EDUREFORM PROJECT
Since continuous faculty development is an essential part vis-à-vis school education and is also explicitly iterated in NEP 2020 under point number 15 viz. "Teacher Education", Edureform is doing a meritorious job. More so, government and private school teachers are sure to benefit from the same and the said project will also revolutionize teacher education, leading to better employability.