Chitkara International School, hosts SPIC MACAY Workshop
Performance by renowned Kathak dancer Sanjeet Gangani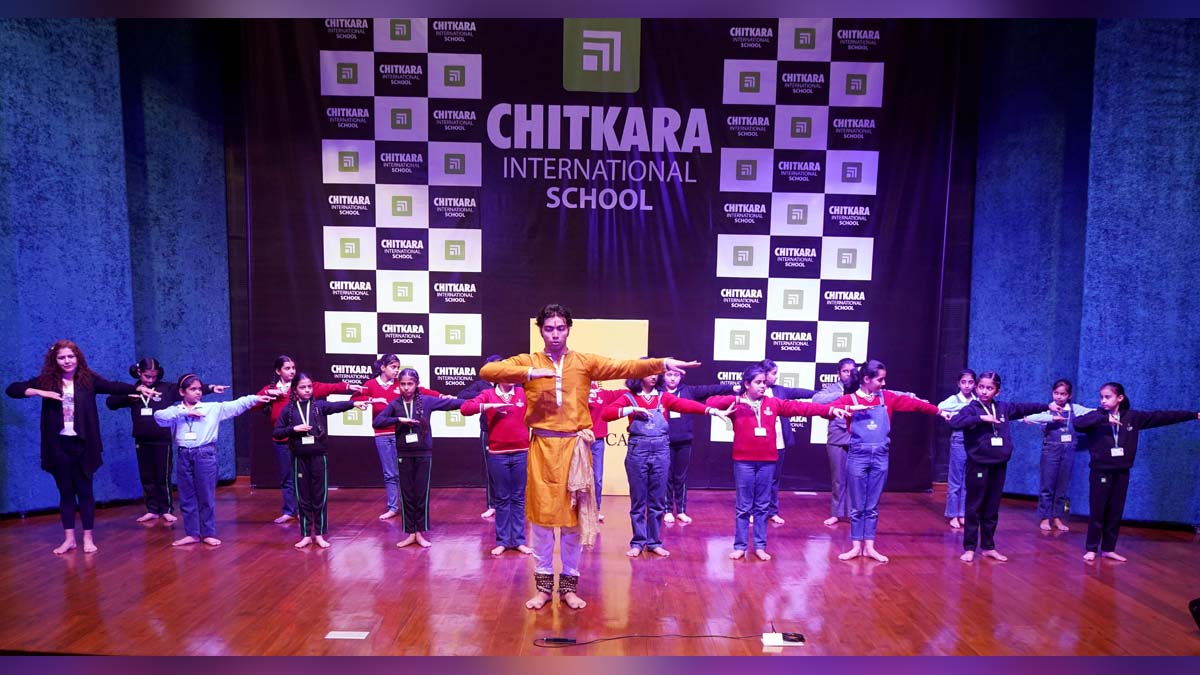 Panchkula : With the aim to nurture an appreciation for cultural heritage, Chitkara International School, Panchkula hosted SPICMACAY workshop on the school premises.The workshop started with the lighting of the lamp to invoke the waves of knowledge on the stage.
The workshop was helmed by Sh. Sanjeet Gangani, a renowned Kathak dancer and son of extraordinary Kathak dancer Pt. Rajendra Kumar Gangani Ji. Sh. Sanjeet Gangani was joined by Dr. Shashi Banerjee, Vice Chairperson, SPICMACAY, Haryana.
Mr Gangani brilliantly and with great detail taught students the basic movements of Kathak. The avid Chitkarians enthusiastically participated and benefitted from the workshop. Students really appreciated Mr Gangani's teaching techniques, reflecting on the same, Naisha Garg of grade-8 commented, "I really enjoyed the workshop and Sanjeet Sir answered my question related to the bright and beautiful logo of SPICMACY, phenomenally."
Towards the end of the workshop, students took blessings from their teachers. While addressing the kids during the session, Dr. Shashi Banerjee shared her views on the significance of these workshops. She said, "The idea behind these workshops is to encourage today's youth to indulge in their culture and take pride in it."
After the completion of the workshop, Dr. Niyati Chitkara, Director, Chitkara International School, Chandigarh, and Panchkula, asserted,"I wholeheartedly appreciate the efforts and determination of Mr Sanjeet Gangani and Dr Shashi Banerjee for promoting the cultural heritage of India through such compelling workshops.
We, at CIS, consider the young minds of utmost significance as we believe that the success of a nation is undoubtedly based on the kind of education its children imbibe. Through workshops like these, we endeavour to make the learning experience of the students joyful and memorable."
The Society for the Promotion of Indian Classical Music and Culture Amongst Youth (SPIC MACAY) is a voluntary youth movement. This movement has chapters in over 300 towns worldwide that promote intangible aspects of Indian cultural heritage by promoting Indian classical music, classical dance, folk music, yoga, meditation, crafts, and other aspects of Indian culture. Dr. Kiran Seth founded SPIC MACAY in 1977 at IIT Delhi.