PM Narendra Modi launches 'PM Vishwakarma' for traditional artisans and crafts people
Union Minister Hardeep Singh Puri witnesses the occasion virtually at GNDU, Amritsar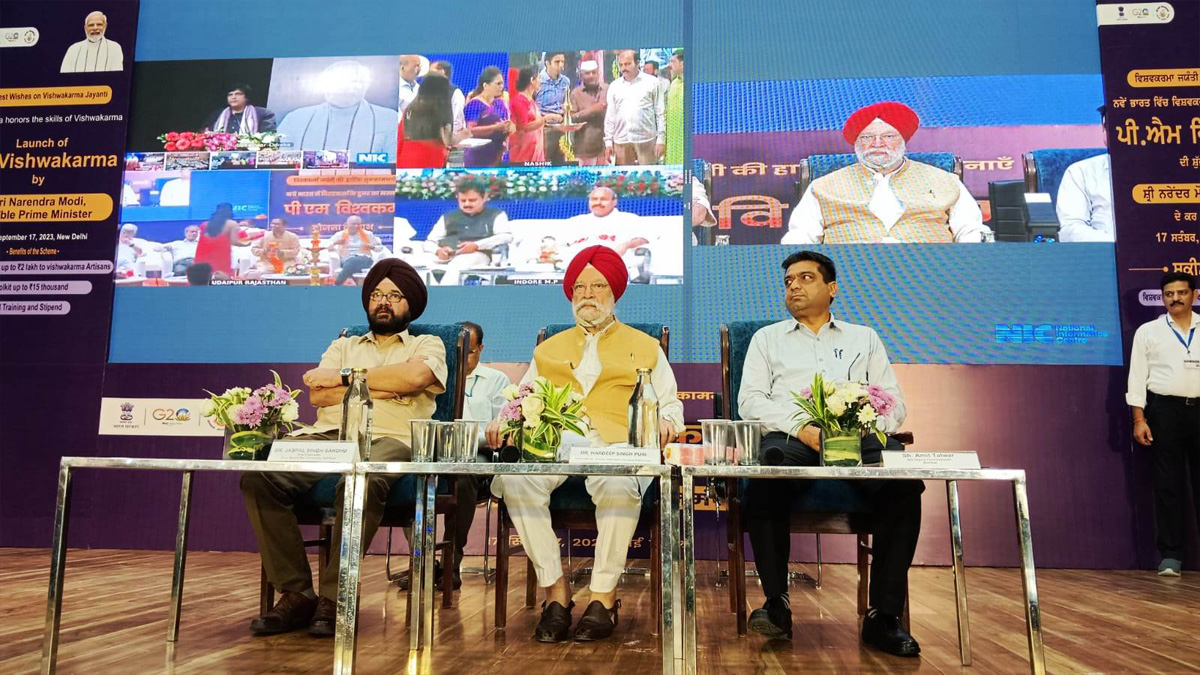 Amritsar : September 17, 2023–On Vishwakarma Jayanti, Prime Minister Narendra Modi launched the 'PM Vishwakarma' Scheme, for traditional artisans and crafts people, which will give the credit support as well as upgrade the skill set.
On this occasion, a program was organised at Guru Nanak Dev University, Amritsar, which was attended by Sh Hardeep Singh Puri, Hon'ble Minister of Petroleum and Natural Gas & Housing and Urban Affairs, Government of India alongwith large number of artisans and crafts people.
Addressing the gathering from the podium, Sh Hardeep Singh Puri said that 'PM Vishwakarma' will prove highly beneficial for the people engaged in informal sector. He said, "besides providing financial support, this scheme will also upgrade the skillset of targeted people.
Welcoming the chief guest and other dignitaries present in the function, Dr Jaspal Singh, Vice Chancellor, Guru Nanak Dev University, Amritsar congratulated the hon'ble minister for the launch of 'PM Vishwakarma' scheme. He also said that the launch of this scheme reminds him the time when Deen Dyal Upadhyaya Grameen Kaushal Yojana was started.
The scheme aims to strengthen and nurture the Guru-Shishya parampara or family-based practice of traditional skills of Vishwakarmas working with their hands and tools. The prime focus of PM Vishwakarma is at improving the quality as well as the reach of products and services of artisans and craftspeople and to ensure that they are integrated with the domestic and global value chains.
Under the scheme, the Vishwakarmas will be registered free of charge through Common Services Centres using biometric based PM Vishwakarma portal. They will be provided recognition through PM Vishwakarma certificate and ID card, skill upgradation involving basic and advanced training, toolkit incentive of ₹15,000, collateral-free credit support up to ₹1 lakh (first tranche) and ₹2 lakh (second tranche) at a concessional interest rate of 5%, incentive for digital transactions and marketing support.
The scheme will provide support to artisans and craftspeople of rural and urban areas, across India. Eighteen traditional crafts will be covered under PM Vishwakarma. Eighteen traditional crafts will be covered under PM Vishwakarma. These include (i) Carpenter; (ii) Boat Maker; (iii) Armourer; (iv) Blacksmith ; (v) Hammer and Tool Kit Maker; (vi) Locksmith; (vii) Goldsmith; (viii) Potter; (ix) Sculptor, Stone breaker; (x) Cobbler (Shoesmith/ Footwear artisan); (xi) Mason (Rajmistri); (xii) Basket/Mat/Broom Maker/Coir Weaver; (xiii) Doll & Toy Maker (Traditional); (xiv) Barber; (xv) Garland maker; (xvi) Washerman; (xvii) Tailor; and (xviii) Fishing Net Maker.