Nabha Power Completes Renovation Projects In Two Government Schools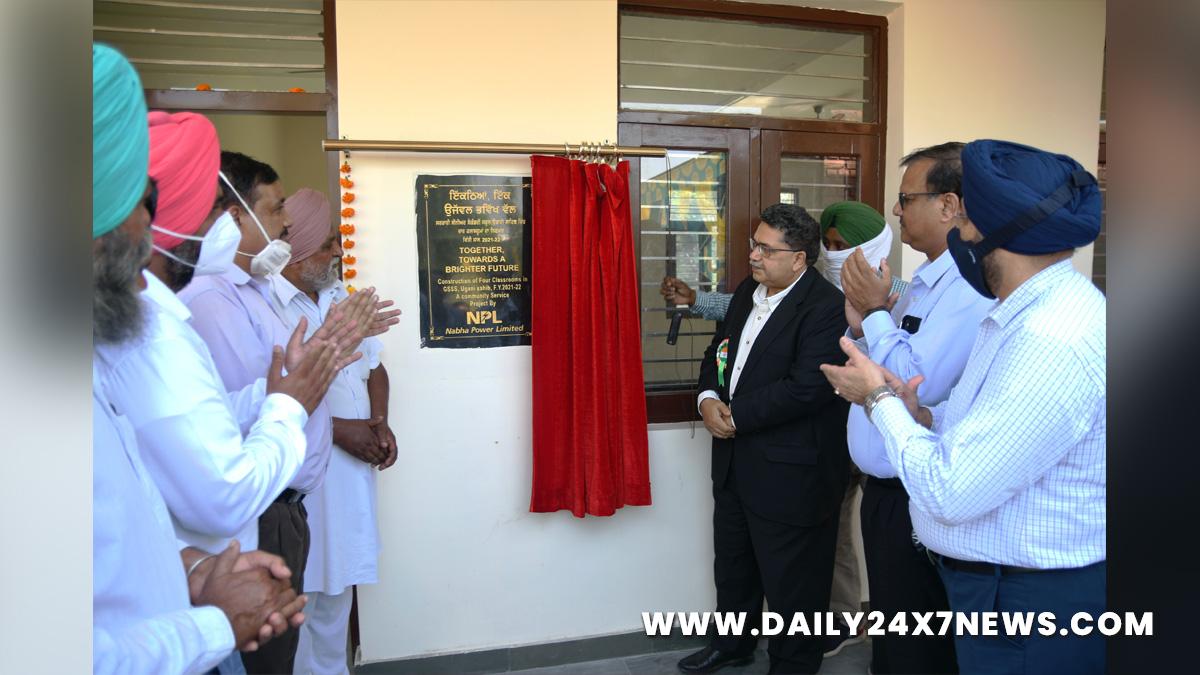 Rajpura (Patiala) : To promote enrolment and retention in government schools, L&T-owned Nabha Power, which operates the 2×700 MW Supercritical Thermal Power Plant at Rajpura, undertook two major renovation projects at the government schools of Ugani and Uppal Heri villages of Patiala district to provide a better learning environment for village students. The newly constructed classrooms at two government schools were handed over to the village panchayats during separate functions held on the schools' premises.The renovation projects were undertaken as part of the corporate social responsibility (CSR) initiatives of the Nabha Power, which has been working relentlessly to touch the lives of its neighbours by promoting rural development, helping local women learn new skills and become entrepreneurs, developing health infrastructure and giving education a fillip in the villages. Speaking at one of the events, Nabha Power Chief Executive, SK Narang, said "Education is one of our priority areas under which we are developing the best infrastructure in the village schools.This promotes the enrollment and retention of the students in the government school.
Last year, a social audit found that efforts put in by Nabha Power helped in improving the education level in government schools in villages and this year too these efforts are all set to bear good results."At religiously important Ugani village, which is 10 kms from Rajpura town in Patiala district, four classrooms have been constructed which will be used as a library, science laboratory, computer lab, and a classroom for students of senior classes.At Upal Heri village, which is located 6kms from Rajpura town in Patiala district, three classrooms have been built for students of primary classes. Here the classrooms had been declared unsafe leading to a rise in the dropout rate.Sarpanch of the Ugani village, Jeet Singh, said, "We are thankful to Nabha Power for supporting the education of our children." He also appreciated the pond rejuvenation project undertaken by Nabha Power in the village, which led to a vast improvement in the overall hygiene, health and wellbeing of the villagers.Under its school adoption programme, Nabha Power has also engaged teachers to help students improve upon their learning capability in subjects like Maths and Science.Besides, other projects like developing sports grounds, toilet facilities, cycle stands, roads and community sheds have also been undertaken by Nabha Power as part of its CSR initiatives. These have played a huge role in improving the quality of life for the residents in 49 villages of Patiala and Fatehgarh Sahib districts.
About Nabha Power:
Nabha Power Limited (NPL), a wholly-owned subsidiary of L&T Power Development Limited has been successfully operating a 2×700 MW supercritical thermal power plant at Rajpura in the state of Punjab since 2014. Efficient and reliable power from Nabha Power forms the backbone of electricity supply to the state. Based on the world-class supercritical technology by Mitsubishi, Japan, Nabha Power is the lowest-cost power producer in Punjab. It is the winner of the best IPP award by IPPAI for three consecutive years 2019, 2020 & 2021. It has also ensured maximum availability during the crucial paddy season since its inception. It is actively engaged in corporate social responsibility (CSR) activities and has won the Golden Peacock Award for its outstanding efforts to uplift the lives of its neighbours through various initiatives designed in collaboration with the local people.