Cabinet Gives Approval For Amending Punjab Excise Act-1914
Stringent Provisions In Act To Deter Law Breakers To Illegal And Spurious Liquor Trade Made Non-Bailabe Offences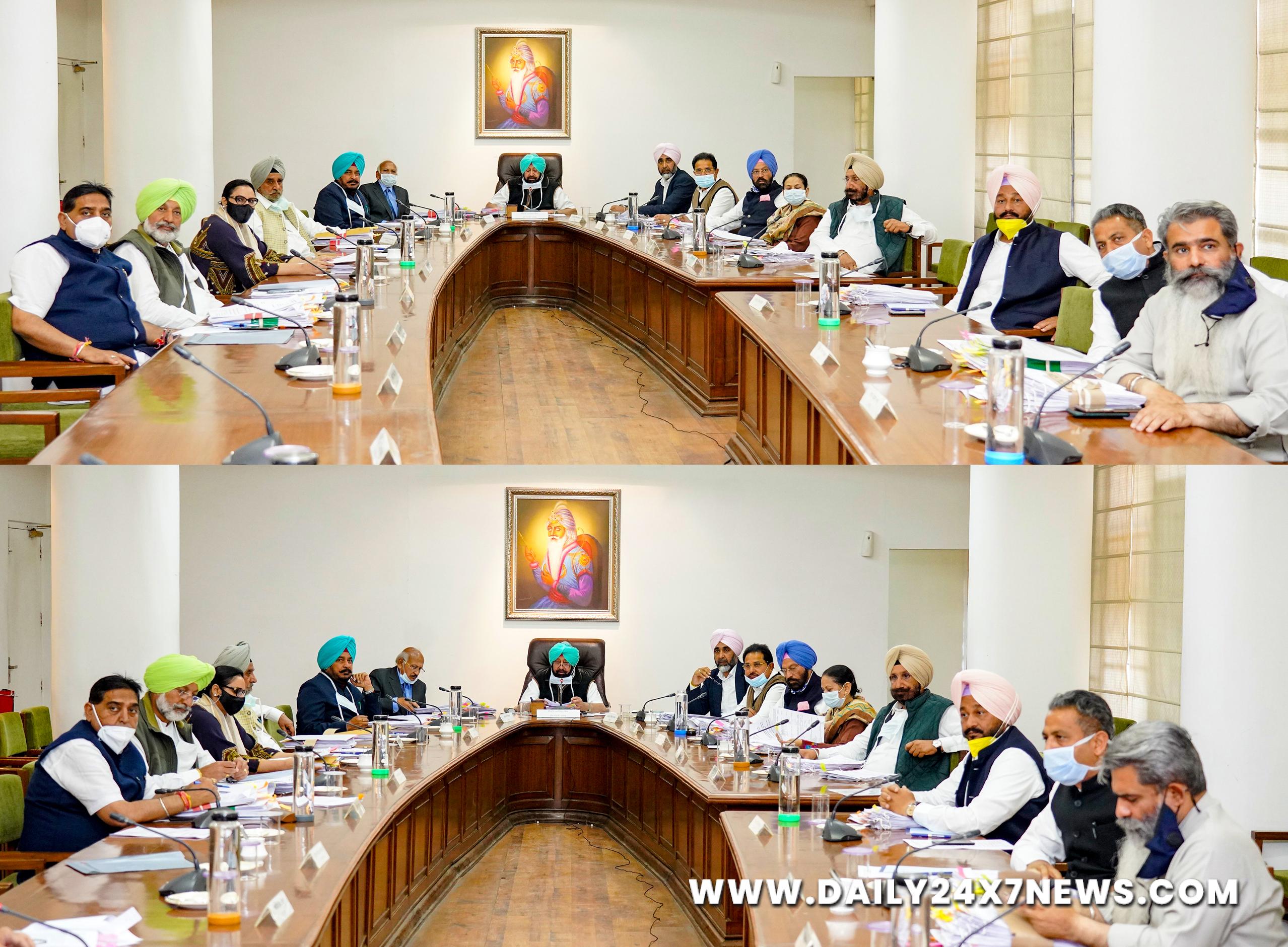 Chandigarh : To eradicate the menace of illicit/illegal and spurious liquor in the state, the Punjab Cabinet on Monday gave its approval to amend the Punjab Excise Act, 1914 by adding section 61-A and amendment of section 61 and section 63 and to introduce the Bill in this regard in the ongoing Budget session of Vidhan Sabha.This decision was taken during a Cabinet meeting chaired by Chief Minister Captain Amarinder Singh here at CMO this afternoon.According to the spokesperson of Chief Minister's Office, the Cabinet decided a systematic change in the Excise Act to introduce deterrent punishment to anyone indulging in such malpractices in wake of unfortunate tragedy in the districts of Amritsar, Gurdaspur and Tarn Taran, whereby several precious lives were lost due to consumption of spurious and adulterated liquor in July, 2020.It was felt to bring a paradigm shift to strengthen the Act to deal with cases sternly where due to consumption of adulterated or illicit liquor, death or severe injury is caused. The underlining objective of such provisions to be introduced in the Punjab Excise Act is to instil fear of law amongst the law breakers and to impose stiff punishment on the offenders.Divulging the details, a new section 61-A has been inserted in Punjab Excise Act, 1914 as its the Sub Section (1) stipulates whoever mixes or permits to be mixed with any liquor sold or manufactured or possessed by him any noxious drug or any foreign ingredient likely to cause disability or grievous hurt or death to human beings, shall be punishable. In case of death, such guilty shall be punished with death or imprisonment for life and shall also be liable to fine which may extend to twenty lakh rupees, in case of disability or grievous hurt, the guilty would be punished with imprisonment for at least six years extendable up to life imprisonment, and with fine which may extend to ten lakh rupees.
Likewise, any other consequential injury is caused to a person, the guilty shall be punished with the imprisonment for a term which may extend to one year, and fine which may extend to five lakh rupees, and in case of no injury caused to a person, the guilty shall be punished with the imprisonment which may extend to six months and fine which may extend to two lakh and fifty thousand rupees.The Cabinet also made provision by amending Excise act to provide compensation to the victims' families by the manufacturer and seller of spurious liquor.According to the Section 61-A (2) (i), the court may order if it satisfied that death or injury has been caused to any person due to consumption of liquor sold in any place, order the manufacturer and seller, whether or not he is convicted of an offence, to pay, by way of compensation, an amount not less than five lakh rupees to the legal representatives of each deceased or three lakh rupees to the person to whom grievous hurt has been caused, or fifty thousand rupees to the person for any other consequential injury. Provided that where the liquor is sold in a licensed shop, the liability to pay the compensation under this section shall be on the licensee and further that no appeal can be filed by the accused unless the amount ordered to be paid under this section is deposited by him in the court.The section 63 has also been amended to enhance the term of imprisonment in the existing provisions of the Act from one year to three years and amount of fine up to Rs. 1000 to 10,000 for the offence of alteration or attempt to alteration of denatured spirit.Likewise, the Cabinet also gave approval to amend section 61 (1) to enhance the term of imprisonment from three years to five years under the chapter 'Offences and Penalties' of the Act for unlawful import, export, transport, manufacture and possession etc. of any intoxicant.In order to strengthen the Section 61(1) (v) of the Punjab Excise Act 1914, the limit of foreign liquor has been reduced to Twenty Seven Bulk litres from Ninety bulk litres. At present, as per any person who unlawfully imports, exports, transports any foreign liquor exceeding Ninety Bulk Litres on which duty has not been paid, shall be punishable with an imprisonment not less than two years and a fine not less than two lacs of rupees. It has been found that in most of the cases the volume of foreign liquor transported is less than Ninety bulk litres.
Cabinet Okays Various Amendments In Punjab Cooperative Societies Act, 1961
Move Aims To Streamline Functioning Of Cooperative Societies
In a bid to streamline the functioning of Cooperative Societies, the Punjab Cabinet led by Chief Minister Captain Amarinder Singh on Monday gave approval to amend the Punjab Cooperative Societies Act, 1961. Notably, the said Act came into existence through Punjab Act No. 25 of 1961, and over past several years some inadequacies have come to light, which have created practical difficulties for the field offices in the State. Further, the Department of Cooperation has also received certain suggestions/directions from the Punjab Government and RBI to make modifications through amendment of the Punjab Cooperative Societies Act, 1961. In order to address these inadequacies/shortcomings and also comply with the directions of the State Government and RBI, various amendments to the Punjab Cooperative Societies Act have been made.Divulging the salient features of amendments, an official spokesperson said that Section 7(1) has been inserted as an enabling provision in the Punjab Cooperative Societies Act, 1961 to charge registration fees along with the application for registration. Under Section 26C, a restriction has been put on the membership of an insured bank imposed as a consequent upon the order of RBI under Section 70-A. Likewise, Section 6 restricts individual shareholding of a member in case of Urban Co-operative Bank (UCB), to maximum 5% of the share capital. Sections 3(5) and 69 have been amended to provide more clarity about effective disposal of revision petitions. Similarly, Section 22(1) has been amended to give more time to the office bearers for effecting recovery of loans and Section 55 to provide a limitation period for referring arbitration disputes to the Registrar.
Cabinet Approves To Transfer Excess Land 0.92 Acre Of Civil Hospital Mohali To Max Hospital With Certain Conditions
Conceding the request of Max Healthcare Group, the Punjab Cabinet gave its nod to transfer the 0.92 acre land of Health Department to 200-bed MAX Hospital, Mohali for up-gradation their health services by adding 100 more beds, which would help to augment the healthcare facilities in the region.Disclosing this here today, a spokesperson of the Chief Minister's Office said that the Cabinet has taken this decision subject to certain conditions imposed by Finance Department.The Health & Family Welfare Department has entered into a concession agreement with MAX Healthcare to transfer the said land of Civil Hospital, Mohali. In addition to Rs. 389.57 lacs on account of upfront fee of this land, the Government would also be getting the additional revenue i.e. 5 % of the Gross Revenue, which would be generated by the MAX with the addition of 100 beds.It may be recalled that during the past 10 months amid the COVID-19 pandemic, the healthcare scenario has taken a huge turn towards private participation and support towards addressing the management and treatment of COVID-19 patients. The Health Department has been dependent on private facilities for sharing the patient load in the State and all private facilities have been encouraged to come forward towards supporting the government's endeavours in managing the pandemic, especially in Level 3/ICU beds. Notably, Max Super Speciality Hospital, Mohali, established in September 2011 offers services across medical disciplines of Neurosciences, Cardiac Sciences, Cancer Care, Orthopedics, Nephrology, Urology, Obstetrics, and Gynecology among several others.During the challenging Covid times, the hospital treated 700+ level 3 and level 2 patients. It provides 24X7 Emergency and ambulance services. The Emergency departments has handled around 1000+ COVID patients in the last 6 months and provide 'Home Care' services to COVID patients through nursing support along with a virtual 24×7 clinician cover.
Cabinet Gives Green Signal To Amend Existing Three Acts To Harmonize With Provisions Of Rera-2016
In a bid to bring harmony with Real Estate (Regulation and Development) Act-2016, the Punjab Cabinet on Monday approved to amend 'The Punjab Regional And Town Planning and Development Act-1995', 'The Punjab Apartment and Property Regulation Act-1995' and 'The Punjab Apartment Ownership Act- 1995'.Notably, these Acts were enacted to make provision for better planning and regulating the development and use of land, to regulate colonies, and property transactions and to provide for registration of promoters, and estate agents and enforcement of obligations on promoters and estate agents and to provide for the ownership of an individual apartment in a building together with and undivided interest in the common areas respectively.According to a spokesperson of Chief Minister's Office, there were certain provisions in the above Acts, which are not in consonance to one another. Enumerating the salient features of these amendments, the spokesperson said that the promoter shall be able to give advertisement only after registration under RERA, 2016 and shall be liable to disclose exact area under common area, and shall not take more than 10% of the sale price as advance money, which was earlier 25% and shall maintain a separate account for 75% amount taken from the buyers and withdrawal from the account shall be in the proportion to the percentage of completion of colony.Apart from these, the promoter shall not transfer or assign his majority rights and liabilities of his colony to third party without obtaining prior written consent of two-third allotees and shall be liable to refund the amount with interest and compensation in case of failure to give possession in accordance with agreement, as per the provisions of RERA, 2016.Besides mandatory provision for Formation of Association, Clear defining of Liabilities of promoter and Rights & Duties of allotees are other significant amendments to harmonize with the provisions of RERA-2016. In case of breach by the promoter, penalty may extend up to five per cent of the estimated cost of the project, which was earlier maximum five lakhs rupees, the spokesperson added.It may be recalled that Indian Parliament has enacted Real Estate (Regulation and Development) Act, 2016 for regulation and promotion of the real estate sector and to ensure sale of plot, apartment or building, as the case may be, or sale of real estate project, in an efficient and transparent manner and to protect the interest of consumers
Cabinet Approves To Introduce Punjab Infrastructure (Development And Regulation) Amendment Bill, 2021 In Ongoing Budget Session
Step To Boost Pace Of Infrastructure Development
In order to boost the pace of infrastructure Development in the state by levying special ID fee , the Punjab Cabinet led by Chief Minister Captain Amarinder Singh on Monday gave a nod to introduce Punjab Infrastructure (Development and Regulation) Amendment Bill, 2021 in the ongoing Budget Session.To effect the imposition of Special ID Fee, an amendment to the effect would be made in the existing provision by inserting a new Section 25-A Levy of Special Fee, which stipulates "Notwithstanding anything contained in this Act, the State Government may impose the Special ID Fee for purpose of which a special head shall be created under which the accrued Special ID Fee shall be collected and deposited to the Development Fund created under the provisions of Section 27(1)."
Decks Cleared For Construction Of New Bus Stand At Roopnagar
To provide better facility to general public and manage traffic of the city, the Punjab Cabinet today gave approval to construct new Bus Stand along with Administrative block/Workshop at Roopnagar in exchange of 1.16 acre land of Improvement Trust, Roopnagar, revenue profit from bus stand(after excluding all expenses) according to percentage share of land, 15.06% share will be reserved for Improvement Trust, Roopnagar.
Cabinet Gives Approval To Provide Jobs To Family Members/Heirs Of 34 Deceased Of Amritsar Rail Tragedy
In a major reprieve to the distressed families passing through acute financial crisis, the Punjab Cabinet led by Chief Minister Captain Amarinder Singh on Monday gave approval to provide jobs in various departments/institutions to the family members/ heirs of 34 deceased of Amritsar rail tragedy as per their qualifications by relaxing the existing norms as a special case. It may be recalled that a train incident occured on October 19, 2018 at Joura Phatak in Amritsar district on the day Dussehra festival, in which 58 persons had died and 71 persons had got injured.Since, these family members could not be covered under the existing state policy and related instructions of November 21, 2002 for grant of jobs on compassionate grounds to them. Subsequently, on the proposal of Deputy Commissioner, Amritsar, the Chief Minister's Office after detailed deliberations decided that one member of each of the 34 families of the 58 deceased be considered for a job in various institutions/departments of the State on the basis of their academic qualification.
Punjab Cabinet Okays To Transfer 507 Vacant Posts Of Rmos Along With Other Para-Medical And Class-Iv Of The Subsidiary Health Centres From Rural Development To Health Department
To achieve better operational efficiency through effective delivery of healthcare services to the people across the state, the Punjab Cabinet led by Chief Minister Captain Amarinder Singh on Monday gave approval to transfer 507 vacant posts of Rural Medical Officers (RMOs) along with other posts of contractual para-medical and class-IV of the Subsidiary Health Centres from the Department of Rural Development & Panchayat back to the Health & Family Welfare.According to a spokesperson of the Chief Minister's Office, in addition, the currently working RMOs of the Rural Development & Panchayats department who are desirous of merger in the Health and Family Welfare Department shall be allowed to do so with the condition that their seniority shall be counted from the date of their joining in the Health department and not from the date of their regularization in the Rural Development & Panchayats department. All other emoluments shall accrue to them from the date of their joining in the Health department. The RMOs shall be merged only after prior written consent on these terms and conditions.Notably, the Cabinet also gave approval to the Health Department to incur entire expenditure including salary of RMOs, Para Medical and Class-IV staff, electricity bills, Operation & Maintenance of buildings and equipments and other expenses.It may be recalled that in the year 2006, as many as 1183 Subsidiary Health Centers were transferred from Health Department to Rural Development & Panchayats. Doctors were engaged as Service Providers to run these Subsidiary Health Centers and they were required to engage a Pharmacist and a Class IV employee as a part of their salary package.
Punjab Cabinet Okays Restructuring Of Excise & Taxation, Town & Country Planning Medical Education & Research And Rural Development And Panchayats Departments
Move Aimed At Bringing Far More Efficiency In Functioning Of These Departments
In a bid to bring far more efficiency, and streamline the functioning of Excise & Taxation, Town & Country Planning, Medical Education & Research and Rural Development and Panchayats, the Punjab Cabinet on Monday approved the restructuring plans of these four departments.With an objective to achieve more revenue collections, the Cabinet approved creation of 110 new posts in the Taxation Commissionerate, and 59 new posts in Excise Commissionerate of the Excise & Taxation department.Notably, the implementation of GST has brought services under the ambit of department, and added a new feature of Audit, which involves examination of records, returns and other documents maintained by GST registered person. It also ensures correctness of turnover declared, taxes paid, refund claimed, input tax credit availed and assesses other compliances under GST Act, which are to be checked by an authorized expert. Resultantly, the number of dealers registered has also increased from 2.50 lakh to 3.55 lakh, thus increasing the work load and therefore a stronger personnel base is required to be set up in Taxation Commissionerate to carry out these additional functions effectively.
Likewise, excise revenue and administration is a significant part of the Excise & Taxation Department. The Excise revenue collections in the State has increased from 435.79 crores in the year 1990-91 to Rs. 5794 Crores in the year 2020-21 (Projected figures). It is likely to go up to Rs. 7000 crore in the year 2021-22. In the recent years, an unprecedented increase in the Excise related activities have been observed in the State. The formulation of Excise Policy and its implementation is a time consuming and full time exercise. It may be recalled that the Excise and Taxation department was bifurcated into the two Commissionerates i.e Taxation commissionerate and Excise commissionerate on October 8, 2018. However, the staff and officers deployed on the Excise side in the Excise Commissionerate is skeletal. After bifurcation of the Excise and Taxation department into the Excise Commissionerate and the Taxation Commissionerate, the roles and responsibilities of the officers have increased. Greater concentration efforts and dedication on their parts is required to achieve more revenue.The Cabinet also gave a go-ahead to the restructuring of the Directorate of Town & Country Planning. Now, there will be a separate position of Director, Town and Country Planning, who will be the in-charge of the Planning alongwith Licensing, Regulatory and Enforcement functions in the State, which was earlier under the Chief Administrators. Likewise, Director, Town and Country Planning would be supported by a pyramid of 2-Country and Town Planner (CTPs), 13 Senior Town Planner (STPs), 37 Deputy Town Planner (DTPs), 84 Assitant Town Planner (ATPs) for Planning, Licensing, Regulatory and Enforcement work. There would be district level offices in all districts. The Cabinet also gave approval to replace 101 non-essential posts with 175 new and more relevant posts in the department besides filling up the newly created and vacant posts in the department which will provide jobs to youth.With the restructuring of Government Medical Colleges of Patiala and Amritsar, along with attached hospitals besides Government Nursing Colleges and Government Dental Colleges of Patiala and Amritsar and attached Hospitals and Government Ayurvedic College/Hospital/Pharmacy, Patiala, as many as 1154 new posts of various categories for recruitment have been created while 606 posts have been surrender/abolished under the restructuring. Notably, the Directorate of Research and Medical Education, Punjab was established in 1973. With changing times, the Department has been working to restructure itself and to reorganize in a manner that reflects present day requirements.In a bid to further streamline the functioning of Rural Development and Panchayats Department, the Cabinet also accorded approval for its restructuring and recruitment plan against vacant posts. This step would be instrumental in ensuring smooth and effective implementation of government policies and schemes in the state.