Book On Life Of Visionary Philanthropist Waryam Singh Sekhon Released
Book Released By Veteran Journalist Gulzar Singh Sandhu, Cabinet Minister Gurkirat Singh Kotli & Several Others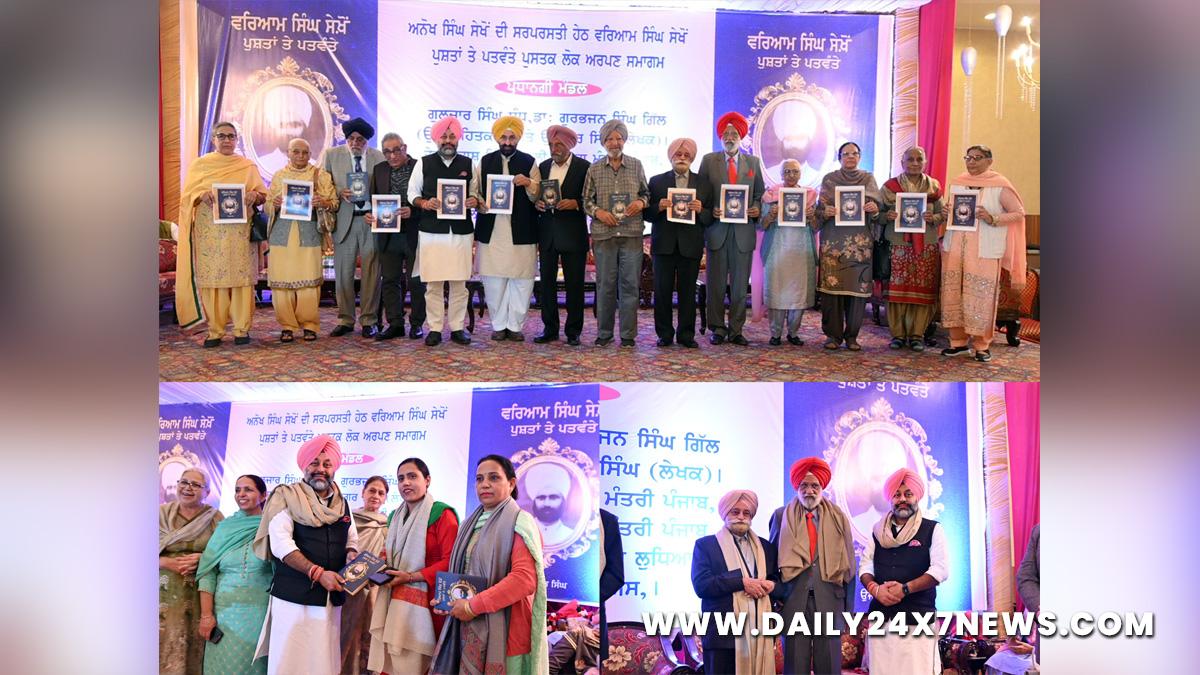 Mullanpur Dakha (Ludhiana) : Waryam Singh Sekhon, a name reckoned with the philanthropy and forward thinking became an inspiration for the former district public relation officer Ujagar Singh who penned a book named, "Pushtan Te Patwante, Waryam Singh Sekhon" a complete account on this personality. The book was released today at Mehal Mubarak, Raikot Road, Hissowal in the presence of large number of dignitaries including veteran journalist Gulzar Singh Sandhu, Punjab Lok Virasat Academy chairman Prof Gurbhajan Singh Gill, Cabinet Minister Gurkirat Singh Kotli, former minister Tej Prakash Singh Kotli and other family members of Waryam Singh Sekhon.As it happened, Ujagar Singh first came to know about the personality and work done by Waryam Singh Sekhon of Dakha village in Ludhiana district from his friend Daljit Singh Bhangu, grandson of Sekhon. Thereafter, the author decided to write about this personality who was the man behind envisioning and executing inhabitation of the Mullanpur Dakha.
Gulzar Singh Sandhu former chairman of Punjab Arts Council while sharing his views stated that Waryam Singh Sekhon and his wife Gulab Kaur Sekhon are known for their perceptiveness integrity and women empowerment. "This book by Ujjagar Singh will give an insight to the social thinkers, intellectuals and will prove to be an eye opener for the younger generations of Punjab," added Sandhu.Cabinet Minister Gurkirat Singh Kotli while speaking about the book said that his close association with the Sekhon family was a matter of pride for him. "My grandfather Lachhman Singh Sekhon, a decorated freedom fighter was the son of Waryam Singh Sekhon and followed the footsteps of his father. This prestigious family is acknowledged for their humanitarian and brave deeds," added the minister.He also stated that his great grandfather Waryam Singh Sekhon not only helped families by providing them social security but also gave a direction to the small traders, shopkeepers and businessmen thus realizing the dream of making Mullanpur Dakha a self-sustained business hub.So as to empower women, Waryam Singh Sekhon provided free transport facilities to the girls/women going to the colleges in Gurusar Sudhar and Sidhwan Khurd.
As many as 10 women from Sekhon family who went to Guru Hargobind Khalsa College for Women in Sidhwan Khurd and brought laurels were also present on the occasion. They were also honoured.Gurkirat Singh also announced the grant of Rs 5 lakh for the above college also stated that the book will be kept in the library at Vidhan Sabha and will be presented to the Punjab Chief Minister Charanjit Singh Channi and the entire Cabinet.Punjab Lok Virasat Academy Chairman Gurbhajan Singh Gill while speaking at the function termed Waryam Singh Sekhon as the link between past, present and future who fought a battle against ignorance and motivated every generation of his family to move forward on the path of education and self- sustenance. "We are thankful that Dakha gave a gem like Waryam Singh Sekhon to the society," added Gill .Prominent among those present on the occasion included Anokh Singh Sekhon, Paramjit Singh Sekhon, Harbimal Kaur, Amrit Kaur, Surinder Kaur Bhangu, Satwinder Kaur Mangat, Amarjeet Mander, Jabbar Jang Singh Sekhon, Jaskirat Singh Sekhon, besides several others.