Under Leadership Of CM Cabinet Accords Gives Nod To Punjab Electric Vehicle Policy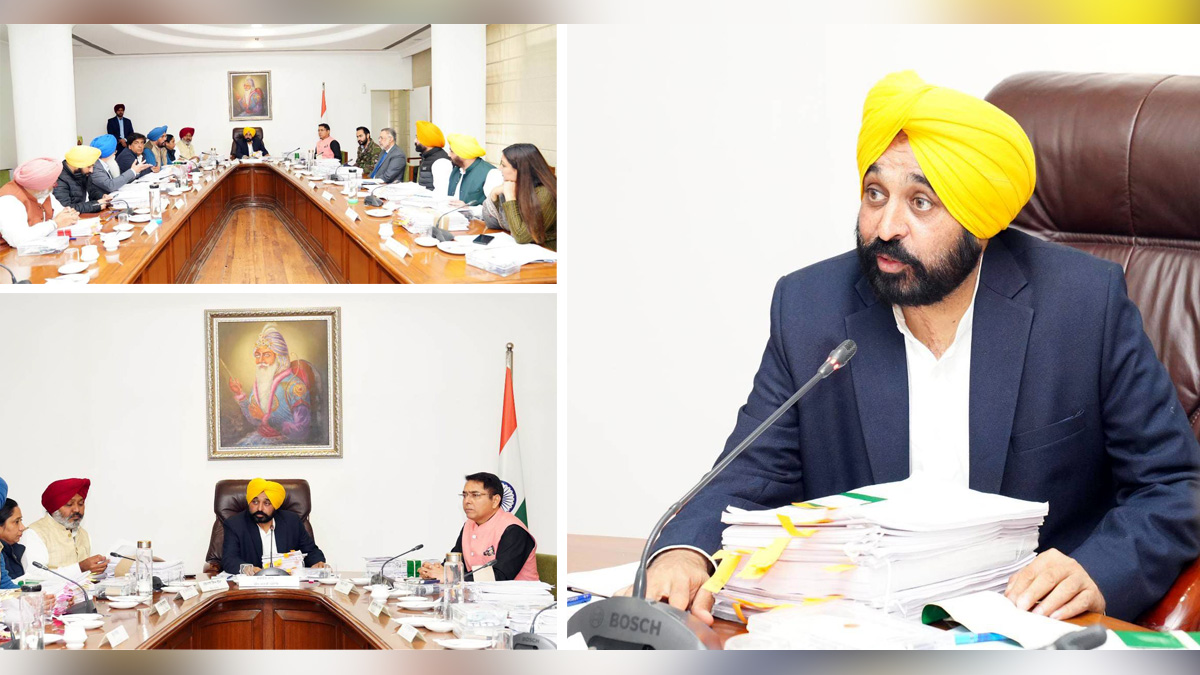 Chandigarh : Under the leadership of Punjab Chief Minister Bhagwant Mann, the Cabinet on Friday accorded approval to Electric Vehicle Policy (PEVP)- 2022 with a move to check the environmental pollution in the state due to omission from vehicles.
A decision to this effect was taken by the Council of Ministers in a meeting chaired by the Chief Minister here at his office in the Punjab Civil Secretariat- I.
Disclosing this here today a spokesperson of the Chief Minister's Office said that to create public awareness about environment protection, the Punjab Cabinet also gave nod to Electric Vehicle Policy (PEVP)-2022.
The policy desires to reduce vehicular emission, create infrastructure, Manufacturing, Research and Development, Job creation, ensuring sustainability besides to establish Punjab as a favored destination for manufacturing of electric vehicles, components and batteries.
APPROVAL TO SEND 66 PRINCIPALS TO SINGAPORE FOR TRAINING
The Cabinet also gave consent for implementation of the State scheme for teachers' foreign training. The Department of School Education will send a batch of 36 Principals to Principals Academy, Singapore and 30 Principals to National Institute of Education (NIE) which is an autonomous institute of the Nanyang Technological University, Singapore in FY 2022-23. These trainings will expose them to state-of-the-art teaching practices, leadership skills, creation of teaching-learning materials and audio-visual technology adding that it will be helpful to obtain objectives of: Education in the post-Pandemic world, Essentials of Strategic Management, Shaping School Culture, Building Teachers' Professional Capital, Curriculum Leadership, Mentoring, and Lesson Observation Skills, Innovation in Teaching and Learning and Effective Communication.
GREEN SIGNAL TO UPGRADE 117 GOVERNMENT SCHOOLS AS SCHOOLS OF EMINENCE
The Cabinet also gave its green signal for the implementation of a State scheme for upgrading Government schools into Schools of Eminence (SoE). These Schools of Eminence will serve as centers of excellence, equipped with state-of-the-art facilities.
SoEs will enable peer learning across institutions, and enhance learning experiences of children through contemporary schooling practices in the world of school education and in the initial phase 117 Schools will be upgraded into Schools of Eminence.
ENDORSES PROPOSAL TO PAY RS. 74.75 CR. CRORE FOR EARLY COMPLETION OF SHAHPUR KANDI DAM PROJECT
To expedite the remaining construction work of Shahpur Kandi Dam Project, the Punjab Cabinet has endorsed the proposal to pay a total Rs. 74.75 Crore to the concerned executing agency.
As per this decision a payment of Rs. 74.75 Cr. will be paid to the agency and the agency will withdraw all three cases filed in Hon'ble Punjab and Haryana High Court.
By implementing the above decision, the work of Shahpur Kandi Dam will be expedited and direct financial benefits of Rs. 58 Crore per annum shall be accrued and the water going waste to Pakistan shall be utilized within India especially in Punjab State.
Once the Shahpur Kandi Dam Project is completed, an irrigation potential of 5000 hectare in Punjab and 32173 hectare shall be created and 1042 MU of hydro power shall be generated per annum with two power houses of 206 MW installed capacity.
NOD TO APPOINT PUNJAB STATE ELECTION COMMISSIONER
To ensure the conduction of Urban Local Bodies and Panchayati Raj Elections/By-Elections in fair, clean and peaceful manner in the state, the Cabinet also gave the nod to appoint an eligible officer as Punjab State Election Commissioner.
APPROVES 'THE FORENSIC SCIENCE LABORATORY, PUNJAB GROUP-C RULES'
To improve the quality of investigations as well as evidence by strengthening the Forensic Science Laboratories in the State, the Cabinet also approved 'The Forensic Science Laboratory, Punjab Group-C Rules-2023' to govern the recruitment/appointment and the conditions of service of the staff of Forensic Science Laboratory, Punjab.
At present, one Forensic Science Laboratories is functioning at SAS Nagar (Mohali) and three Regional Forensic Laboratories at Bathinda, Amritsar and Ludhiana.
APPROVES SPECIAL REMISSION FOR LIFE CONVICTS TO COMMEMORATE AZADI KA MAHOTSAV
The Cabinet also gave approval for sending the case of special remission to convicts confined in Jails of Punjab, in the second phase to commemorate the 75th Independence Day of India being celebrated as 'Azadi ka Amrit Mahotsav'.
Similarly, green signal was also given for sending the cases for seeking Premature Release of life convicts confined in the jails of state. After the nod of Cabinet under Article 163 of the Constitution of India, these special remission/premature release cases will be submitted to the Punjab Governor under Article 161 of the Indian constitution.
POST FACTO APPROVAL TO AMENDMENT IN PPSC REGULATION
To speed up the recruitment process, the Punjab Cabinet gave its post facto approval to amendment in Part-2-B of Punjab Public Service Commission (Limitation of Functions) Regulations, 1955.
APPROVES ADMINISTRATIVE REPORT OF CIVIL AVIATION
The Cabinet also cleared Annual Administrative Reports for works executed by the Civil Aviation Department for the year 2021-22.
NOD TO MARGINAL INCREASE IN VAT RATES ON PETROL AND DIESEL
The Cabinet gave its approval for a marginal increase in the VAT rates levied on the sale of petrol and diesel in the state. The increase in the VAT rate will lead to a marginal increase in the price of petrol and diesel by approximately 90 paisa per litre. This will bring more parity in prices of Petrol and Diesel in comparison with neighboring states.
GREEN SIGNAL TO INITIATE CM YOGSHALA PROGRAM
To create a mass movement for yoga in Punjab and scale up the existing yoga ecosystem of the state, the Punjab Cabinet has accorded the approval to initiate 'CM Di Yogshala' program under the aegis of Guru Ravidas Ayurveda University Punjab, Hoshiarpur.
This program will be implemented in Amritsar, Ludhiana, Phagwara, Patiala and Ludhiana in the initial phase. A total 400 classes will be conducted in these cities everyday which may be further increased based on demand.
The project will have two Consultants and 10 Supervisors to support the project besides 80 Trainers will also be hired in each of these five cities