Karnataka's First reported case of Paediatric Robot-Assisted Surgery conducted on a One-Year-Old Omani Child at Fortis Bannerghatta
The child suffered from renal blockage for which he underwent Robot-Assisted Laparoscopic Pyeloplasty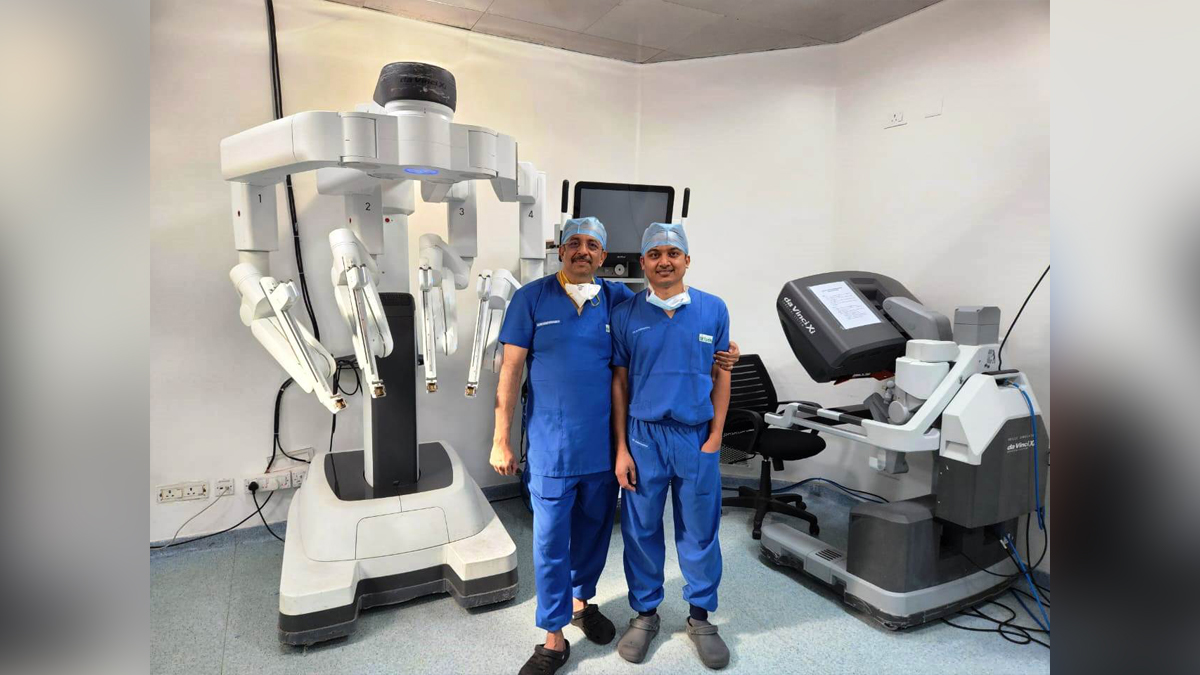 Bangalore : Fortis Hospital Bannerghatta Road achieved yet another clinical milestone by successfully conducting Karnataka's first Paediatric Robot-Assisted Surgery for Right Pelvic Ureteric Junction Obstruction (UPJ). The patient, a 1-year-old Omani child, had blockage where the right ureter (the tube that carries urine from the kidney to the bladder) meets the renal pelvis (a large cavity that collects urine as it is produced).
This condition led to complications posing a risk to his life. The child was admitted to Fortis Bannerghatta with pain, infection and other complications.
On examination, it was revealed that his right kidney was larger than normal and only 24% of the kidney was functional. Additionally, there was a significant build-up of urine in the right kidney as a result of an obstruction at the point where the renal pelvis connects to the ureter.
If left untreated UPJ can lead to deterioration of kidney function. Evaluating the situation, a multi-disciplinary team of doctors led by Dr Mohan Keshavamurthy, Senior Director – Urology, Uro-Oncology, Uro-Gynaecology, Andrology, Transplant and Robotic Surgery at Fortis Hospitals Bengaluru performed a Robot-Assisted Laparoscopic Pyeloplasty along with ureteral stenting (also known as double J stent).
The surgery marks a clinical milestone as being the first reported case in the field of robot-assisted surgeries in a child as young as one-year. Dr Mohan Keshavamurthy said, "The complexity of operating on a one-year-old are many with the organs being tiny, fragile and there is minimal space to access the abdomen.
The robotic surgical instruments used are of the same size as those used for adults, whereas the organs are much smaller in size. Besides this, the rigorous anaesthesia protocol in children makes the procedure much more complex.
Thus, the remarkable benefits of the DaVinci XI system, such as superior magnification, manual dexterity, and precision in a confined space significantly improved the surgical outcome. We at Fortis Bannerghatta Road pride ourselves to be at the forefront of paediatric robotic surgeries, and our versatile and skilled team is dedicated to break barriers and provide better outcomes for children who choose to be treated by us."
Elaborating on the procedure Dr Sreeharsha Harinatha, Additional Director – Urology, Uro-Oncology, Uro-Gynaecology, Andrology, Transplant, and Robotic Surgery at Fortis Hospital, Bannerghatta, said, "When a blockage occurs at ureteric pelvic junction, it obstructs the urine outflow and causes severe pain and deterioration of kidney function.
To clear this obstruction, we performed a Robot-Assisted Laparoscopic Pyeloplasty wherein the obstruction is relieved via minimal invasion, thereby allowing the urine to flow freely. The remarkable precision and accurate visualization offered by the robotic system enabled us to achieve such delicate movements even in the case of a one-year-old child.
Once the blockage was removed successfully, Double J Stenting was done wherein a thin, flexible plastic tube was placed temporarily in the ureter to help urine pass from the kidney into the bladder. " Following the surgery, the child was kept under observation in the paediatric ICU.
He passed urine freely the next day and was discharged two days after the surgery. This case is a testament to the remarkable uro-surgical ecosystem at Fortis Bannerghatta."
Mr. Akshay Oleti, Business Head, Fortis Hospitals, Bangalore said, "At Fortis Bannerghatta, we are at the forefront of providing cutting-edge technology, particularly in the field of robot-assisted surgeries. The groundbreaking procedure, carried out on a one-year-old Omani patient, reinforces the hospital's commitment to exceptional medical care and innovative practices.
Our commitment to excellence has led to a significant milestone, with nearly 1000 robot-assisted urology surgeries successfully completed. This not only showcases our relentless pursuit of medical advancement but also highlights the trust patients from around the world place in our expertise."
About Fortis Healthcare Limited
Fortis Healthcare Limited – an IHH Healthcare Berhad Company – is a leading integrated healthcare services provider in India. It is one of the largest healthcare organizations in the country with 28 healthcare facilities, 4,500+ operational beds (including O&M facilities) and over 400 diagnostics centers (including JVs).
Fortis is present in India, United Arab Emirates (UAE), Nepal & Sri Lanka. The Company is listed on the BSE Ltd and National Stock Exchange (NSE) of India.
It draws strength from its partnership with global major and parent company – IHH, to build upon its culture of world-class patient care and superlative clinical excellence. Fortis employs ~23,000 people (including Agilus Diagnostics Limited) who share its vision of becoming the world's most trusted healthcare network.
Fortis offers a full spectrum of integrated healthcare services ranging from clinics to quaternary care facilities and a wide range of ancillary services.