Director RDD inspects development works in Block Akhnoor, Bhalwal Brahmana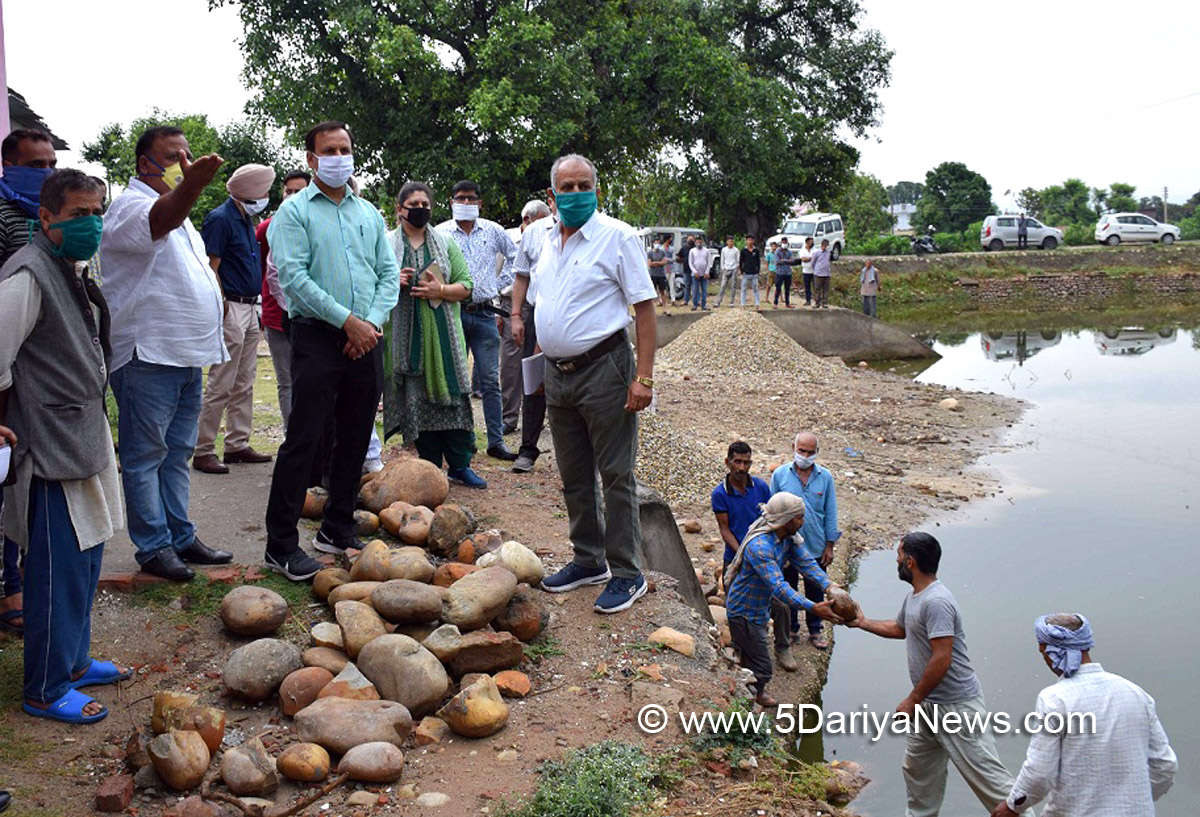 Jammu : Director Rural Development Department, Sudershan Kumar today conducted an extensive tour of various Panchayats of Block Akhnoor and Bhalwal Brahmana of district Jammu and inspected various development works executed there.The Director inspected various works of rural connectivity, water conservation and irrigation related works executed under MGNREGA, 14th FC, Back to Village, Rashtriya Gram Swaraj Abhiyan (RGSA) and SBM by Rural Development Department. He emphasized on strictly following Standard Operating Procedure while execution of works under MGNREGA like wearing masks at work site, following social distancing etc. to meet the challenges arising out of COVID-19 pandemic.The Blocks Development Officer of these Blocks including field functionaries were directed to ensure 100% utilization of funds under SBM, updating of 14th FC works as ongoing on E-Gramswraj, Uploading of MGNREGA plan and PMAY on eGramswaraj and Uploading of 15th FC plan on eGramswaraj.In order to cope up with the distressed situation among the rural poor labourers, he exhorted upon the officers to provide handholding support in terms of livelihood security to these people under the ambit of MGNREGA. He also stressed upon completion of verification on mission antyodaya, formulation of plan under PHE/ Irrigation/ R&B sectors in 15th FCA, completion of work – Panchayat Ghars, submission of land documents for new panchayats Ghars.
During his tour, the Director inspected various executed works including construction of road from Mistry Moh. to Moh. Bada Talab which is being constructed under Back to Village with an estimated cost of Rs. 8.00 lakh. Preservation of link road Moh. Purab Singh ward No. 5 under 4th FC in convergence with MGNREGA of Panchayat Gandarwan. Construction of land drain from house of Karan to house of Sardari Lal Manda Panchayat Daskal, under CD & Panchayat under an estimated cost of Rs. 4.50 lakh, Construction of Community Hall at Gurha Brahmana east under BADP (Model Village) at the cost of Rs. 30.00 lakh, desilting/ renovation of pod at W. No. 2, Gurha Brahmana West with a cost of Rs. 1.00 lakh, Construction of Panchayat Ghar at Sungal Lower –C under RGSA with an estimated cost of Rs. 28.00 lakh.Later, the Director interacted with PRI members and assured them of every possible help by the department.Others who accompanied the Director were Assistant Commissioner Development Jammu, Amit Vermani, Executive Engineer (REW), Ram Singh, AEE REW Sub Division Akhnoor, Ravinder S Trali, Block Development Officer, Akhnoor, Dr. Kavita Pandoh, and Block Development Officer, Bhalwal Brahmana, Shivani Gotra.