Commissioner Secretary Forests Sanjeev Verma visits Kandi areas of Kathua
Emphasizes role of forestry interventions in water conservation in Kandi areas
JK Admin, Kashmir, Jammu And Kashmir, Jammu & Kashmir, Srinagar, Jammu, Kathua, Sanjeev Verma, Dr. Mohit Gera, Suresh Kumar Gupta, Dr. T S Ashok Kumar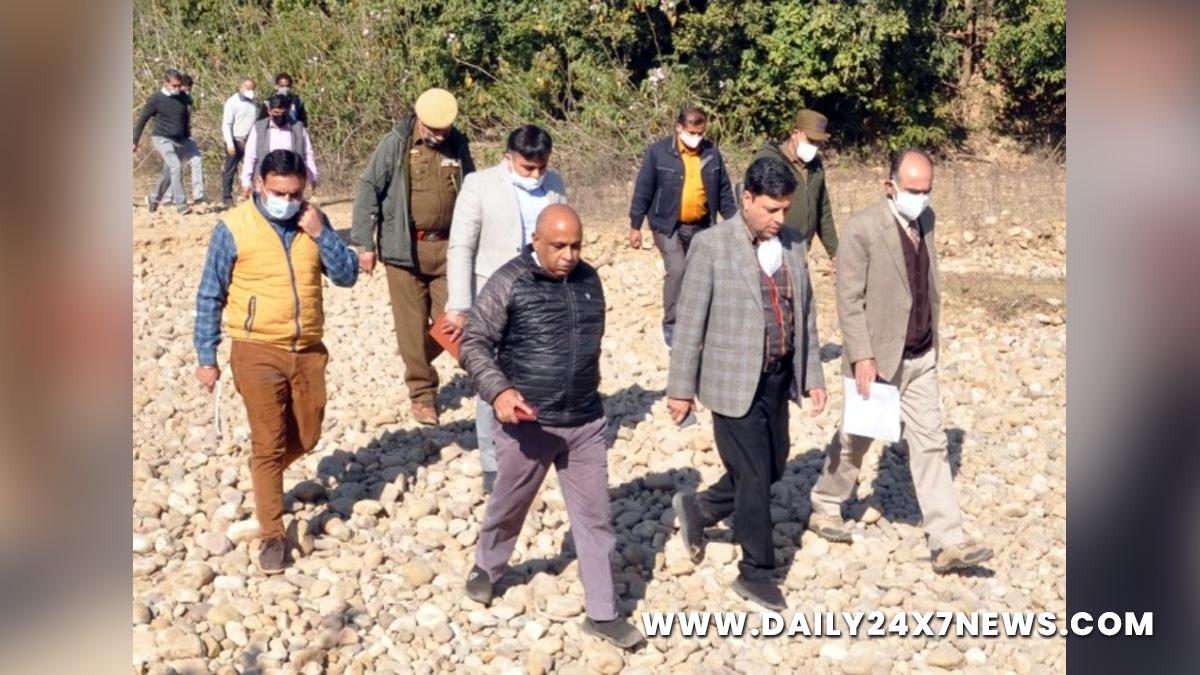 Kathua : Commissioner Secretary, Forests, Ecology and Environment Department, Sanjeev Verma, conducted an extensive tour of Kandi areas of Kathua district the other day.During his whirlwind tour to the district, Sanjeev Verma inspected various development works being executed by different wings of Forest Department towards mitigating water scarcity in Kandi landscape of the district.Principal Chief Conservator of Forests (HoFF), Dr. Mohit Gera, Chief Wildlife Warden, Suresh Kumar Gupta, Director Soil and Water Conservation Department, Dr. T S Ashok Kumar, Chief Conservator of Forests, Jammu, K Ramesh Kumar, ACR, Kathua and senior officers of Forest and allied departments accompanied the Commissioner Secretary during his visit to Dhamiyal, Satoora, Saida, Sowal, Bajoka Chack, Chandwan, Haria Chack, Lachipur and Jasrota Wildlife Sanctuary.Commissioner Secretary appreciated the efforts of the Forest, Social Forestry, Soil and Water Conservation Department for carrying out extensive plantations besides construction and maintenance of Water Harvesting Structures in water-scarce Kandi areas of Kathua.
He stressed on the need for scaling up and synergizing efforts of various wings of Forest Department with the water conservation works being carried out by Rural Development Department. He directed the stake holder departments to formulate plans for development of fringe lands by planting multipurpose and fast growing species and construction of water harvesting structures to cater to the local needs for fodder, firewood and water, thereby reducing pressure on inviolate pristine forest areas and to increase the tree cover outside forest land.Sanjeev Verma was apprised by the concerned officers that the Forest Department intends to rehabilitate 1365 hectares of severely degraded forest areas in kandi belt by planting 3.35 lakh saplings of local species alongwith construction of 47 ponds and bowlies in the next financial year.Commissioner Secretary issued directions for preparation of Management Plans for the major ponds constructed by Soil and Water Conservation Department and to involve local youth clubs in their protection and management.
Stressing upon the role of forestry interventions in water conservation in Kandi areas, Sanjeev Verma directed the Forest and Social Forestry Department to create buffer plantations in the periphery of the existing protected forest areas to take the biotic pressure off these inviolate forest landscapes by way of planting grasses, bamboos and fodder species.While taking stock of Haria Chack forest Nursery, he directed the officers of Forest and Social Forestry Departments to raise local species like Peepal, Bargad, Palash and Bilpatri in Forest nurseries. He was apprised that the department plans to raise 4.00 lakh saplings of these local species in the forest nurseries of Kandi region in the current financial year.Commissioner Secretary, during his visit to Jasrota Wildlife Sanctuary, reviewed the ongoing works being executed there by Wildlife Department and inspected the rescue centre, historical monuments and ponds situated in the sanctuary. He appreciated the development of trek route inside the sanctuary and issued directions for involving PRIs and local communities in enhancing the wildlife conservation activities.