Salman Khan Rebukes KhanZaadi for Heated Exchange with Mannara Chopra in Front of Katrina Kaif on 'Bigg Boss 17'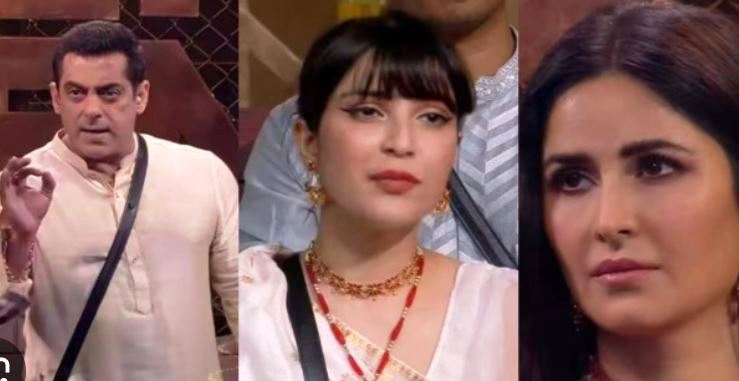 Mumbai : The atmosphere on 'Bigg Boss 17' took a serious turn as host Salman Khan reprimanded KhanZaadi for engaging in a heated verbal spat with Mannara Chopra in the presence of guest Katrina Kaif. The latest episode featured Katrina making a special appearance during the 'Weekend Ka Vaar' episode to promote their upcoming film 'Tiger 3' and celebrate Diwali.
However, the festive occasion took an unexpected turn when KhanZaadi and Mannara got into a war of words in front of Katrina Kaif. Despite other housemates urging restraint on Diwali, KhanZaadi continued with her argument. Salman Khan intervened and expressed his disapproval of KhanZaadi's behavior in front of the esteemed guest.
"Khanzaadi, aapko sirf ladna-jhadana hai kya is ghar mein? Katrina yahan pe aayi hai yahan pe Diwali pe aur yeh chal rha hai is ghar mein! Rubbish this is," remarked Salman. In response, KhanZaadi explained, "Sir, she is talking behind my back."
Expressing his frustration, Salman retorted, "Yaar tu mujhe maaf kar de yaar KhanZaadi. Bak bak chaalu hi rehti hai aapki. Ghar pe bhi aisi hi ho kya? Line or limit cross na karein yahan par koi." The incident showcased Salman Khan's stern stance on maintaining decorum and avoiding conflicts, especially in the presence of special guests on the popular reality show.