Rayat Bahra University Marks Entrepreneurship Day with Inspirational Session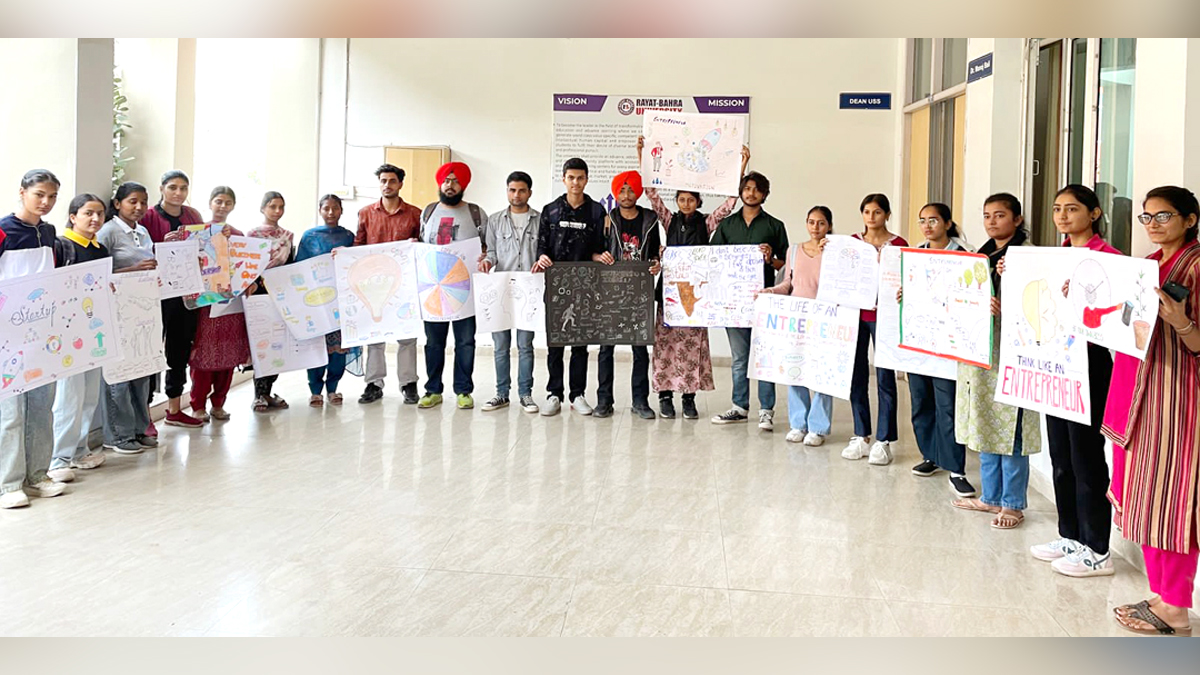 Mohali : Rayat Bahra University marked Entrepreneurship Day with a vibrant celebration, featuring an insightful talk by prominent entrepreneur Anil Sethi. The day kicked off with an inspiring address by Chief Guest Gurwinder Singh Bahra, Chancellor of Rayat Bahra University, a seasoned entrepreneur, and the visionary force behind the Rayat Bahra Group.
Chancellor Gurwinder Singh Bahra set a motivational tone for the day, sharing valuable insights with the attendees. Dr. Parvinder Singh, Vice-Chancellor of Rayat Bahra University, encouraged students to unleash their creativity and innovative thinking. He underscored the importance of identifying real-world problems and proposing practical solutions.
During the Entrepreneurship Day festivities, Dr. Manoj Bali, Dean (USS), introduced Anil Sethi, an entrepreneur, civil contractor, and founder of Saiansh Associates. Sethi, also an ex-employee of Rayat Bahra University, shared his compelling entrepreneurial journey with the audience.
He shed light on the crucial steps towards entrepreneurship, emphasizing the need to identify one's area of interest and embrace risks courageously.Drawing from his personal experiences, Sethi narrated his journey from the teaching profession to seizing pivotal career opportunities.
He highlighted the paramount role of passion in achieving success and encouraged students to recognize and pursue their passions fervently.Sethi, through vivid examples, skillfully guided students in understanding the intricacies of business. He emphasized the ability of successful enterprises to comprehend market dynamics, address societal challenges, and generate profits.
Following the enlightening talk, a poster-making competition engaged around 50 students who creatively presented their entrepreneurial ideas through drawings. The winners were announced as Deepti (1st position), Himani and Nancy (2nd position), and a shared 3rd position by Ashutosh, Damanpreet, and Arjun.
The session concluded with Dr. Ravneet Kaur inspiring students to elevate their aspirations, fostering an entrepreneurial mindset and empowering them to navigate the complex landscape of entrepreneurship.Rayat Bahra University's Entrepreneurship Day celebration provided a platform for students to gain valuable insights, encouraging them to embrace innovation and contribute meaningfully to the entrepreneurial landscape.