Renowned Indian Mythologist Devdutt Patnaik talks on Shikhan Shastra at Chitkara University's B.Ed orientation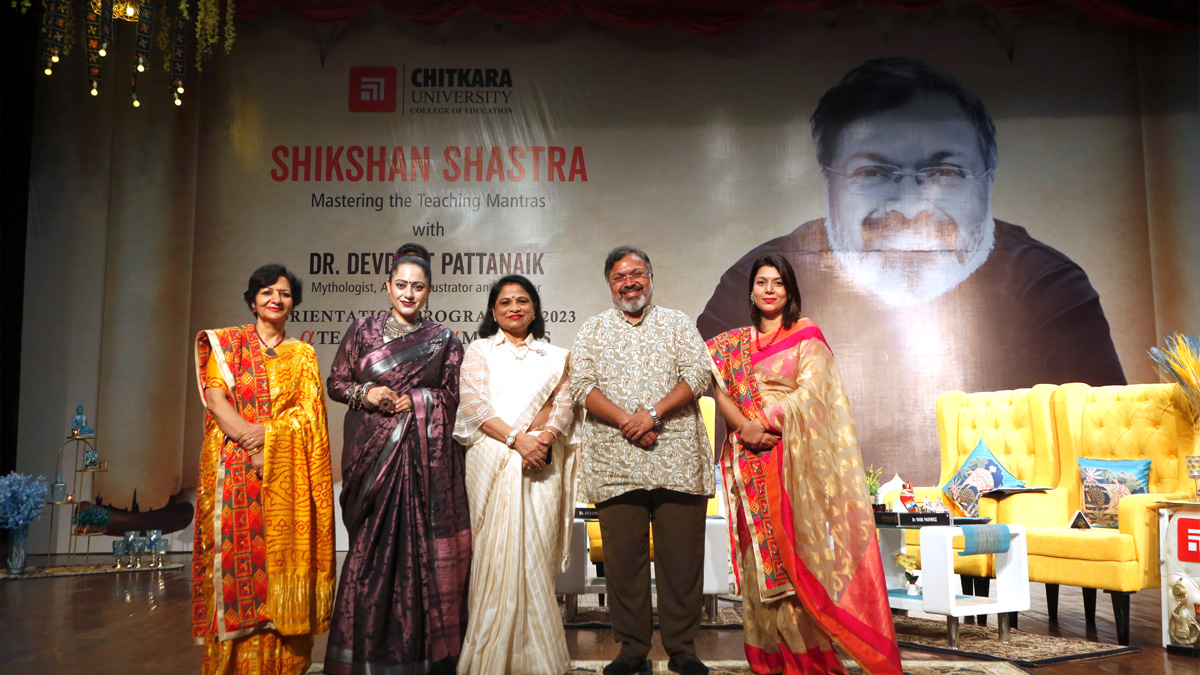 Banur : Chitkara College of Education (CCE) at Chitkara University, Punjab, welcomed the 2023-25 Batch of its B.Ed. and M.Ed. students as the youngsters commenced their journeys towards becoming Alpha Teachers and Alpha Masters under the tutelage of the meritorious CCE faculty, here on Monday.
Familiarizing the students with the ethos and practices of the College, an Orientation Program viz. Shikshan Shastra was organized by the University for the students, which witnessed the presence of industry great names Dr. Devdutt Pattanaik, Indian Mythologist, Author, Illustrator and Speaker, Education Consultant & Ex- Dean, Business School, City University Ajman, Prof Dr. H S Anant and Ashish Verma, Associate Professor from Chitkara Design School.
The event kicked off with the ceremonious lighting of lamp, a brief introduction of the University and a heartfelt Welcome Note by the College Dean, which was followed by enlightening talks on the means of effective teaching by the program keynote speaker, Dr. Devdutt Pattanaik, who has written 50 books in 15 languages, apprised the students during his session "Mastering the Teaching Mantras" regarding the core principles of teaching and how these can be followed effectively in classrooms.
Highlighting a thought-provoking perspective towards the teaching practice, the renowned columnist and illustrator also touched upon the realms of mythology and management and the ways in which these could be incorporated in classrooms for successful delivery of teaching content.
In his concluding remarks, Dr. Pattanaik appreciated Chitkara University for its revolutionary B.Ed. and M.Ed. programs which have been designed in sync with the requirements of Industry 4.0 and that cater to the demands of the present generation's learning styles.
In another session conducted by Education Consultant & Ex- Dean, Business School, City University Ajman, Prof Dr. H S Anant, he enlightened on Effective Communication Skills for Teachers. Prof Dr. Anant apprised the students about the importance of verbal and non-verbal communication in classrooms.
Alpha-teachers and alpha-masters participated in a storytelling activity, which made them understand the concept of noise in communication and how the information eventually get distorted when communicated by different people.
In the last session conducted by Ashish Verma, Associate Professor from Chitkara Design School, on 'Photography: As Essential Pedagogical Tool, he highlighted the importance of photography as a memory, as a digital diary. He gave the audience an idea about the museum of material memory.
He concluded his session by stating that photography has the power to change the world as it enhances teaching and learning.Addressing the thrilled students at the Orientation Program, Dr. Madhu Chitkara, Pro Chancellor, Chitkara University heartily remarked, "It is very crucial to keep pace with latest educational trends and techniques when it comes to teaching the learners of today.
Understandably, it is a challenge for the present-day teachers to come up with engaging lessons for these learners who already consume a great amount of digital content on a daily basis. With mastering the principles of teaching & incorporating rewarding practices like movement and expressive arts therapy in education, teachers can help learners engage their mind, body and emotions in the process of learning that shall undoubtedly bear promising outputs.
I wish the young learners of B.Ed. and M.Ed. Batch 2023-25 the best of luck for their academic pursuit's journeys at CCE. I would also like to extend my gratitude to the renowned Keynote Speaker and Pedagogy Maestro, Dr. Devdutt Pattanaik , Education Consultant Prof Dr. H S Anant and Ashish Verma, Associate Professor from Chitkara Design School who have certainly described the merits of undertaking functional teaching practices along with following the golden tenets of teaching in the most effective manner.
Sharing her excitement and thoughts on the enlightening event, one of the aspiring teachers of B.Ed. Batch of the College said, attending the orientation program on Mastering Teaching Mantras has been a transformative experience. I learned that education goes beyond textbooks and lectures; it is about fostering creativity, self-expression, and emotional well-being in the students. Session on Mastering Teaching Mantras has taught me the importance of cultivating a positive and empowering classroom environment.
About Chitkara University's Chitkara College of Education (CCE)
Chitkara University's Chitkara College of Education (CCE) stands at the forefront of delivering cutting-edge education programs designed to provide industry-relevant education and training. The dynamic and research-informed curriculum is dedicated to nurturing highly competent educators.
CCE serves as a stepping stone to ensuring future teachers' success in the rapidly changing educational landscape, the College offers a 2-year Bachelor of Education program, 2-year Master of Education program and Doctor of Philosophy program in Education.
Staying committed to its goal of enhancing academic and research capabilities and contributing to the development of the nation, the college offers a world-class curriculum to its students, which is delivered through varied modules built for the learners of present and future generations.